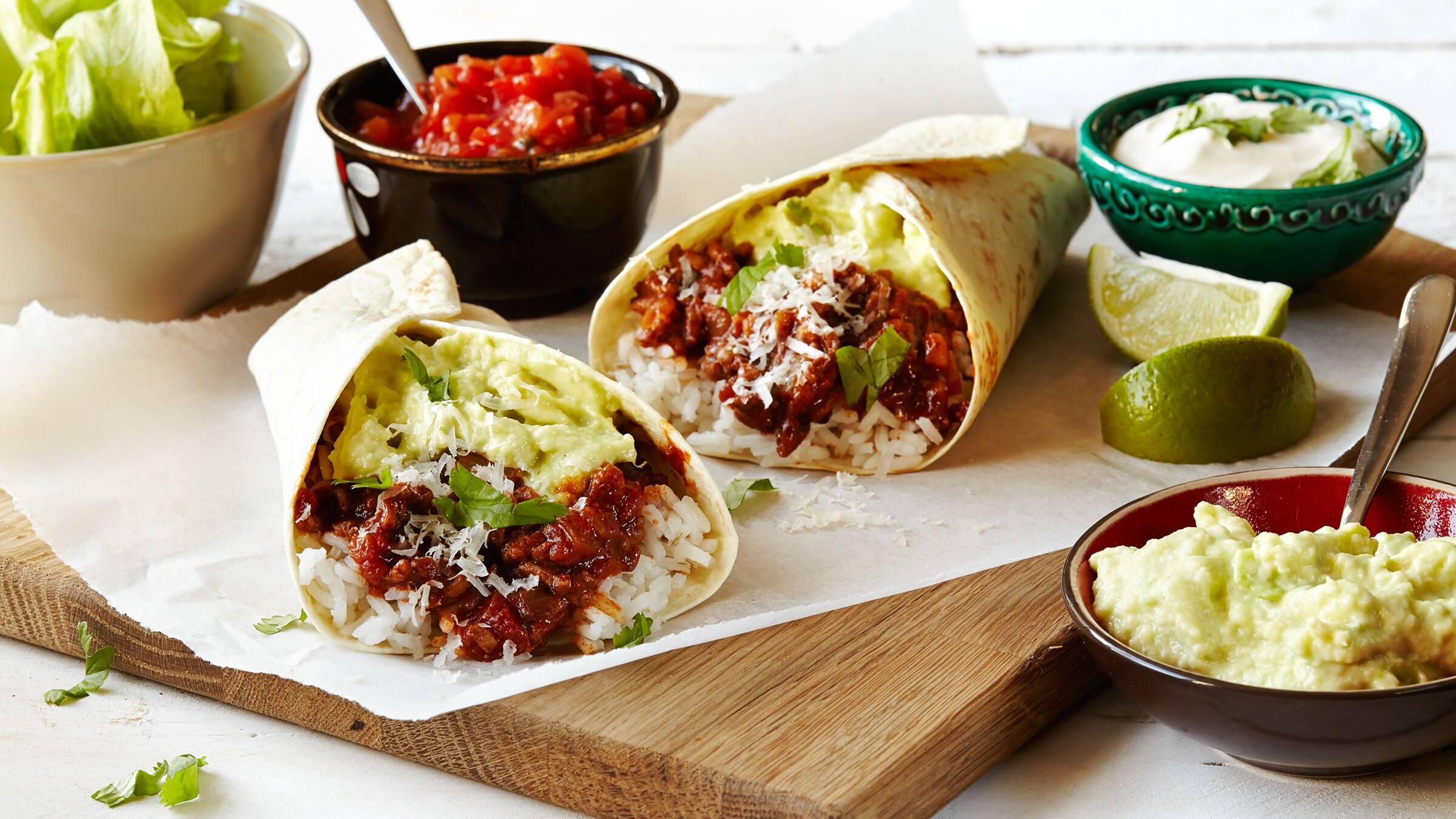 Spicy ground beef in herby tomato sauce with fresh mix of avocado, lime juice and Hellmann's® Real Mayonnaise. This beef burrito recipe is bursting with warm and fresh flavors.
INGREDIENTS
1 medium avocado, peeled and mashed
2 Tbsp. (30 mL) Hellmann's® Real Mayonnaise
2 Tbsp. (30 mL) fresh lime juice
1 Tbsp. (15 mL) vegetable oil
1/2 lb. (225 g) extra lean ground beef
1/4 cup (60 mL) chopped shallots or onions
3 cloves garlic, finely chopped
1 Tbsp. (15 mL) tomato paste
2 tsp. (10 mL) chili powder
3/4 cup (175 mL) chopped, peeled and seeded tomatoes
1/2 cup (125 mL) chicken broth
4 small whole wheat flour tortillas
1 cup (250 mL) uncooked rice, cooked according to package directions
2 Tbsp. (30 mL) shredded cheddar cheese
METHOD
Combine avocado, Hellmann's® Real Mayonnaise and lime juice in small bowl. Cover and set aside.

Heat oil in large skillet and brown ground beef over medium-high heat, stirring occasionally, about 6 minutes. Stir in shallots, garlic, tomato paste and chili powder and cook over medium heat, stirring occasionally, 2 minutes.

Add tomatoes and chicken broth to ground beef mixture. Bring to a boil over high heat. Reduce heat to low and simmer, stirring occasionally, until thickened, about 15 minutes.

Spread tortillas with some of the avocado mixture; top with hot rice, ground beef mixture, then cheese. Roll up and serve with remaining avocado mixture and, if desired, salsa.