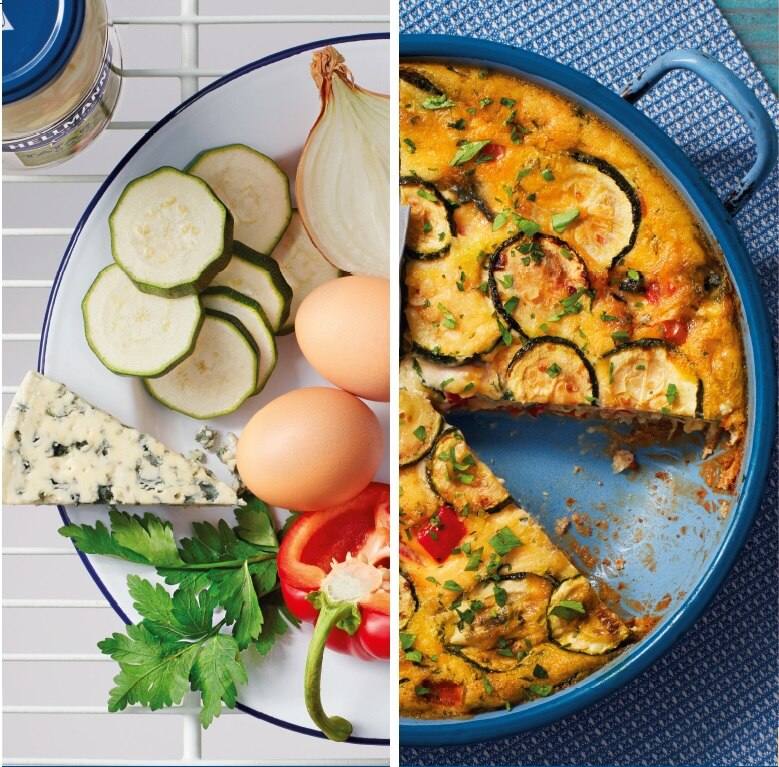 Check out our zucchini bake recipe, using simple ingredients that don't sacrifice on flavour, try it today!
INGREDIENTS
3 Tbsp. (45 mL) olive oil, divided
2 Tbsp. (30 mL) bread crumbs
2 bell peppers, diced
2 onions, diced (about 2 cups)
2 zucchini, sliced
4 cloves garlic, sliced
2 large eggs
3/4 cup (175 mL) heavy cream
1/3 cup (75 mL) Hellmann's® Real Mayonnaise
1 cup (250 mL) shredded part-skim mozzarella cheese or crumbled blue chese
METHOD
Heat oven to 350°F (180°C). Brush shallow 3-qt.(3 L) baking dish with 1 Tbsp. (15 mL) oil. Coat with bread crumbs. Set aside.

Heat remaining oil in large nonstick skillet over medium-high heat and cook bell peppers, onions, zucchini and garlic, stirring occasionally, until tender, about 10 minutes. Season, if desired, with salt and pepper, then spoon into prepared baking dish.

Whisk eggs, then whisk in heavy cream and Hellmann's® Real Mayonnaise until blended and smooth. Pour over vegetables in baking dish.

Bake 20 minutes. Remove from oven and sprinkle with cheese. Bake 10 minutes longer or until firm and cheese melts. Remove to wire rack to cool slightly before serving.
Tip:
Tip: You can pretty much use whatever cheese you happen to have for this recipe. Cheddar, fontina or Swiss would be great choices.