Let Them Eat Cake Strangewich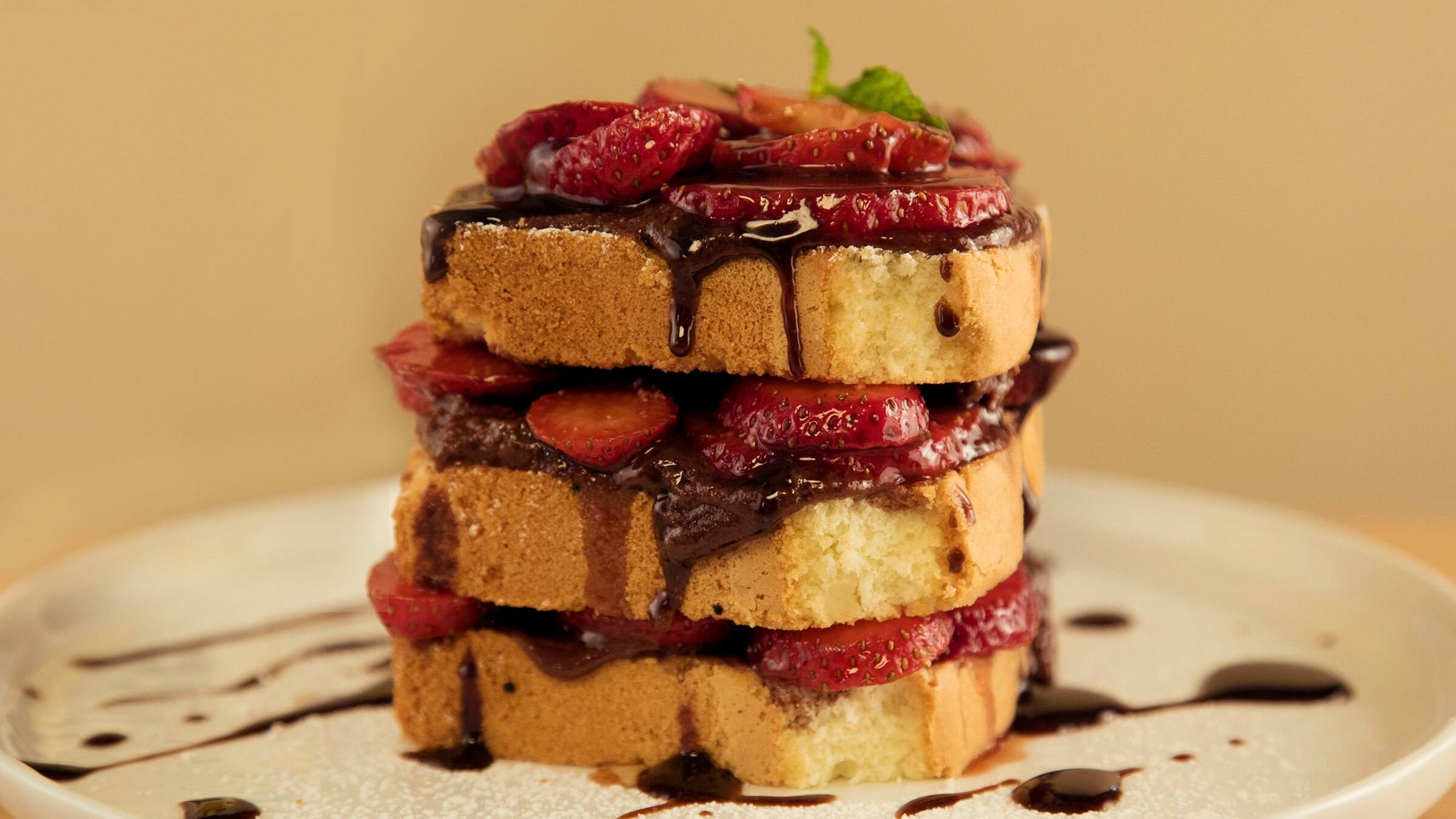 INGREDIENTS
1 lb. strawberries, sliced
1 Tbsp. (15 mL) balsamic glaze
2 tsp. (10 mL) sugar
1/4 cup (60 mL) Hellmann's® Real Mayonnaise
1/4 cup (60 mL) chocolate spread or chocolate hazelnut spread
1/4 cup (60 mL) butter
Sliced leftover cake, bread or pancakes
1/4 cup (60 mL) balsamic glaze
2 Tbsp. (30 mL) chocolate spread or chocolate hazelnut spread
4 sprigs fresh mint
METHOD
For Strangewiches, in a bowl, mix sliced strawberries, balsamic glaze and sugar. Let stand 15 minutes.

In another bowl, mix Hellmann's® Real Mayonnaise with chocolate spread.

Preheat cast iron griddle or skillet. Melt butter in griddle and carefully cook each slice of cake until golden brown on both sides. Set aside.

Stackin' time: Spread each slice toasted cake with chocolate Mayonnaise. To create the tower, top 1 slice with strawberries, followed by 2 more slices each topped with strawberries. Repeat for remaining sandwiches.

For garnish, mix balsamic glaze and chocolate spread. Drizzle on top of warm sandwiches. Garnish with mint and enjoy!
Tip:
TIP: To be mindful, try serving only 1 slice of pound cake (instead of 3) per person and adding sliced bananas too! great for sharing and definitely is a 'treat' not a meal.

TIP: Get the kids in the kitchen and switch it up… cut the cake into cubes, brush whole strawberries with the balsamic glaze, then skewer cake and strawberries on to wooden skewers, and dip into the chocolate sauce. It will keep them busy, and we know kids love to dip!