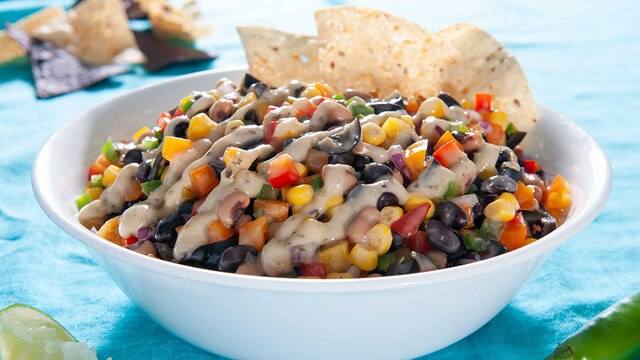 Dip into our super nutritious and colourful Zesty Lime Bean Bowl recipe which is made of fresh veggies, beans and Hellmann's® Real mayonnaise.
INGREDIENTS
1/2 cup (125 mL) Hellmann's® Real Mayonnaise
1/4 cup (60 mL) chopped fresh cilantro
2 Tbsp. (30 mL) lime juice
1/2 tsp. (2 mL) salt
1 each red, orange and yellow bell pepper, diced
1 small red onion, diced
1 can (341 mL) corn, drained
1 can (540 mL) black beans, rinsed and drained
1 can (540 mL) black eyed peas, rinsed and drained
2 medium jalapeno peppers, cored, seeded and diced
1 cup (250 mL) small cubes feta cheese
1 can (6 oz.) black olives, drained and coarsely chopped
METHOD
Create a creamy Zesty Lime Bean Bowl by combining Hellmann's® Real Mayonnaise, cilantro, lime juice and salt in large bowl.

Next, add remaining ingredients and toss until well blended. Serve with tortilla chips or salad greens - also terrific on its own!
Tip:
Tip: Customize your own Zesty Lime Bean Bowl - try different beans or add chopped avocado, chopped tomatoes, scallions, diced fresh mango and/or chunks of pepper Jack cheese.