Vegan Mini Carrot Cake Muffins by Andy Hay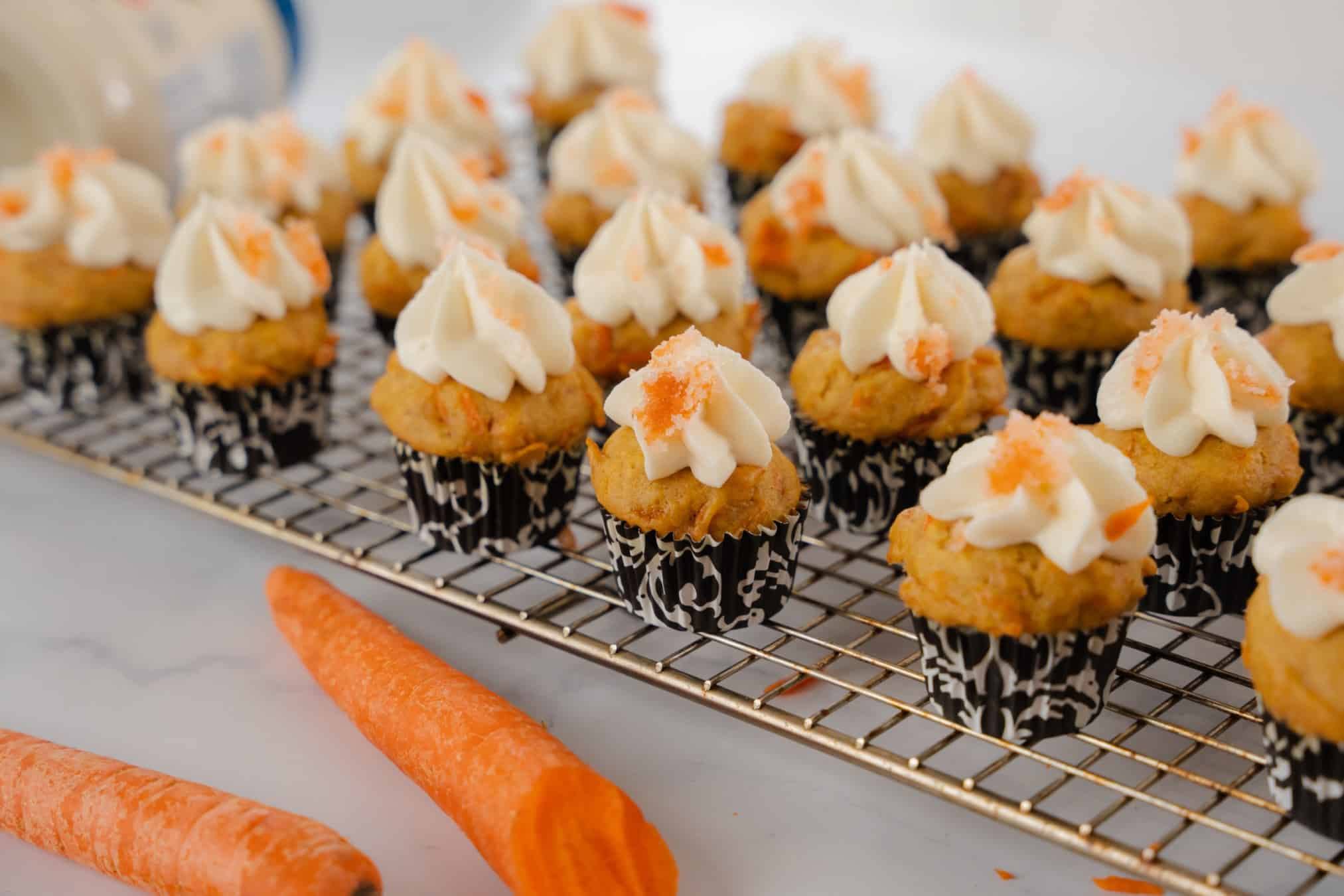 Moist, crave-able, and delicious, no one would guess they are vegan. These bite sized carrot cake muffins using Hellmann's Vegan Mayonnaise are a delicious snack the whole family can enjoy.
INGREDIENTS
MUFFIN BATTER:
1 1/2 cups (375 mL) all-purpose flour
1/2 cup (125 mL) brown sugar
1 tsp. (5 mL) baking soda
1 tsp. (5 mL) ground cinnamon
1/4 tsp. (1 mL) ground ginger
1/4 tsp. (1 mL) ground nutmeg
Zest of 1 orange
3 Tbsp. (45 mL) oat milk
3/4 cup (175 mL) Hellmann's® Vegan
1 1/2 cups (375 mL) grated carrots
1/2 cup (125 mL) apple sauce
ICING:
1/4 cup (60 mL) plant-based butter
8 ounces (226 g) vegan cream cheese
1 cup (250 mL) icing sugar
1 Tbsp. (15 mL) oat milk
METHOD
Preheat oven to 350° F (180°C). Line mini muffin pans with mini muffin cups.

For Muffins, in a bowl mix together the flour, brown sugar, baking soda, cinnamon, ginger, nutmeg, and orange zest. Set the bowl aside.

In a separate bowl, mix together the oat milk, Hellmann's Vegan mayonnaise, grated carrots, and applesauce. Now combine both the dry and wet ingredients together until smooth, Be careful not to overwork the batter.

Spoon batter into prepared mini muffin pans. Once all of the muffin molds are filled, place pans into the oven and bake for 15 to 17 minutes. Remove from the oven when you can poke the muffin with a toothpick, and it comes out clean. Place muffins on cooling rack to cool completely.

Meanwhile to make Icing, add the vegan butter, vegan cream cheese, icing sugar, and oat milk to a bowl. Using a hand mixer, beat the mixture until smooth. Option to place icing into a piping bag affixed with a star tip.

Once muffins are cooled, pipe or spread on Icing and enjoy!
Tip:
Tip: For a fun tip, add orange zest to some sugar to create orange sugar to sprinkle on top of the icing for colour.

For more information, visit Andy Hay's website here https://theeastcoastkitchen.com/