Vegan Macaroni & \Cheese\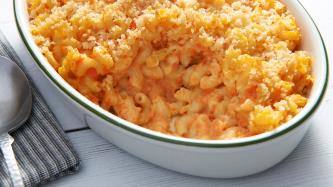 We use all vegan ingredients to make this delicious vegan recipe.
INGREDIENTS
8 ounces (227 g) high protein elbow macaroni
1 medium Yukon gold potato, peeled and cut into chunks
1 small onion, chopped
1 medium carrot, chopped
3 cloves garlic
1/2 cup (125 mL) Hellmann's® Vegan
1/2 tsp. (2 mL) dry mustard
1/4 cup (60 mL) plain panko bread crumbs
METHOD
Prepare macaroni according to package directions. Meanwhile bring 2 cups (500 mL) water, potato, onion, carrot and garlic to a boil in medium saucepan over high heat. Reduce heat and cook until tender, about 15 minutes. Remove and reserve 3/4 cup (175 mL) cooking water, then drain.

Preheat oven to 350°F (180°C).

Transfer vegetable mixture and reserved cooking water to blender and blend until smooth. (Or puree in pot using a hand held immersion blender.) Reserve 1 Tbsp. (15 mL) Hellmann's® Carefully Crafted Dressing and Sandwich Spread. Add remaining to blender; add dry mustard and blend until smooth.

Combine drained macaroni and sauce in pasta pot; season, if desired, with salt and pepper. Transfer to 8 x 8-inch (20 x 20 cm) baking dish. Combine reserved 1 Tbsp. (15 mL) Dressing and Sandwich Spread with panko crumbs and sprinkle over top.

Bake 15 minutes or until crumbs are toasted.