Vegan Lasagna with Veggie Sauce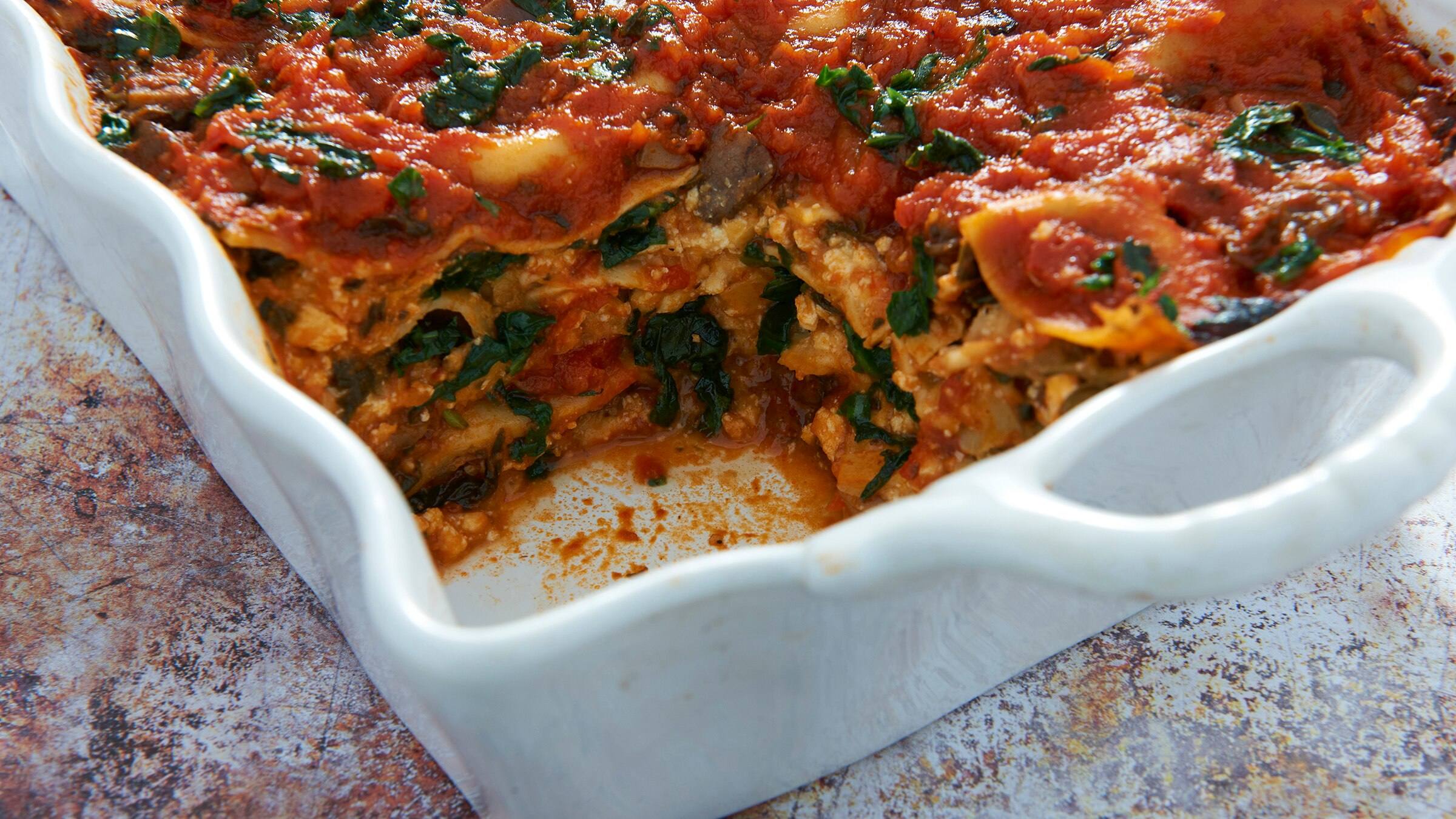 After some inspiration for your next meal? Check out this vegan lasagna with veggie sauce recipe, that'll be sure to impress!
INGREDIENTS
4 cups (1 L) cubed butternut squash, roasted until tender
1 can (540 mL) low-sodium chick peas, rinsed and drained
1/2 cup (125 mL) Hellmann's® Vegan
1/2 cup (125 mL) nutritional yeast seasoning
1 container (420 g.) extra firm tofu, weighted down with heavy bowl to drain 20 minutes, then crumbled
2 Tbsp. (30 mL) olive oil
2 packages (227 g) baby portobello or crimini mushrooms, diced
1 small onion, chopped
1 package (300 g) frozen chopped spinach, thawed and squeezed dry
1 large clove garlic, finely chopped
4 cups (1 L) jarred vegan pasta sauce
12 vegan, gluten free no boil lasagna noodles
METHOD
Heat oven to 400°F (200°C). Mash squash and chick peas in large bowl. Stir in Hellmann's® Vegan, nutritional yeast, then tofu. Season, if desired, with salt and pepper.

Heat oil in large nonstick skillet over medium-high heat and cook mushrooms and onions 8 minutes, stirring occasionally. Stir in spinach and garlic; cook 2 minutes then stir in pasta sauce. Remove from heat.

Spread 1 cup (250 mL) sauce mixture in bottom of 13 x 9-inch (3.5 L) baking dish then top with 3 uncooked lasagna noodles. Spread with 2 cups (500mL) tofu mixture; repeat layers 2 more times. Top with remaining 3 noodles, then remaining sauce.

Cover with foil and bake 45 minutes. Remove foil and continue to bake an additional 15 minutes, until lasagna noodles are tender. Let stand 10 minutes before cutting.
Tip:
Tip: If desired, sprinkle with 1 cup (250 mL) vegan mozzarella-style shreds during the last 5 minutes.