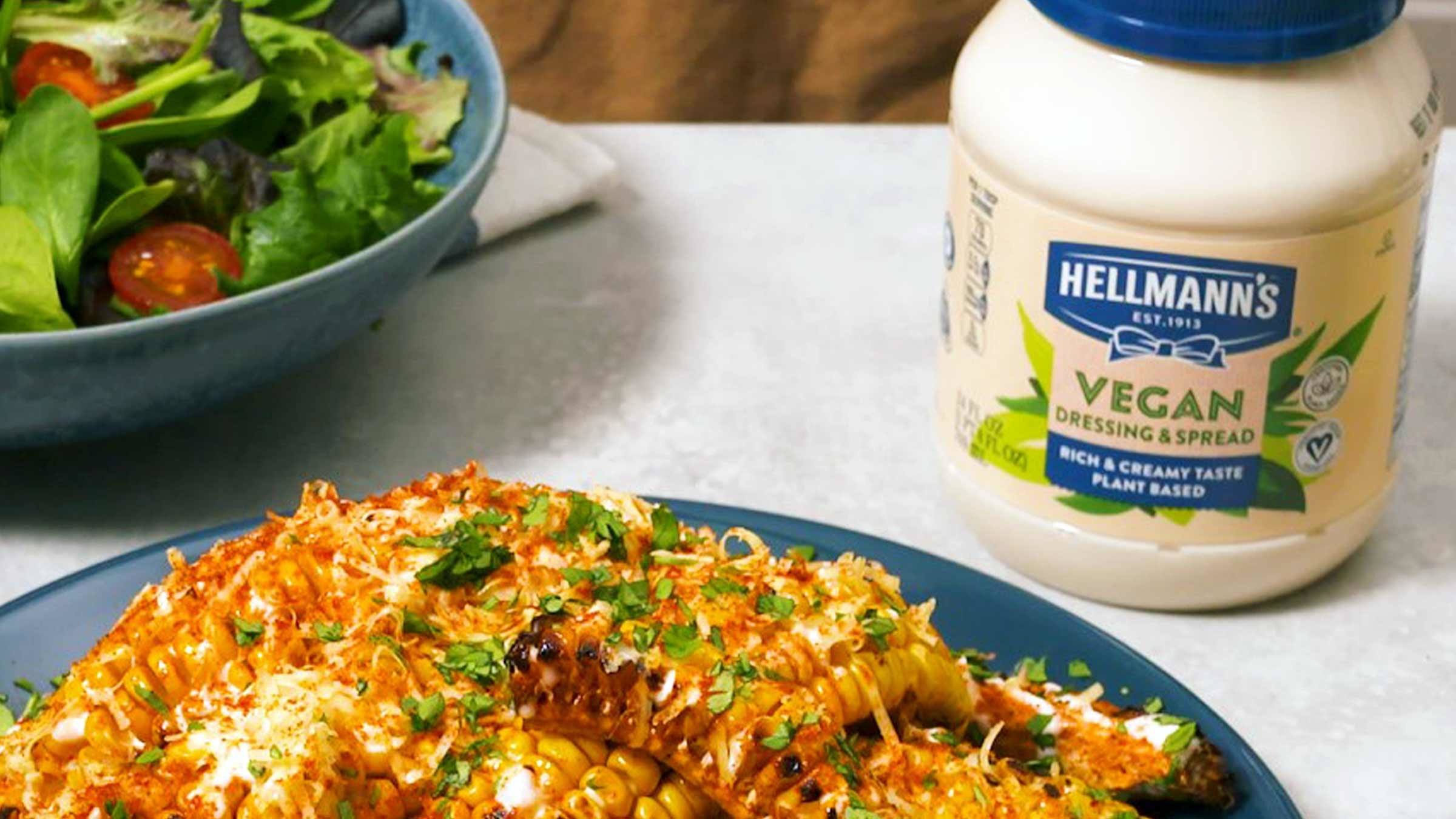 Here's our Corn Ribs vegan edition! Try this simple and delicious grilled corn recipe that'll keep you wanting more.
INGREDIENTS
4 Tbsp. (60 mL) Hellmann's® Vegan, divided
1 1/2 tsp. (7 mL) chili powder, divided
1/2 tsp. (2 mL) ground cumin
4 ears corn-on-the-cob, husked, pointed ends trimmed
1/4 cup (60 mL) shredded vegan cheddar cheese alternative
1/4 cup (60 mL) chopped fresh cilantro
Lime wedges for serving
METHOD
Combine 2 Tbsp. (30 mL) Hellmann's® Vegan, 1 tsp.(5 mL) chili powder and cumin in cup. Set aside.

Place corn on one flat end standing up on cutting board. Center a sharp knife on top of corn and using a rolling pin, hammer the knife through the core of the corn. Turn the 2 halves core sides down on cutting board. Center the knife in middle of corn and hammer with rolling pin to cut in half lengthwise. Recipe is also delicious on whole corn cobs, if desired.

Brush corn with Hellmann's® Vegan mixture. Grill 8 to 10 minutes, turning as needed until lightly charred and tender.

Arrange corn on serving platter; sprinkle with "cheese" and cilantro, then drizzle with remaining 2 Tbsp. (30 mL) Hellmann's® Vegan and sprinkle with remaining 1/2 tsp.(2 mL) chili powder. Serve with lime wedges.
Tip:
Tip: For easy and safe cutting, make sure your knife is sharp and secure cutting board with a damp paper towel underneath to avoid slipping.