Vegan Chili Stuffed Baked Potatoes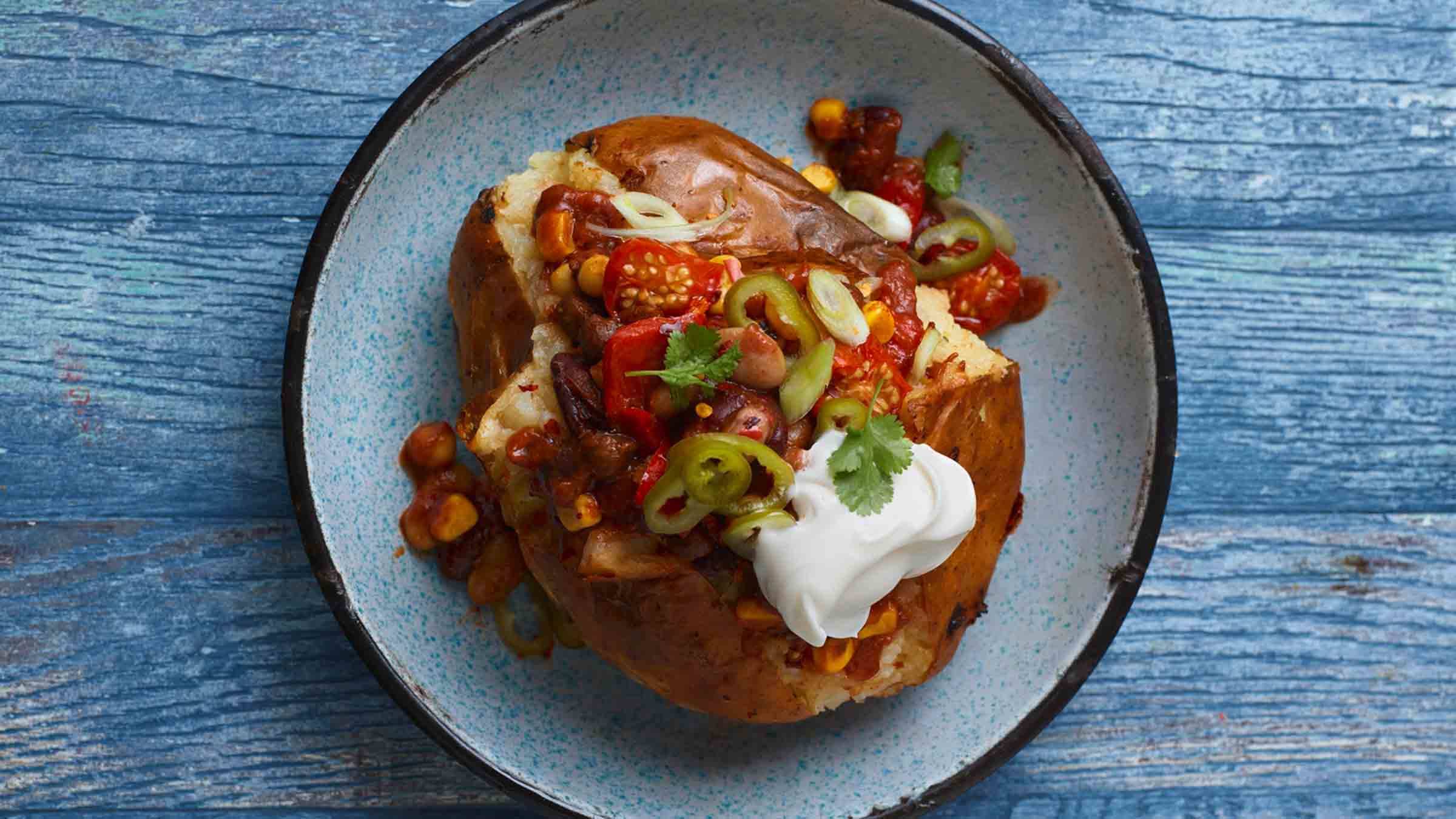 A classic baked potato dialed way up. This dish is made with creamy Hellmann's Vegan Mayo, smokey beans and crisp chopped onions.
INGREDIENTS
4 large Yukon gold potatoes, poked in several places with a knife
5 Tbsp. (75 mL) Hellmann's® Vegan, divided
1/4 tsp. (1 mL) salt
2 tsp. (10 mL) olive oil
1 small onion, chopped
1 can (540 mL) red kidney beans, rinsed and drained
1/4 cup (60 mL) corn
2 Tbsp. (30 mL) water
1 tsp. (5 mL) chili powder
12 cherry tomatoes, halved
METHOD
Heat oven to 425°F (220°C.) Brush potatoes with 2 Tbsp.(30 mL) of the Hellmann's® Vegan and sprinkle with salt. Arrange on rimmed baking sheet and bake 40 minutes or until tender.

Meanwhile, heat oil in large nonstick skillet and cook onions, stirring occasionally, until tender, about 6 minutes. Stir in beans, corn, water and chili powder and bring to a boil. Reduce heat and simmer 2 minutes. Add tomatoes and cook, stirring occasionally, until they soften, about 2 minutes. Remove from heat and stir in 1 Tbsp. (15 mL) Hellmann's® Vegan

Split potatoes and evenly spoon chili mixture over top. Garnish, if desired with chopped cilantro and sliced scallions. Dollop with remaining Hellmann's® Vegan.