Vegan Brown Rice Veggie Ranch Bowl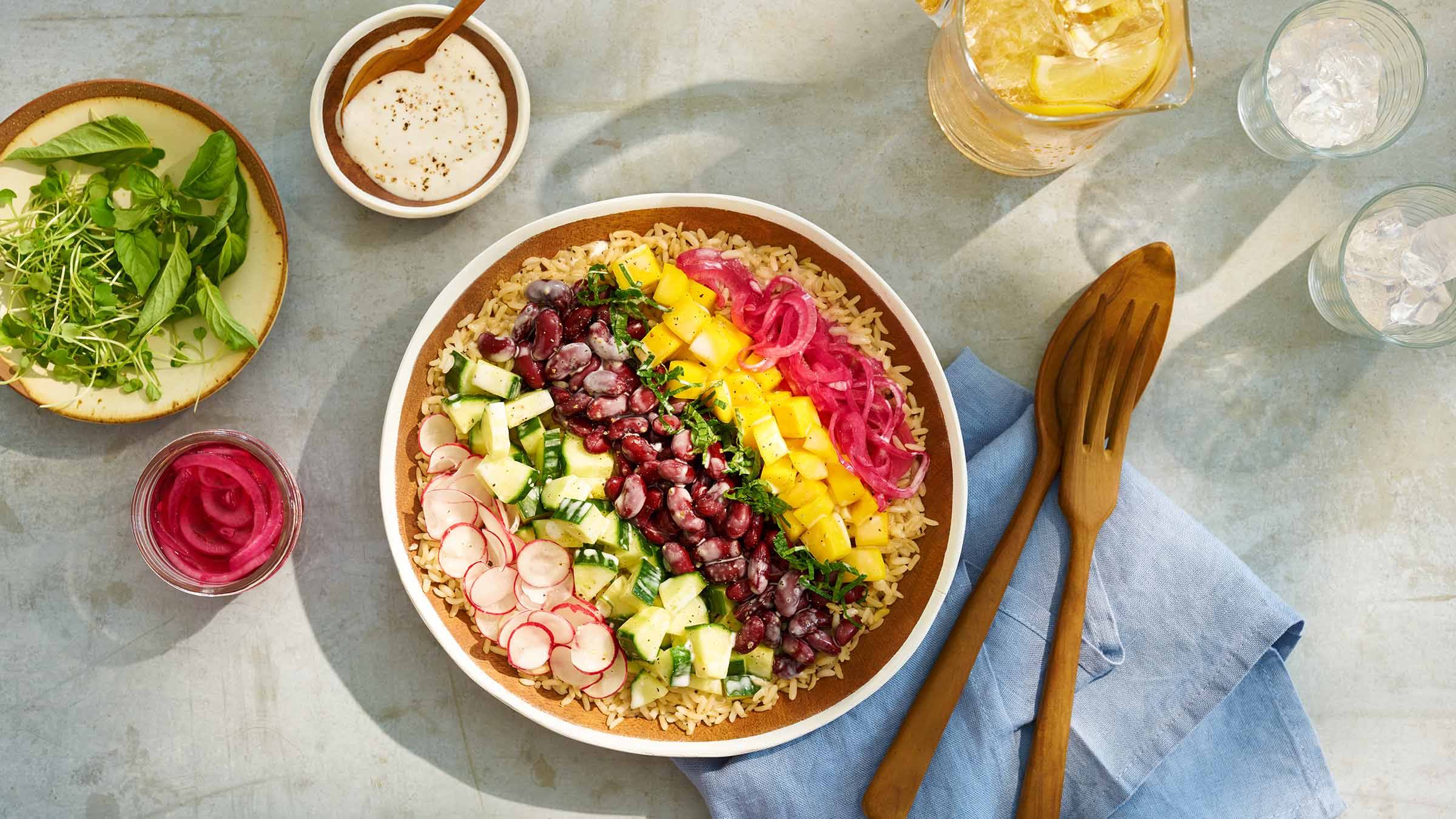 We use all vegan ingredients to make this delicious vegan recipe.
INGREDIENTS
PICKLED RED ONIONS:
1/2 cup (125 mL) apple cider vinegar
2 Tbsp. (30 mL) maple syrup
1/2 tsp. (2 mL) salt
1 red onion, thinly sliced
RANCH BOWL:
4 cups (1 L) cooked brown rice
1 can (540 mL) no-salt added red kidney beans, rinsed and drained
1 mango, peeled and diced
1 cucumber, diced (about 1 cup/250 mL)
3 radishes, thinly sliced
1/4 cup (60 mL) loosely packed fresh basil leaves, cut into thin strips
1/2 cup (125 mL) Hellmann's® Vegan Ranch Salad Dressing
METHOD
For Pickled Red Onions, put vinegar, maple syrup and salt in a microwave-safe bowl and microwave at HIGH 1 minute or until mixture just comes to a boil. Stir in onion and press down to evenly submerge. Cover and marinate at least 30 minutes, stirring occasionally.

For Ranch Bowl, put brown rice, kidney beans, mango, cucumber, radishes, basil and ½ cup (125 mL) of the pickled red onions in large bowl. Stir in Hellmann's® Vegan Ranch Salad Dressing until well blended.
Tip:
Chef's Tip: Pickled onions can be made in advance and refrigerated for up to 2 weeks. \nChef's Tip: Experiment with different beans and fruit combinations! Also terrific with chickpeas, pinto beans or black beans and peaches or strawberries. \nChef's Tip: This rice salad can also be a great way to use up leftover rice!