Tuna Poke Bowl with Pineapple & Cucumber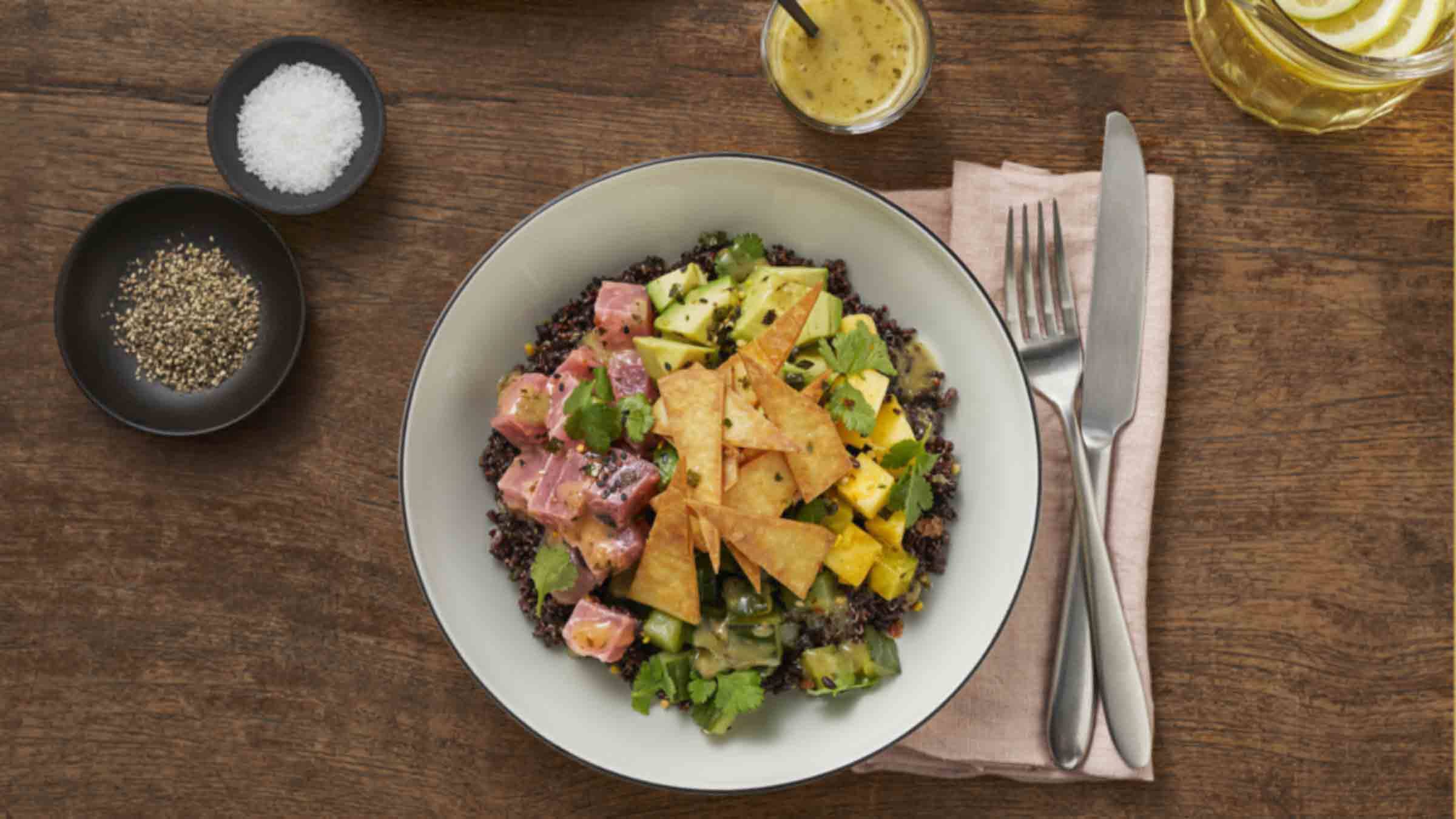 Looking for something delicious to eat? Our Hellmann's tuna poke bowl with pineapple and pickled cucumber is an amazing idea for today!
INGREDIENTS
1/2 English cucumber, diced
1/2 cup (125 mL) Hellmann's® Hatch Chili Dressing, divided
1 1/2 Tbsp. (22 mL) orange juice or yuzu juice
12 ounces (350 g) raw ahi tuna, cut into chunks
3 cups (750 mL) cooked rice, (preferably black rice)
1 cup (250 mL) cooked red quinoa
3 Tbsp. (45 mL) rice wine vinegar
1 tsp. (5 mL) dark sesame oil
1 cup (250 mL) diced fresh pineapple
1 avocado, diced
METHOD
Combine cucumber, 2 Tbsp. (30mL) Hellmann's® Hatch Chili Dressing and orange juice in bowl. Let stand at room temperature, tossing occasionally, 30 minutes.

Meanwhile, toss tuna with 2 Tbsp. (30 mL) Dressing. Cover and refrigerate 30 minutes. Toss rice and quinoa with vinegar and sesame oil.

Spoon rice mixture evenly into 4 bowls. Evenly top with cucumber, tuna, pineapple and avocado. Drizzle with remaining dressing. Garnish, if desired, with cilantro leaves, furikake (Japanese rice seasoning) and fried tortilla strips.*
Tip:
*To make fried tortilla strips, cut corn tortillas into strips and shallow fry in hot oil until crisp. Remove to paper towels to drain.