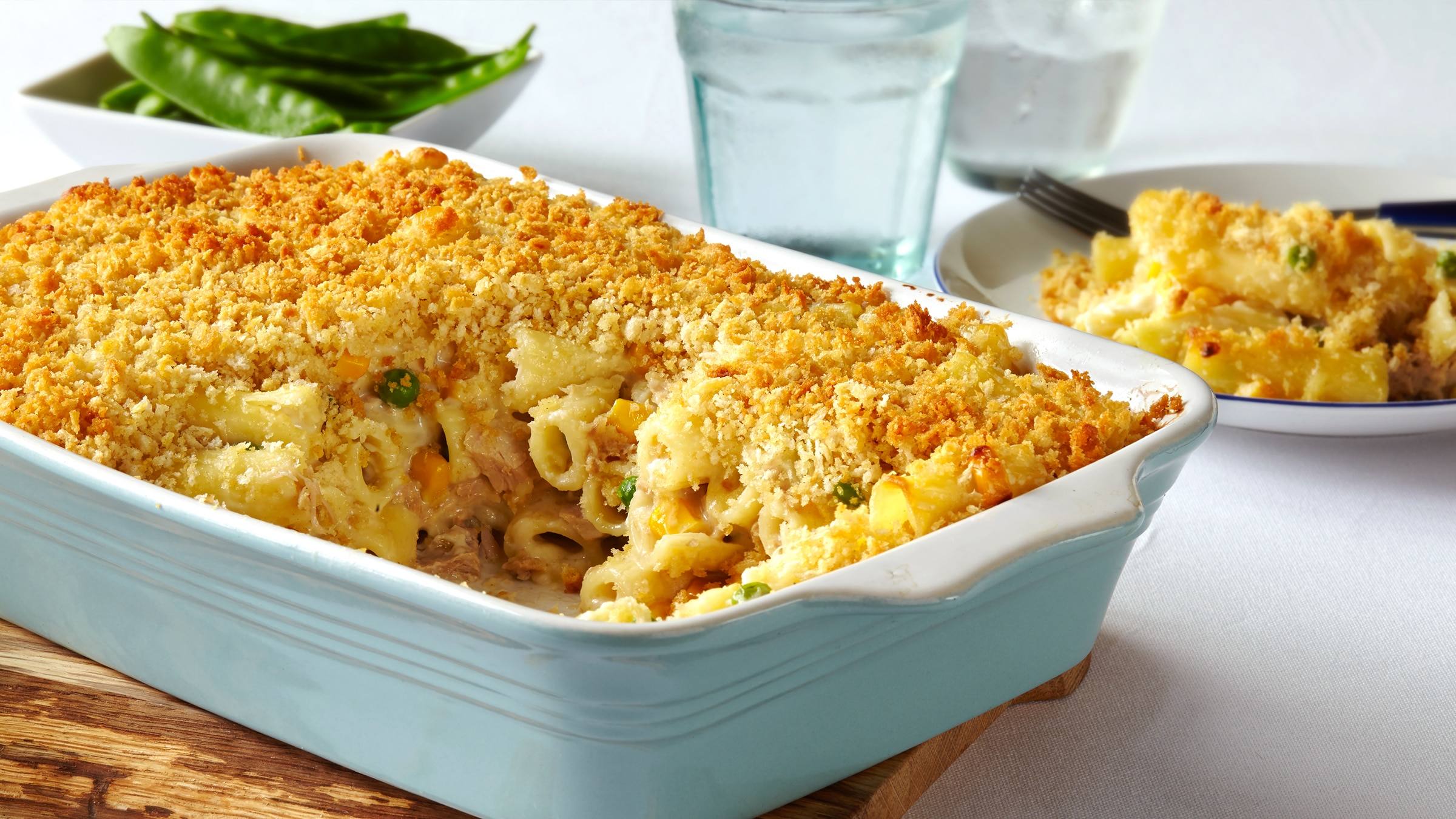 Looking for something delicious to eat? Our Hellmann's tuna casserole is an amazing idea for today's dinner!
INGREDIENTS
1/4 cup (60 mL) margarine
1/4 cup (60 mL) all-purpose flour
2 1/2 cups (625 mL) 2% milk
3/4 cup (175 mL) shredded cheddar cheese (about 4 oz./125 g)
1/4 tsp. (1 mL) ground black pepper
1/2 cup (125 mL) Hellmann's® Real Mayonnaise
8 ounces (250 g) rotelle pasta or elbow macaroni, cooked and drained
2 cans (6 oz./ 180 g. ea.) tuna, drained and flaked
2/3 cup (150 mL) frozen green peas, thawed
1/2 cup (125 mL) frozen corn, thawed
2 Tbsp. (30 mL) fresh parsley leaves (optional)
1/2 cup (125 mL) bread crumbs
METHOD
Preheat oven to 350° F (180° C).

Melt margarine in large saucepan over low heat and stir in flour with wire whisk until blended. Cook 2 minutes, stirring frequently. Slowly add milk, stirring constantly with wire whisk. Stir in 1/2 cup (125 mL) cheese. Simmer, stirring constantly, over medium-low heat, until sauce starts to thicken, about 10 minutes.

Stir in Hellmann's® Real Mayonnaise and black pepper until blended. Stir in tuna, peas, corn and parsley, then pasta. Turn into 2-quart (2 L) baking dish, then sprinkle with bread crumbs and remaining cheese.

Bake 20 minutes or until golden and cheese is melted.
Tip:
Tip: Instead of breadcrumbs, try topping with crumbled tortilla chips.