Stuffed Pork Tenderloin with Garlic Mayo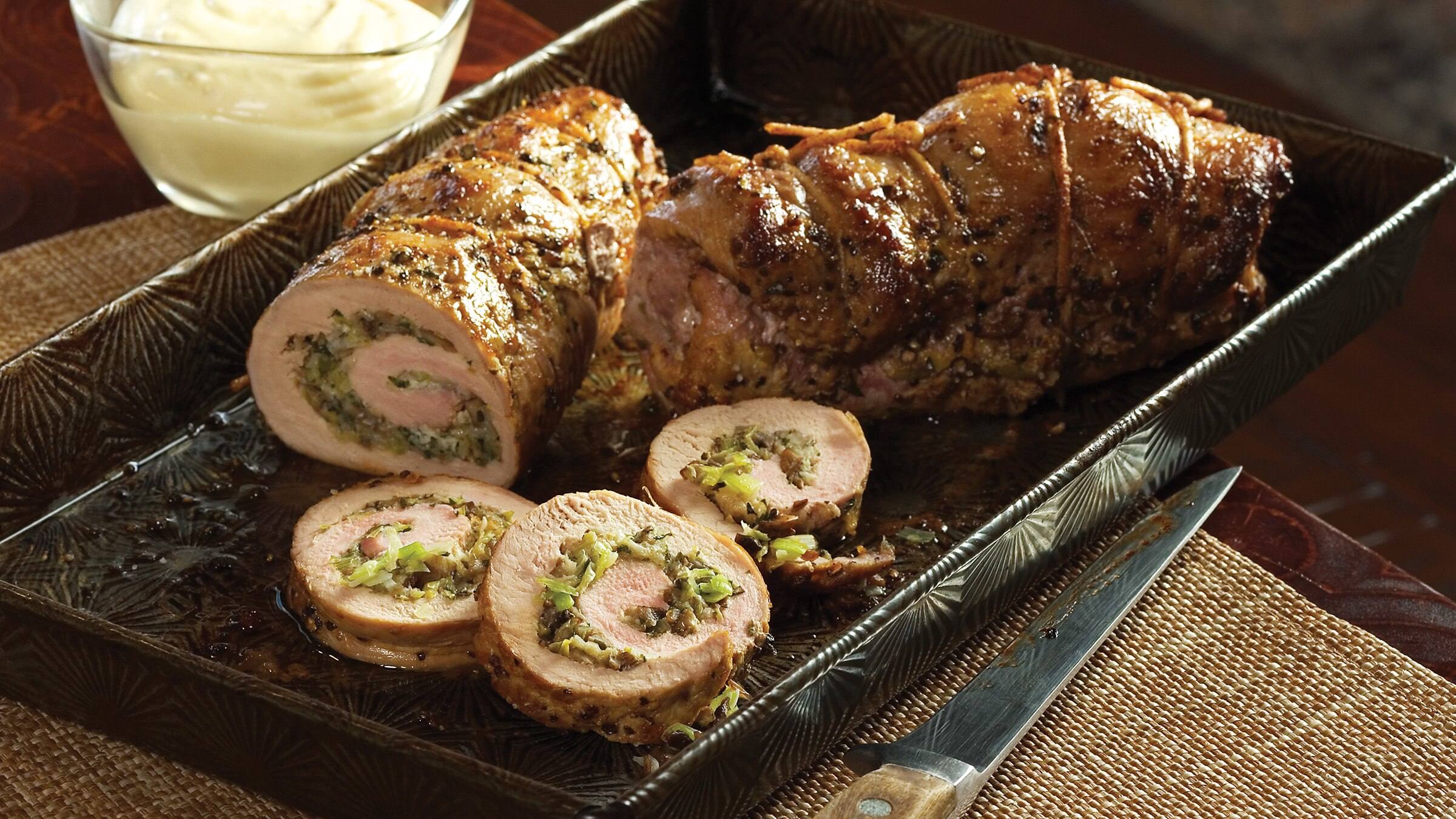 Roasted Garlic Mayonnaise makes a perfect finishing touch for this pork tenderloin, adding zesty creaminess.
INGREDIENTS
3 cups (750 mL) leeks
3 cups (750 mL) mushrooms
2 1/2 Tbsp. (37 mL) extra virgin olive oil
1 c. à thé (5 ml) extra virgin olive oil
1/2 tsp. (2 mL) dried thyme leaves, crushed
1/2 tsp. (2 mL) salt
1/4 tsp. (1 mL) ground pepper
1/2 cup (125 mL) fresh bread crumbs
1/2 cup (125 mL) grated Pecorino Romano cheese
1/4 cup (50 mL) chopped fresh parsley leaves
2 pork tenderloins, (12-oz/340-g ea.), pounded out to 1/2-inch (1 cm) thickness
1 Tbsp. (15 mL) Maille Dijon Mustard
1 head garlic
1/2 cup (125 mL) Hellmann's® Real Mayonnaise or Hellmann's® 1/2 the Fat mayonnaise-type dressing
METHOD
Preheat oven to 350° F (180° C). In a large skillet over medium-high heat, cook leeks and mushrooms in olive oil until the leeks are tender. Season with thyme, salt and pepper and cook for 2 minutes longer.

Let cool slightly, then transfer to a food processor and process until the leeks and mushrooms are finely chopped. Add in bread crumbs, Pecorino Romano cheese and parsley and process just to blend. Set stuffing mixture aside.

Cut off top from head of garlic. Place in small pan. Drizzle some olive oil over top. Set aside.

Cover each pork tenderloin with half of the stuffing mixture, pressing it firmly into an even layer over the entire surface of the meat. Beginning at one of the shorter ends, roll the tenderloin up to enclose the stuffing. Tie with kitchen string in 2–3 places to secure the roll.

Brush rolls with mustard and sprinkle with salt and pepper, as desired. Place side by side in a small roasting pan.

Insert pan with stuffed pork and pan with garlic into oven and roast for 35 minutes, or until a meat thermometer inserted into the center of pork reads 155° F (70° C) and garlic is soft and golden. Remove from oven and let pork stand for 10 minutes.

Meanwhile, squeeze roasted garlic into a small bowl. Add in Hellmann's® Real Mayonnaise and mix well. Season with salt, pepper and sugar, as desired.

Slice pork into spirals and serve warm or at room temperature with Roasted Garlic Mayonnaise.
Tip:
TIP: Roasted Garlic Mayonnaise will keep covered in refrigerator for 4 days. Recipe makes 1/2 cup (125 mL).