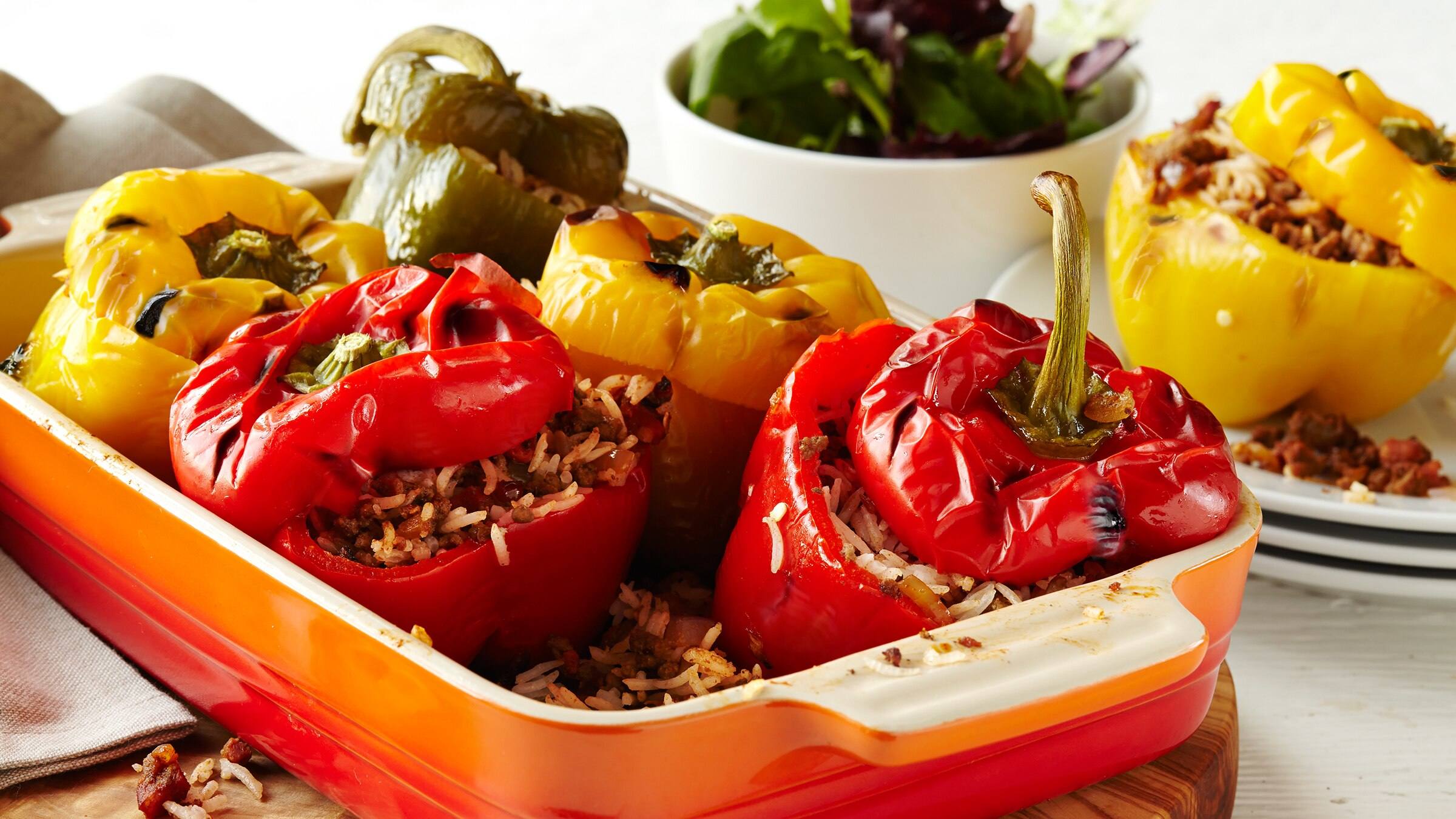 Sweet bell peppers filled with basmati rice and spicy ground beef mixed with smooth, creamy Hellmann's® Real Mayonnaise. A delicious stuffed peppers recipe.
INGREDIENTS
4 medium green, red and/or yellow bell peppers
2 medium red onions, halved
1 Tbsp. (15 mL) olive oil, divided
1 medium Spanish onion or Vidalia onion, thinly sliced
2 cloves garlic, finely chopped
1 small red chile pepper, finely chopped (optional)
1/2 lb. (225 g) lean ground beef
1/2 tsp. (2 mL) ground cumin
1/2 tsp. (2 mL) chili powder
1/4 cup (60 mL) chopped chorizo
2 Tbsp. (30 mL) Hellmann's® Real Mayonnaise
1/2 cup (125 mL) basmati rice or long-grain rice, cooked according to package directions
2 Tbsp. (30 mL) shredded cheddar cheese
METHOD
Preheat oven to 375°F (190°C). Arrange bell peppers and red onions on baking sheet; drizzle with 1/2 Tbsp. (7 mL) olive oil. Roast 15 minutes or until peppers are tender. Let cool 10 minutes.

Decrease oven to 350°F (180°C). Slice top from bell peppers and reserve; remove seeds. Set aside. Heat remaining 1/2 Tbsp. (7 mL) olive oil in large skillet and cook Spanish onion, garlic and chile pepper over medium heat, stirring occasionally, until onion is tender, about 4 minutes. Add ground beef, cumin and chili powder and cook, stirring occasionally, until ground beef is browned. Stir in chorizo and cook 3 minutes. Remove from heat.

Finely chop red onions. Stir red onions, Hellmann's® Real Mayonnaise and cooked rice into ground beef mixture. Stuff peppers with rice mixture, then top with pepper tops and arrange in baking dish.

Bake 20 minutes. Remove pepper tops and set aside. Top peppers with cheddar cheese and continue baking until cheese is melted, about 5 minutes. Top with pepper tops to serve.
Tip:
Tip: Also delicious with ground turkey instead of beef.