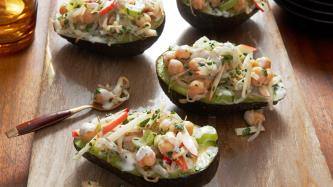 We use all vegan ingredients to make this delicious vegan recipe.
INGREDIENTS
1 lime
1/4 cup (60 mL) Hellmann's® Vegan
1/4 cup (60 mL) chopped fresh cilantro
2 cups (500 mL) cooked, cooled sprouted mung beans
1 can (440 g.) chick peas, rinsed and drained
1 large Honeycrisp apple, cored and julienned
1/2 cup (125 mL) thinly sliced celery, (about 1 stalk)
2 avocados, halved and peeled
METHOD
Grate 1 tsp. (5 mL) peel and squeeze 2 Tbsp (30 mL). juice from lime and combine with Hellmann's® Vegan and cilantro in large bowl.

Add remaining ingredients except avocado halves and stir to mix. Season, if desired, with salt and pepper. Spoon over avocado halves.