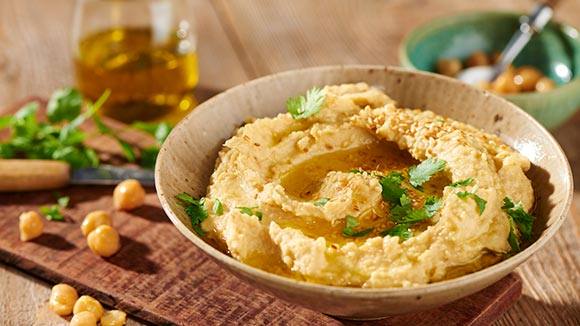 Hummus is a versatile dip and takes no time to make. Stir in some Hellmann's® Real Mayonnaise and tahini for a silky, smooth texture.
INGREDIENTS
1 can (470 g.) chick peas or garbanzos, rinsed and drained
1/4 cup (125 mL) Hellmann's® Real Mayonnaise
1/4 cup (60 mL) water
2 cloves garlic, finely chopped
2 Tbsp. (30 mL) lemon juice
1 Tbsp. (30 mL) tahini (sesame paste) *
1/4 tsp. (1 mL) ground cumin
1/8 tsp. (0.5 mL) ground black pepper
METHOD
Process all ingredients in food processor or blender until smooth. Drizzle, if desired, with extra virgin olive oil. Serve with your favorite dippers.
Tip:
*Substitution: Use 3 Tbsp. ground toasted sesame seeds.