Spicy Salmon \Sushi\ Bowl Recipe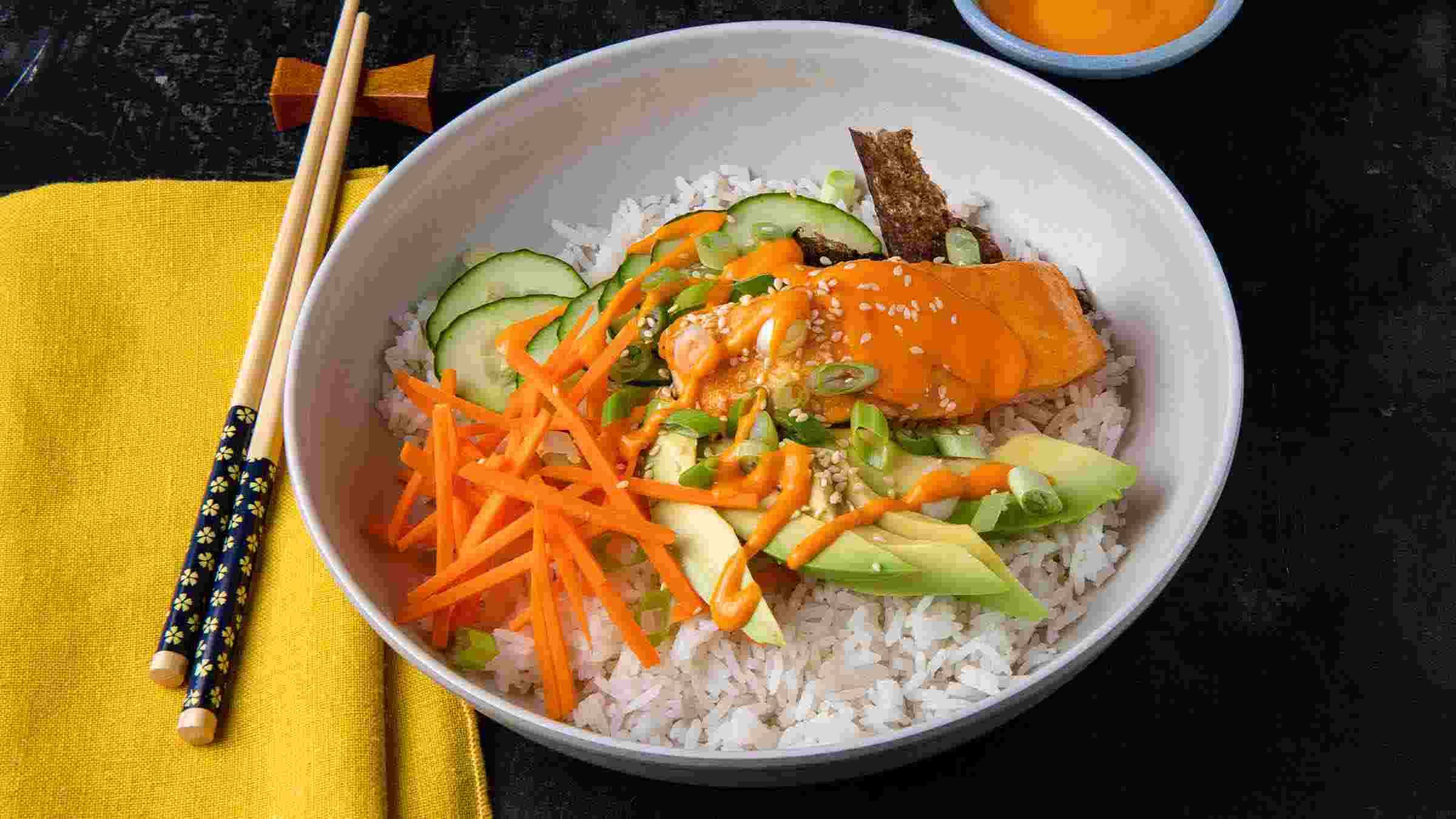 Have a craving for sushi? This delicious recipe will satisfy that urge!
INGREDIENTS
1 cup (250 mL) uncooked sushi rice
1/2 cup (125 mL) Hellmann's® Spicy Mayonnaise Type Dressing
3/4 tsp. (3 mL) toasted sesame oil
1 -lb. (450 g) salmon fillet, skin removed and cut into 4 pieces
1 avocado, thinly sliced
1 cup (250 mL) sliced seedless cucumber
1/2 cup (125 mL) shredded carrots
1 green onion, chopped
1 pkg (0.35 oz) seaweed snacks
METHOD
Preheat oven to 400°F (200°C). Prepare sushi rice according to package directions.

Combine Hellmann's Spicy Mayonnaise Type Dressing and sesame oil until well blended. Line rimmed baking sheet with parchment paper or foil (or lightly grease pan). Evenly spread about 1 Tbsp (15 mL) Mayonnaise Dressing mixture on top of each piece of salmon. Roast 15 minutes or until salmon is just cooked through.

To assemble the bowls, evenly divide cooked rice between 4 bowls. Evenly top each with a cooked spicy salmon filet, sliced avocado, cucumber slices, shredded carrots and chopped scallions. Serve with additional Mayonnaise Dressing mixture and seaweed snacks and garnish, if desired, with toasted sesame seeds.

Tip:
Chef's Tip: Don't have sushi rice? This bowl is delicious with any rice or your favorite grain like quinoa.