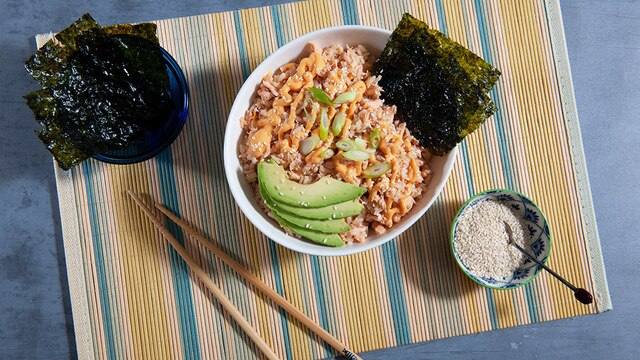 Turn your rice leftovers into a delicious meal with this quick and easy Salmon Bowl Recipe
INGREDIENTS
12 ounces (350 g) leftover cooked salmon
2 cups (500 mL) cooked rice
1/4 cup (60 mL) Hellmann's® Spicy Mayonnaise Type Dressing
1 Tbsp. (15 mL) low sodium soy sauce
1 avocado, sliced
Sesame seeds (optional)
1 pkg (4.82 g) seaweed snacks
METHOD
Smash cooked salmon in a large bowl with a fork until broken into small pieces. Top with cooked rice and drizzle with Hellmann's® Spicy Mayonnaise Dressing and soy sauce. Mix until well blended.

Evenly divide your Salmon don and top with sliced avocado. Garnish, if desired, with drizzles of Spicy Mayonnaise Dressing and a sprinkle of sesame seeds. Serve with seaweed snacks.
Tip:
Tip: Add some veggies to your salmon bowl. Try some nice additions like bell pepper strips, leftover cooked broccoli or some sauteed baby bok choy.