Roasted Maitake Mushroom with Romesco, Corn & Stone Fruit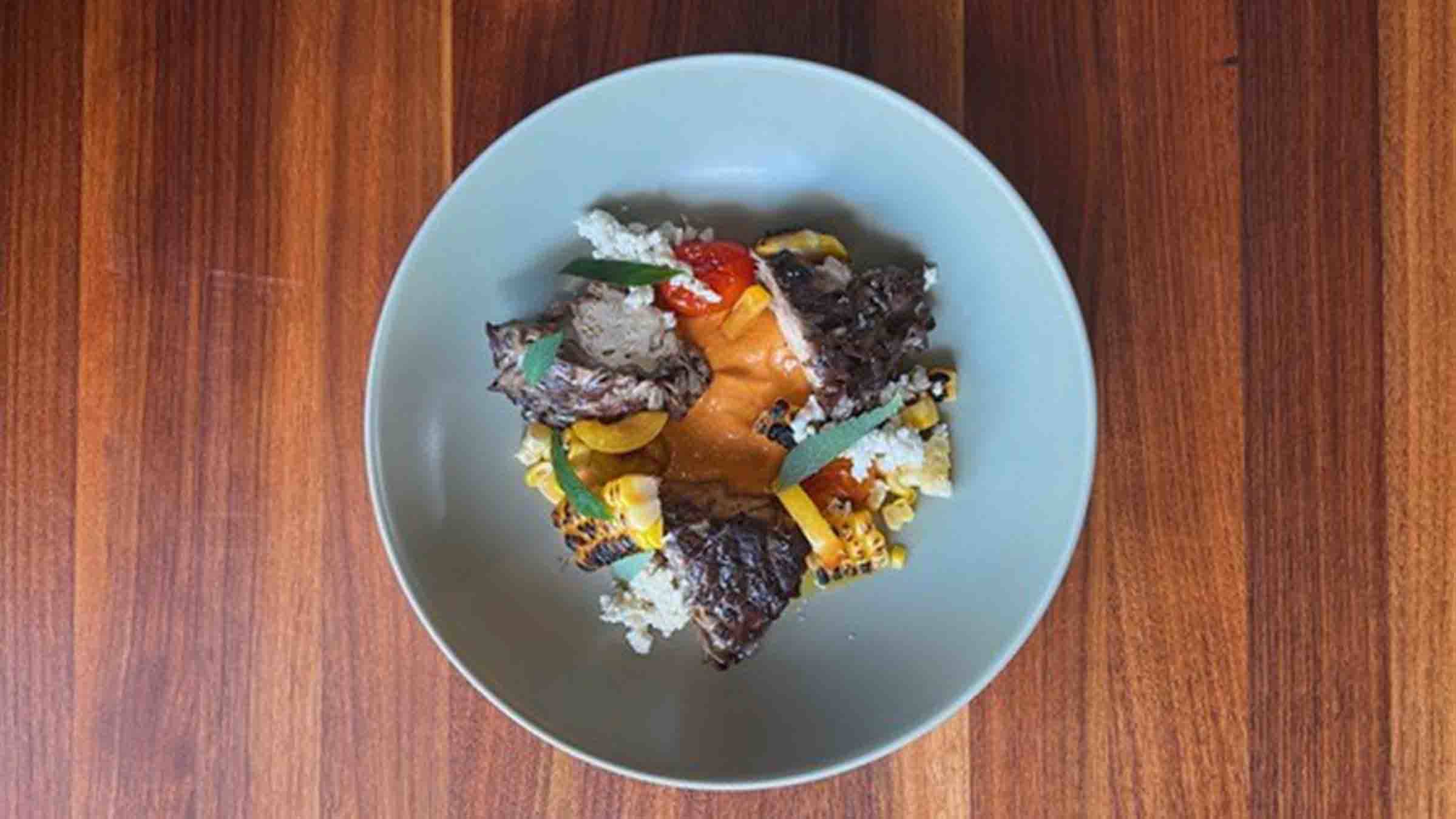 This grilled maitake mushroom made with Hellmann's® Vegan Green Goddess Dressing is fresh and bursting with notes of lemon and herbs.
INGREDIENTS
ROMESCO:
2 Tbsp. (280 mL) PLUS 1 Cup olive oil, divided
1 shallot, halved
1 Roma tomato, halved
3 cloves garlic. minced
2 1/2 ounces (75 g) hazelnuts or almonds
1 dried ancho chili, seeded and torn
2 tsp. (10 mL) paprika
1/4 cup (60 mL) torn day-old bread
1 tsp. (5 mL) sherry vinegar
VEGETABLES AND FRUIT:
2 Tbsp. olive oil
1 lb. (450 g) maitake mushrooms or any "meaty" mushroom such as oyster or portobello
1/2 cup (125 mL) Hellmann's® Vegan Green Goddess Salad Dressing
Zest and juice of 1/2 lemon
1 clove garlic, minced
1 tsp. (5 mL) paprika
Salt and pepper to taste
1/4 cup (60 mL) cherry tomatoes roasted in a pan
1 ear corn-on-the-cob, charred and kernels removed
2 pieces plum, cut into half moons
Flakey salt to garnish
METHOD
For ROMESCO: Heat 2 Tbsp. (30 mL) olive oil a medium pan over medium-high heat. Sear shallot halves, then add in Roma tomatoes, cut side down. Cook until shallots are soft, about 5 minutes.

Add garlic, nuts, dried ancho chili, paprika, and bread. Add 2 Tbsp. (30 mL) to 1/4 cup (60 mL) water, enough for veggies to be mostly submerged. Reduce heat to medium; cover and cook 5 to 7 minutes.

Add mixture to blender with remaining olive oil, sherry vinegar and salt to taste. Blend on high until smooth. Season to taste and set aside. You will need 1 cup for this recipe. Refrigerate remaining for another use.

For VEGETABLES AND FRUIT: Heat 2 Tbsp. (30 mL) olive oil in a cast iron pan or skillet on high heat. Sear the mushroom cut side down and apply gentle pressure carefully to remove excess liquid. Do this to all sides of the mushroom.

While searing, grab a medium bowl and whisk together Hellmann's® Vegan Green Goddess Salad Dressing, lemon, minced garlic, paprika, salt and pepper.

Reduce heat to medium. Season the mushroom with a bit of salt. Using a grill/pastry brush, generously brush the marinade over the mushroom – getting into each crevice. Repeat this process on all sides and angles of the mushroom to ensure it is properly glazed and will continue to sear.

Remove the mushroom from the pan and season with a pinch of salt, then break the mushroom into 4 pieces.

Time to plate! Add 1/2 cup (125 mL) romesco to the centre of each of 2 plates, followed by the mushroom pieces. Add tomato, corn and plum. Garnish with something bright and vivacious (I used anise hyssop from my garden). Finally, sprinkle with some flaky salt.
Tip:
Optional Garnish: Hellmann's® Green Goddess Powder: Add 1 Tbsp. (15 mL) olive oil and 2 Tbsp, (30 mL) Hellmann's® Vegan Green Goddess Dressing to bowl of food processor. Next, add in ½ cup (125 mL) tapioca maltodextrin. Pulse until a powder forms. If it is too wet, you may need more maltodextrin. The trick to this is it is generally done by feel. The reality is, if you over mix it the starch will be over activated and become gummy. Try again! \n \n\nThis delicious recipe comes from Matthew Ravenscroft / @thedirtyraven.