Roasted Brussels Sprouts Caesar Salad with Crispy Pancetta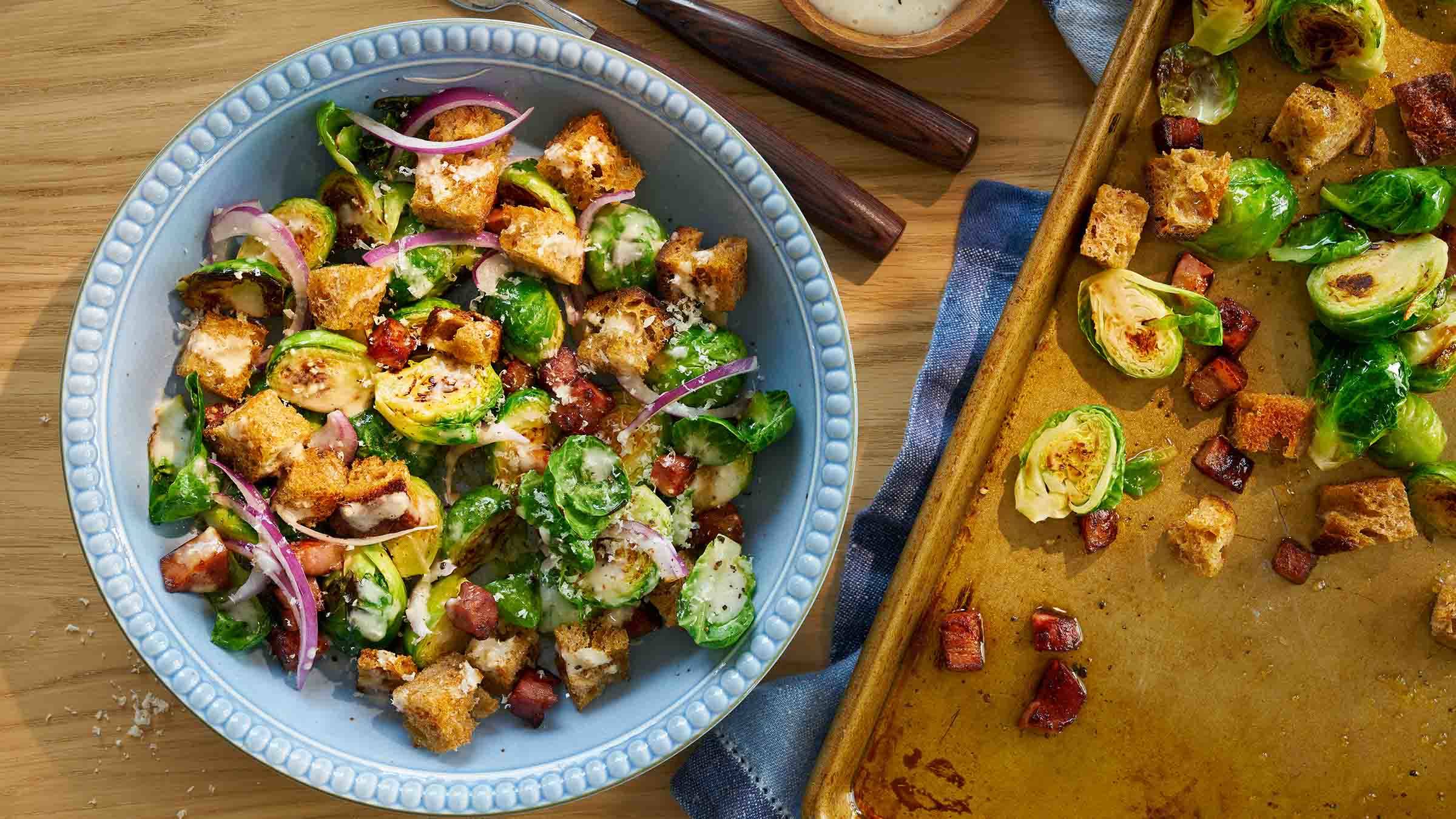 Lightly dressed Brussels sprouts meet crisp pancetta croutons in each bite of this satisfying, warm salad.
INGREDIENTS
4 ounces (125 g) pancetta, diced
2 cups (500 mL) crusty bread cubes
1/4 tsp. (1 mL) garlic powder
1 lb. (450 g) halved Brussels sprouts, roasted
1/4 cup (60 mL) thinly sliced red onion
1/4 cup (125 mL) Hellmann's® Classic Caesar Dressing
1 oz. (30 g) Parmesan Reggiano, shaved
METHOD
Heat oven to 350°F/180°C. Cook pancetta in large skillet over medium heat, stirring occasionally, until browned and crisp. Lift pancetta onto paper towels with slotted spoon; set aside. (Reserve drippings in pan.)

Spread bread cubes on rimmed baking sheet. Drizzle with pancetta drippings and sprinkle with garlic powder; toss to coat, then spread into even layer. Roast, tossing occasionally, until lightly browned and crisp, about 15 minutes.

Toss Brussels sprouts, croutons, pancetta, onion and Hellmann's® Classic Caesar Dressing in large bowl. Sprinkle with shaved Parmesan over top.
Tip:
Tip: This Salad is delicious with many different vegetables! Try substituting the roasted Brussels sprouts with other roasted vegetables such as red sweet potato, broccoli rabe or mushrooms, like shiitake or maitake.