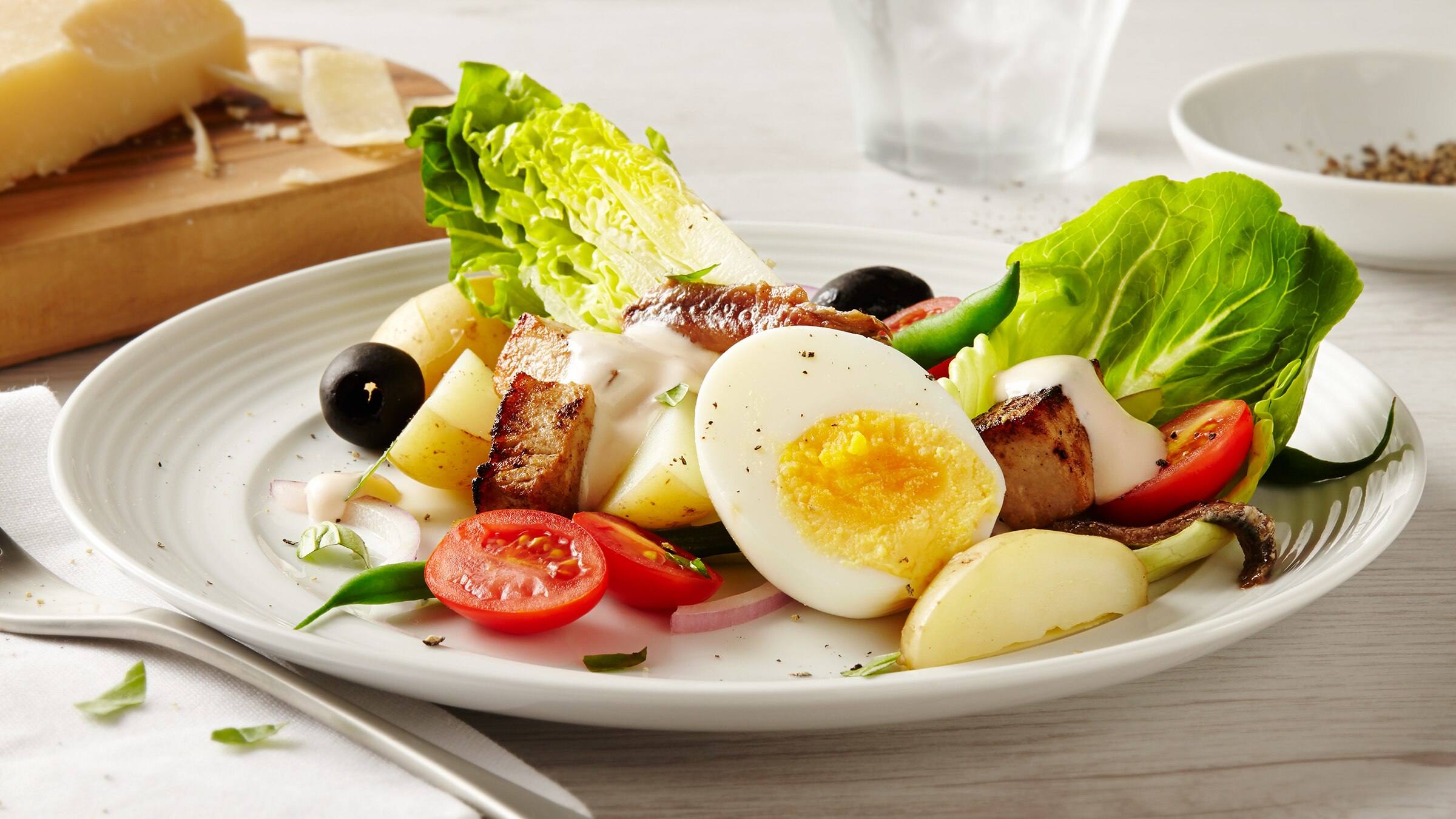 A classic Nicoise salad. The key to the great taste is to marinate the tuna in Hellmann's® Real Mayonnaise, herbs and garlic before serving.
INGREDIENTS
1/4 cup (60 mL) Hellmann's® Real Mayonnaise
4 Tbsp. (60 mL) olive oil, divided
3 Tbsp. (45 mL) red wine vinegar
2 Tbsp. (30 mL) chopped fresh parsley
2 cloves garlic, finely chopped
1 -lb. (450 g) tuna steak, cut into 2-in. squares
4 cups torn romaine lettuce leaves
1 small red onion, thinly sliced
4 small plum tomatoes, quartered
1 lb. (450 g) red bliss potatoes or new potatoes, cooked and quartered
8 ounces fresh green beans, trimmed, cooked and drained
4 hard-cooked eggs, peeled and halved
1 cup (250 mL) pitted ripe olives
6 canned anchovies, thinly sliced (optional)
1/2 cup (125 mL) coarsely chopped fresh basil leaves,(optional)
METHOD
Combine Hellmann's® Real Mayonnaise, 3 Tbsp. olive oil, red wine vinegar, parsley and garlic in small bowl. Spoon 1/2 of the mayonnaise mixture over tuna in large, shallow nonaluminum baking dish or plastic bag; turn to coat. Cover, or close bag, and marinate in refrigerator 1 hour. Refrigerate remaining mayonnaise mixture.

Remove tuna from marinade. Heat remaining 1 Tbsp. oil in small skillet over medium heat and cook tuna until desired doneness, turning once, about 5 minutes. Set aside.

Arrange lettuce, onion, tomatoes, potatoes, green beans, eggs and tuna on large serving platter. Top with olives, anchovies and basil. Drizzle with refrigerated mayonnaise mixture.