Mediterranean Vegan Burgers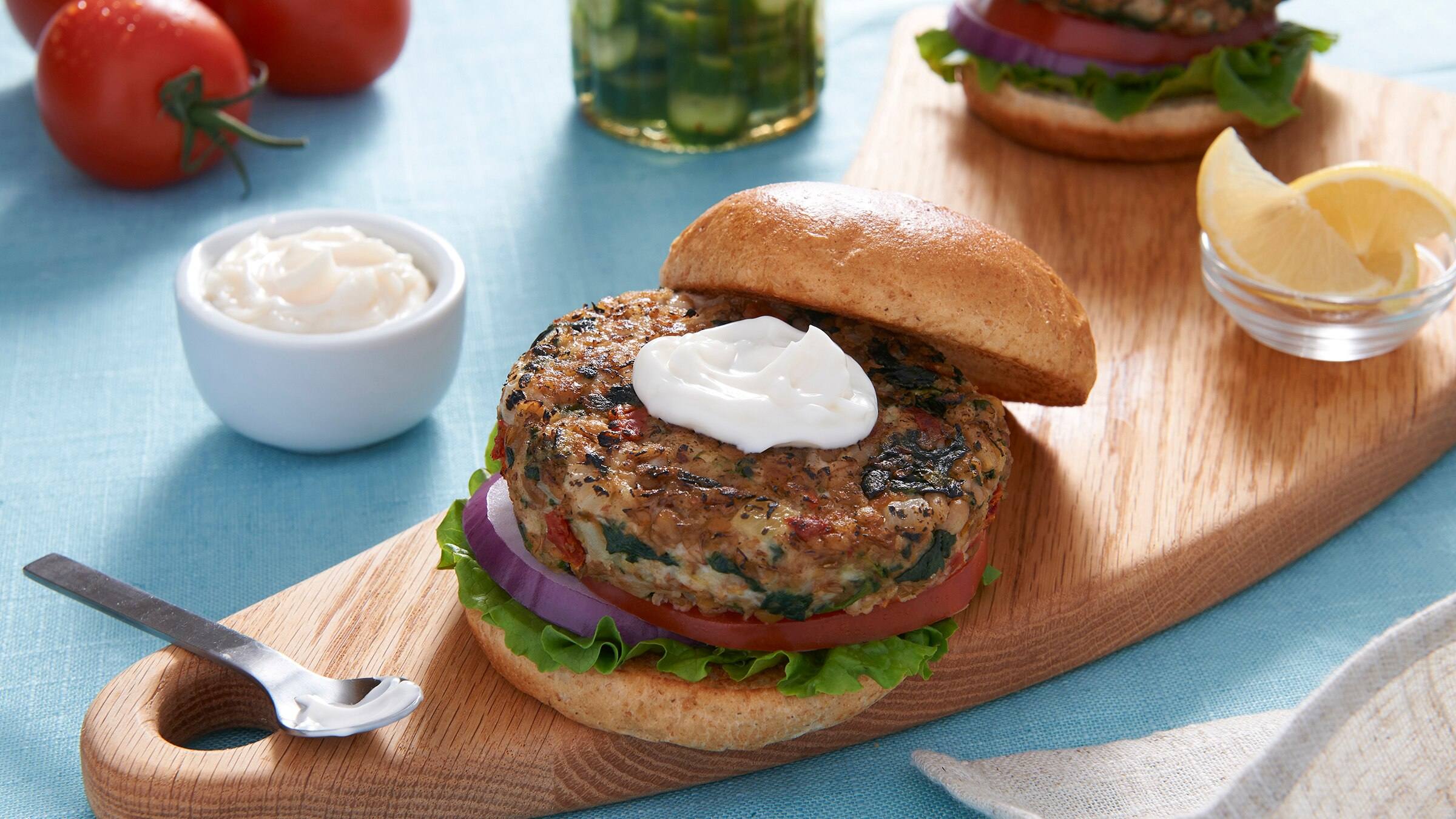 Check out our Mediterranean vegan burgers recipe, using simple ingredients that don't sacrifice on flavour, try it today!
INGREDIENTS
2 Tbsp. (30 mL) olive oil, divided
1/2 cup (125 mL) chopped onion
1 package (300 g) frozen chopped spinach, thawed and squeezed dry
1 clove garlic, finely chopped
1 can (540 mL) lentils, drained and mashed
1 cup (250 mL) cooked, cooled farro
1/2 cup (125 mL) Hellmann's® Vegan
1/2 cup (125 mL) seasoned panko bread crumbs
1/4 cup (60 mL) sun-dried tomatoes packed in oil, finely chopped
2 Tbsp. (30 mL) ground flax seed or flax meal, optional
6 vegan hamburger buns, toasted
METHOD
Heat 1 Tbsp. (15 mL) oil in large nonstick skillet over medium heat and cook onions, stirring occasionally, 5 minutes. Stir in spinach and garlic and cook until onion is softened and mixture is dry, about 3 minutes.

Combine lentils, farro, Hellmann's® Vegan, bread crumbs, sun-dried tomatoes and flax seed in large bowl.

Stir spinach mixture into bowl and form into 6 patties. Heat remaining 1 Tbsp. (15 mL) in large nonstick skillet and cook patties over medium heat 10 minutes, turning once, until lightly golden and heated through.

Serve on buns with, if desired, lettuce and a dollop of Hellmann's® Vegan. Serve with lemon wedges if desired.