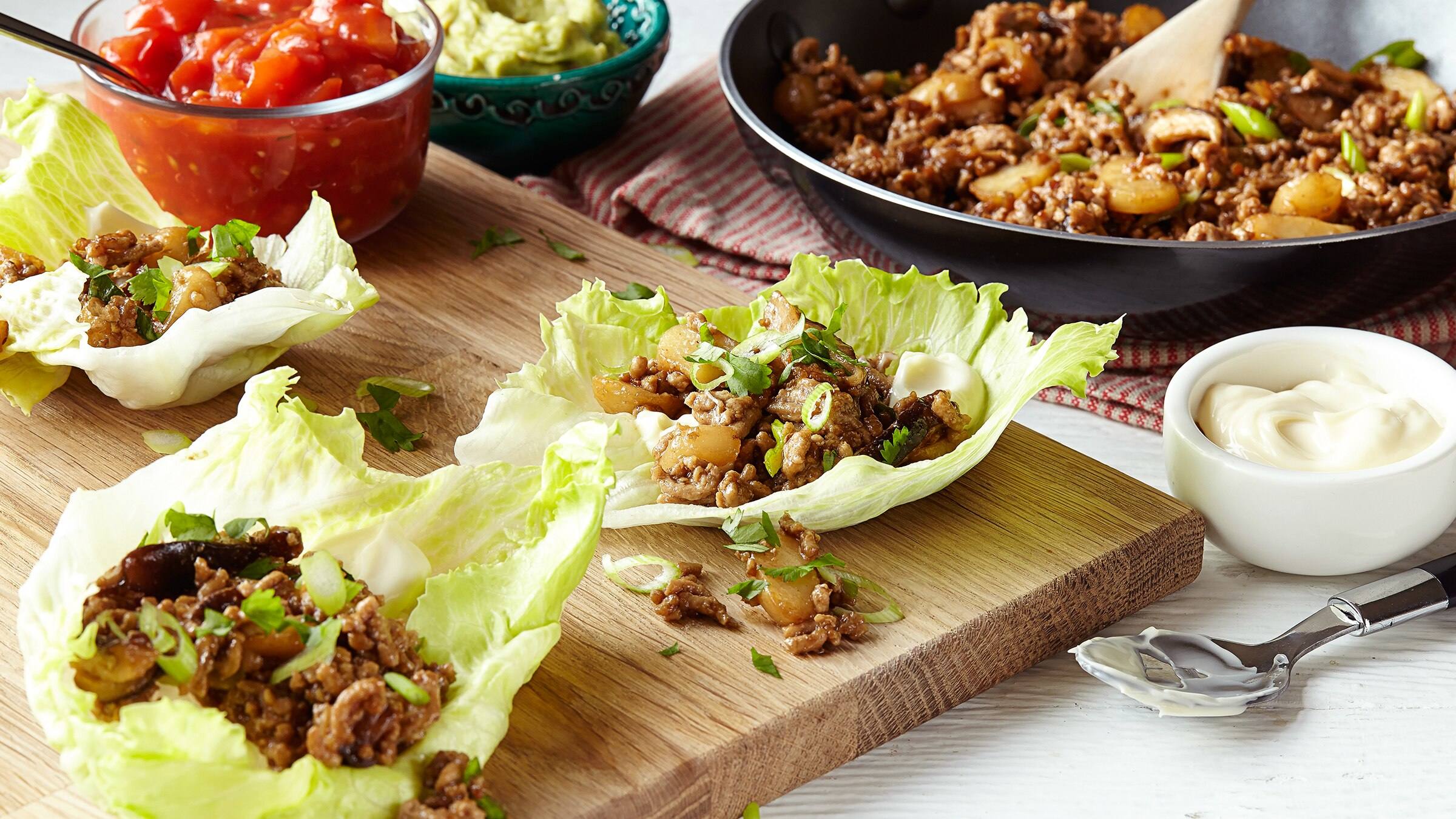 This Chinese-inspired delight combines pork, shiitake mushrooms, water chestnuts and the great taste of Hellmann's® Real Mayonnaise.
INGREDIENTS
1 cup (250 mL) boiling water
4 dried shiitake mushrooms
1 Tbsp. (15 mL) vegetable oil
1/2 lb. (250 g) ground pork
1 can (250 g) water chestnuts, drained and chopped
4 cloves garlic, finely chopped
1 Tbsp. (15 mL) oyster sauce
1 Tbsp. (15 mL) rice wine vinegar
1 tsp. (5 mL) sugar
2 Tbsp. (30 mL) Hellmann's® Real Mayonnaise
8 small romaine lettuce leaves or Boston lettuce leaves
2 green onions, thinly sliced
METHOD
Pour boiling water over mushrooms in small bowl. Let stand 10 minutes. Remove mushrooms from water, discarding water. Chop mushrooms and set aside.

Heat vegetable oil in medium skillet over medium heat and brown ground pork, stirring occasionally, about 5 minutes. Stir in water chestnuts and garlic and cook 3 minutes. Stir in oyster sauce, vinegar and sugar and cook over medium heat, stirring occasionally, until sauce thickens, about 3 minutes. Let cool slightly.

Add small spoonful of Hellmann's® Real Mayonnaise in center of each lettuce leaf. Spoon in pork mixture and garnish with green onions.
Tip:
See Nutrition information for saturated fat content.