Korean Style Bulgogi Fries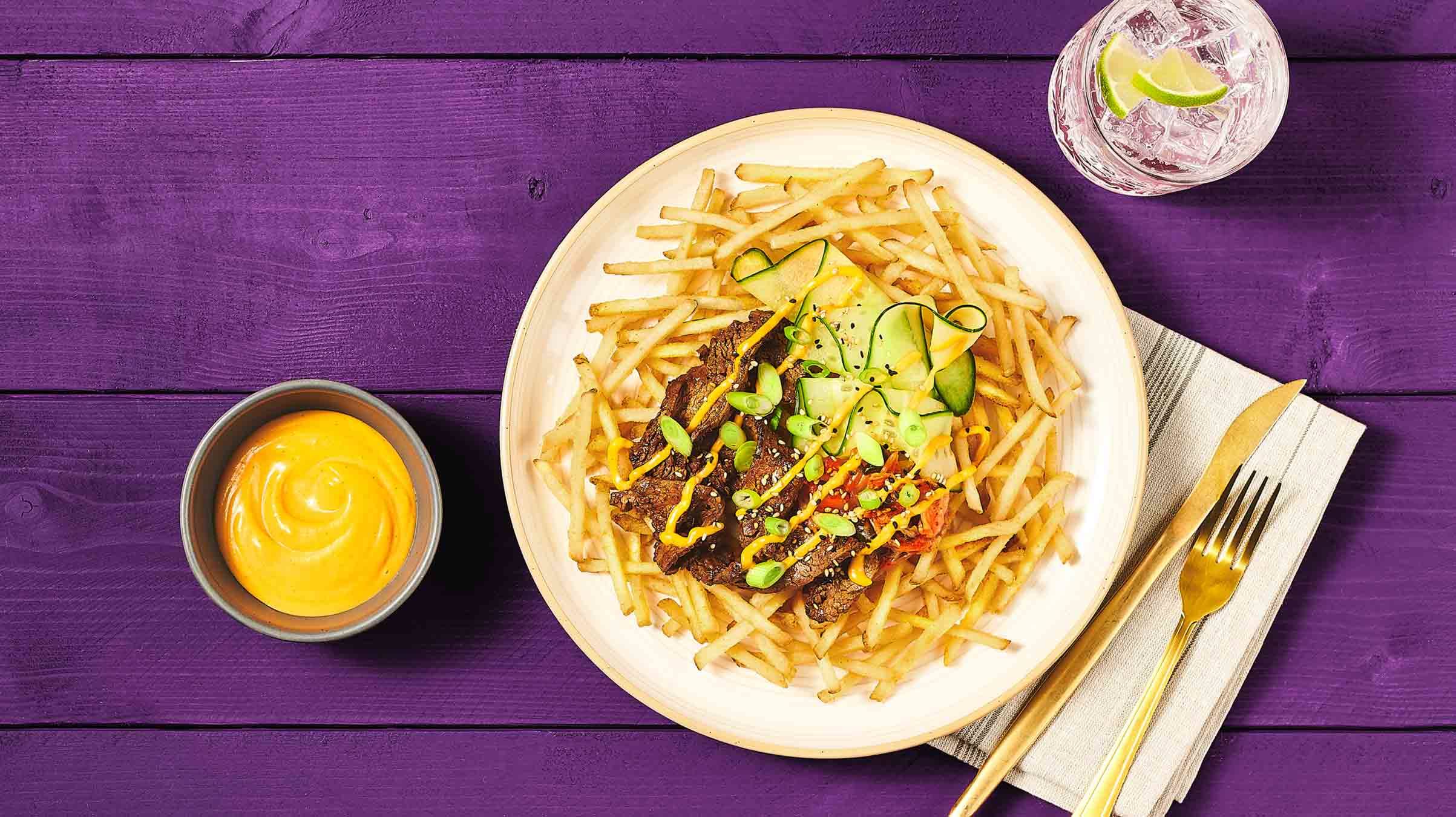 INGREDIENTS
1/4 cup (60 mL) grated Asian pear
3 Tbsp. (45 mL) reduced sodium soy sauce
1 1/2 Tbsp. (22 mL) dark sesame oil
1 1/2 Tbsp. (22 mL) brown sugar
1 Tbsp. (15 mL) ginger paste
1 1/2 tsp. (7 mL) garlic paste
1 tsp. (5 mL) onion powder
1/2 tsp. (2 mL) ground black pepper
8 ounces (225 g) flank steak
1/4 cup (60 mL) PLUS 1 Tbsp. (15 mL) Hellmann's® Spicy Mayonnaise Type Dressing, divided
350 g (12 oz.) Cavendish Farms Restaurant StyleTM Drive-Thru FriesTM
1 small cucumber, cut into ribbons
125 mL (1/2 cup) kimchi
2 green onions, sliced
Sesame seeds for garnish
METHOD
To make marinade, combine pear, soy sauce, sesame oil, brown sugar, ginger and garlic pastes, onion powder and black pepper in medium bowl. Add steak slices and coat thoroughly. Cover and refrigerate at least 2 hours or up to overnight.

Heat cast iron pan or nonstick skillet over medium-high heat.

Drain excess marinade liquid from bowl and discard. Add 1 Tbsp. (15 mL) of Hellmann's Spicy Mayonnaise Type Dressing to bowl and toss to coat steak. Cook steak slices for until browned, about 5 minutes.

Cook Cavendish Farms Restaurant StyleTM Drive-Thru Fries in oven or air fryer according to package directions.

Divide ingredients for serving. Place fries into bowl; top with beef mixture, ribboned cucumber, and kimchi. Drizzle with remaining 1/4 cup (60 mL) Hellmann's® Spicy Mayonnaise Type Dressing. Sprinkle with green onions and garnish with sesame seeds.