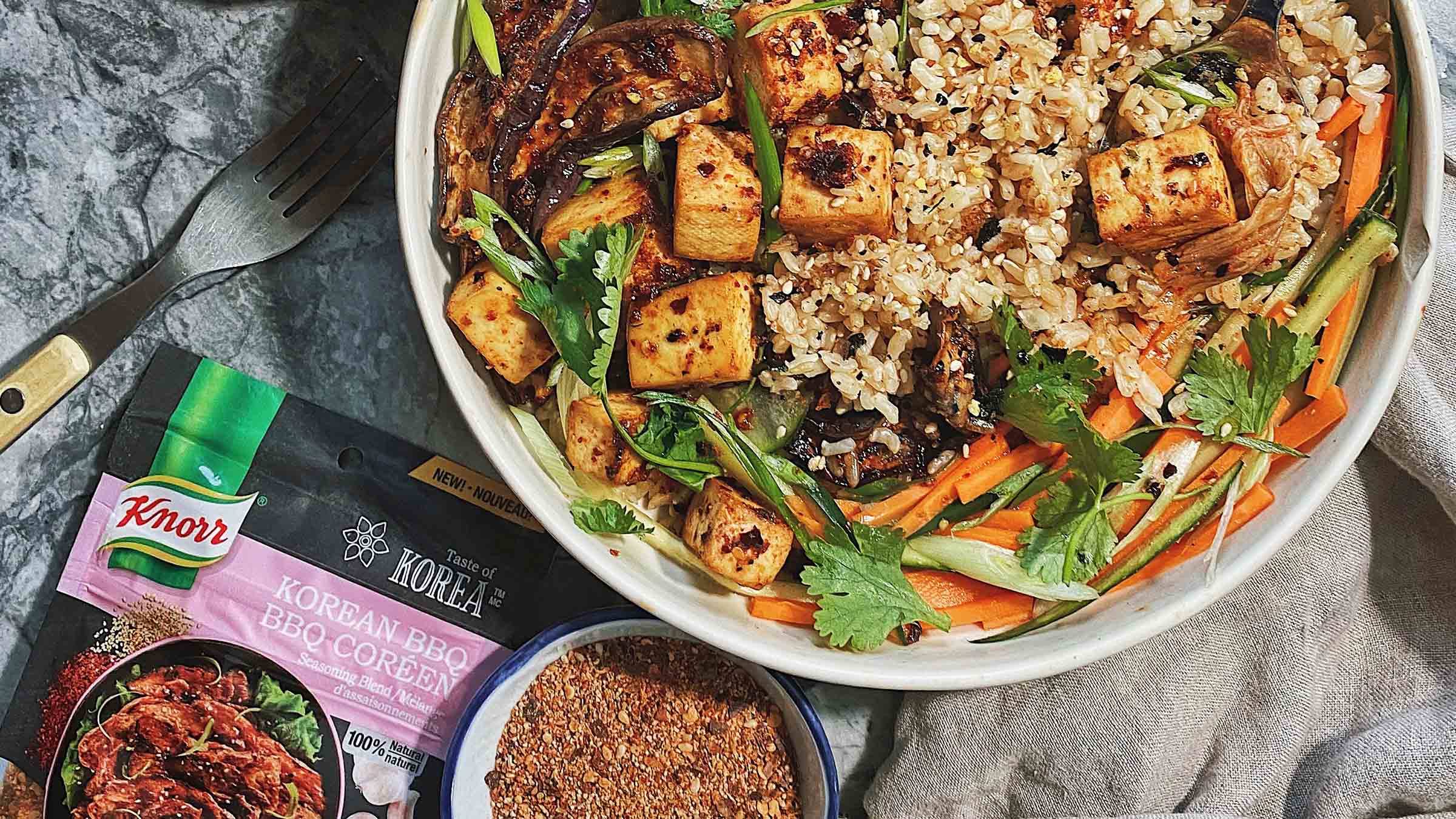 \This Korean-ish bowl is a new twist on what would've been an action-packed, family style Korean BBQ. A meal that takes me back to Christmas time in LA.\ By Viranlly
INGREDIENTS
1 cup (250 mL) rice wine vinegar
1 cup (250 mL) water
1 Tbsp. (15 mL) sugar
1 Tbsp. (15 mL) salt
1 carrot, julienned
1 cucumber, julienned
1 cup (250 mL) brown rice
1 tsp. (5 mL) Knorr Selects™ Vegetable Bouillon or Knorr Selects™ Chicken Bouillon
2 Tbsp. (30 mL) Knorr ® Korean BBQ Seasoning Blend
8 Tbsp. (125 mL) Hellmann's® Real Mayonnaise, divided
2 in./ 5 cm fresh ginger, grated on a microplane
4 cloves garlic, grated on a microplane
1 package (454 g) extra firm tofu, cut into 1-in. cubes and patted dry
1 Japanese eggplant, sliced lengthwise
1 Tbsp. gochujang hot pepper paste
1 clove garlic, grated on a microplane
METHOD
For Quick Veggie Pickles, bring vinegar, water, sugar and salt to a boil in medium saucepan. Simmer until sugar dissolves. Pour into medium bowl; add carrot and cucumber and let stand 1 hour.

For Rice Bowl, cook brown rice according to package directions adding Knorr Selects™ Vegetable Bouillon to cooking water.


Meanwhile, preheat oven to 400°F (200°C). Combine Knorr® Korean BBQ Seasoning Blend, 2 Tbsp. (30 mL) Hellmann's® Real Mayonnaise, ginger and garlic in small bowl, adding a little water if needed to form a paste. Coat tofu and eggplant with mixture and roast, 25 minutes or until eggplant is tender.

For Gochujang Mayo, combine remaining 6 Tbsp. (90mL) Hellmann's® Real Mayonnaise, gochujang and garlic in small bowl. Spoon rice, tofu and eggplant mixture and Pickled Veggies into bowls and drizzle evenly with Gochujang Mayo. Garnish, if desired, with toasted sesame seeds, roasted seaweed and sliced green onions.