Kimia Shoghi's Middle Eastern Meatball Wrap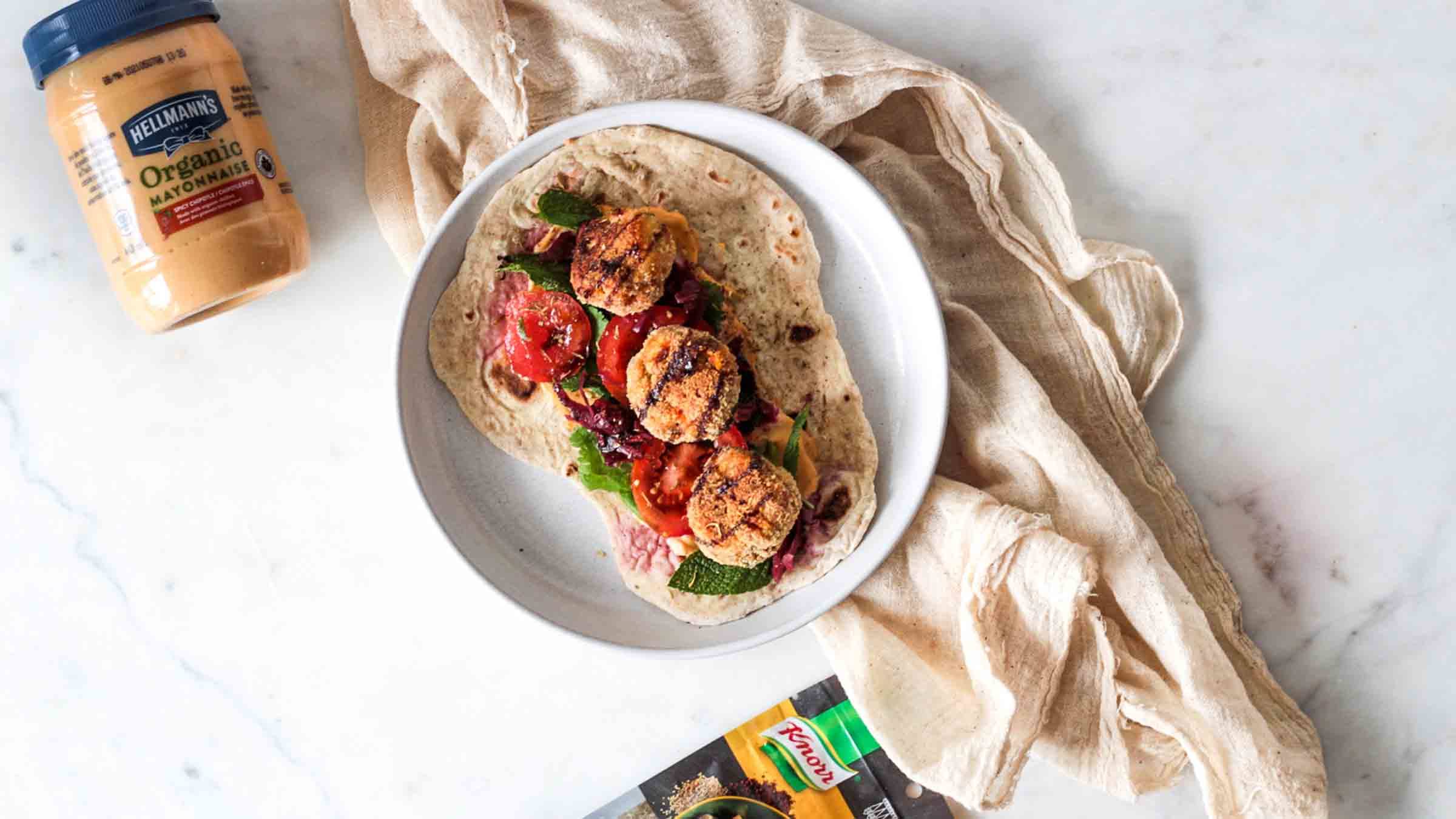 "This Middle Eastern Meatball recipe is inspired by my childhood weeknight meals. It is wholesome, aromatic and a crowd pleaser!" By @kito.green
INGREDIENTS
1 lb. (450 g) ground chicken
1 zucchini, grated
1 cup (250 mL) bread crumbs, divided
1 Tbsp. (15 mL) Knorr ® Za'atar Seasoning Blend
2 cloves garlic, minced
1 tsp. (5 mL) ground cumin
1 tsp. (5 mL) ground coriander
1 1/2 Tbsp. (30 mL) extra virgin olive oil
1 lemon
4 pita breads or wraps
2 Tbsp. (30 mL) Hellmann's® Organic™ Spicy Chipotle Mayonnaise
1/3 cup (75 mL) chopped mint leaves
3 Tbsp. (30 mL) pomegranate molasses
METHOD
Preheat the oven to 450°F (230° C). Line rimmed baking sheet with parchment paper or greased foil.


Combine chicken, grated zucchini, 1/2 cup (125 mL) bread crumbs, Knorr® Harissa Seasoning Blend, garlic, cumin and coriander in medium bowl. Coat hands with olive oil and roll 1 Tbsp. (15 mL) mixture into balls, then roll into remaining bread crumbs.


Arrange on prepared baking sheet. Arrange lemon slices around meatballs. Bake 15 minutes or until golden brown and thoroughly cooked.


Spread 1/2 Tbsp. (7 mL) Hellmann's® Organic™ Spicy Chipotle Mayonnaise onto each pita. Add meatballs and mint leaves and lettuce and tomatoes, if desired, then drizzle with pomegranate molasses.

Tip:
Tip: Want to skip the bread? Roll meatballs up in lettuce leaves instead.