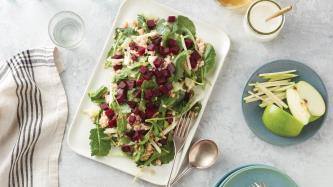 We use all vegan ingredients to make this delicious vegan recipe.
INGREDIENTS
1/4 cup (60 mL) Hellmann's® Vegan
2 Tbsp. (30 mL) apple cider vinegar
2 green onions, finely chopped, (or 3 Tbsp./45 mL) chopped chives)
4 cups (1 L) baby kale
1 1/2 cups (375 mL) cooked farro
1 apple, julienned
1 cup (250 mL) peeled, cubed cucumber
1 cup (250 mL) cubed cooked beets
METHOD
Combine Hellmann's® Carefully Crafted Dressing and Sandwich Spread, vinegar and green onions in large bowl.

Add remaining ingredients except beets; toss to coat with dressing. Top with beets.