Gochujang Cauliflower Bites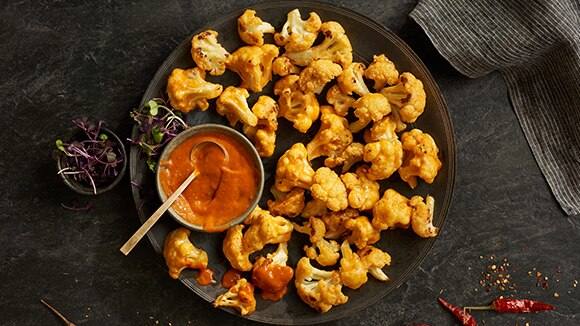 Check out our gochujang cauliflower bites recipe, using simple ingredients that don't sacrifice on flavour, try it today!
INGREDIENTS
1 cup (250 mL) all-purpose flour
1 cup (250 mL) water
1/3 cup (75 mL) Hellmann's ® Spicy Gochujang Dipping Sauce
1 tsp. (5 mL) salt
1 medium head cauliflower, cut into florets (about 8 cups /2 L)
METHOD
Preheat oven to 450°F (230°C). Whisk flour, water, Hellmann's® Spicy Gochujang Dipping Sauce and salt in large bowl until blended. Add cauliflower and toss to coat.

Arrange in single layer on parchment paper lined baking sheet(s). Bake 25 minutes or until golden brown and tender. Serve, if desired, with blue cheese dressing or additional Dipping Sauce.
Tip:
Tip: Serve with crisp celery sticks on the side.