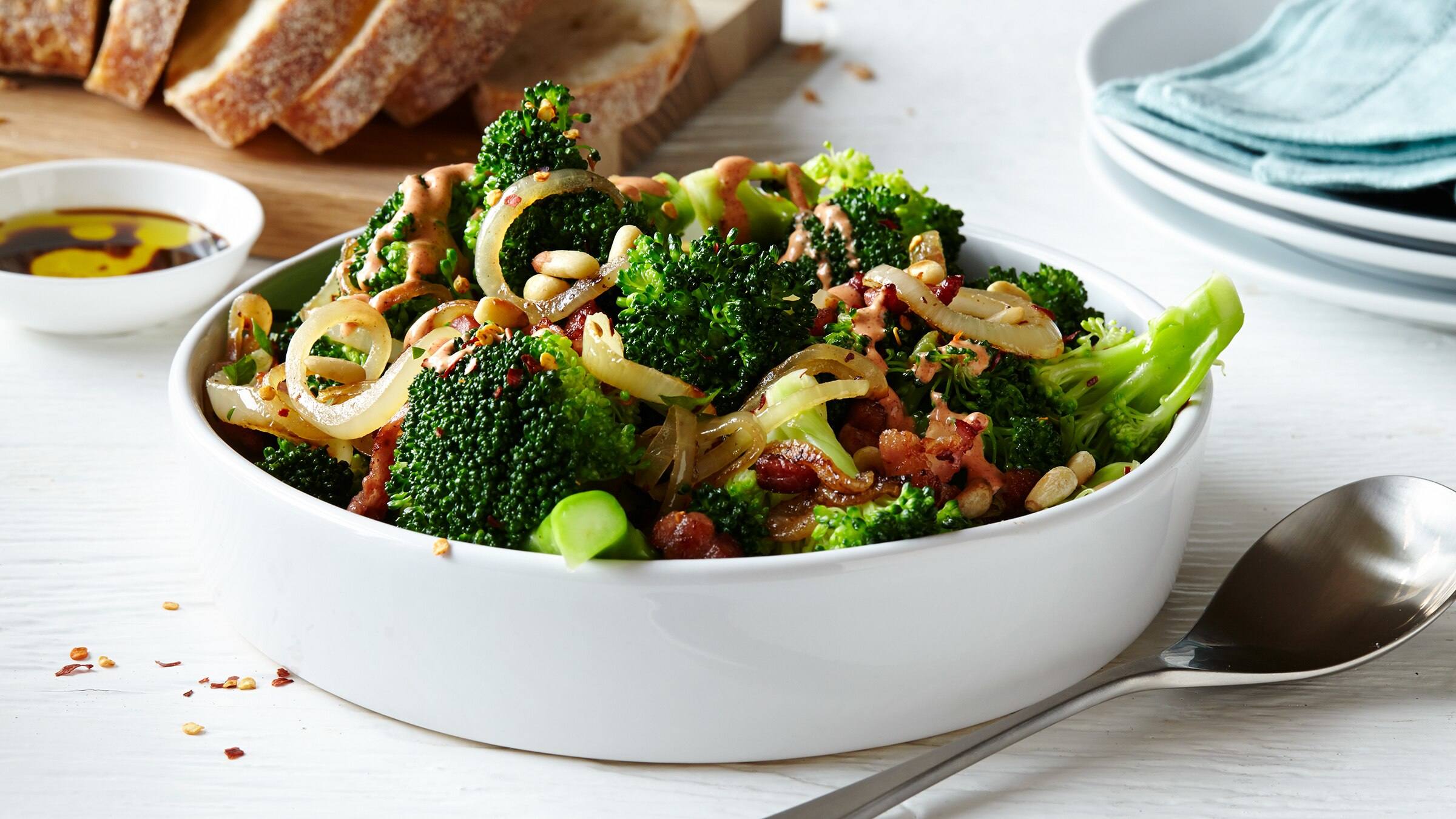 A quick and colourful broccoli salad recipe with crispy bacon, tender onions and creamy Hellmann's® Real Mayonnaise. Great as a light lunch or as a side salad.
INGREDIENTS
1 large head broccoli, separated into florets
2 slices bacon or pancetta, chopped
1 small onion, sliced
2 Tbsp. (30 mL) pine nuts (pignoli), toasted
1 Tbsp. (15 mL) fresh flat-leaf parsley leaves, chopped
Pinch crushed hot pepper flakes
2 Tbsp. (30 mL) Hellmann's® Real Mayonnaise
1 tsp. (5 mL) red wine vinegar
1/4 tsp. (1 mL) paprika
METHOD
Cover broccoli florets with water in medium saucepot and bring to a boil over high heat. Reduce heat to low and simmer until broccoli is crisp-tender, about 5 minutes. Drain and rinse with cold water until completely cool; set aside.

Cook bacon in medium skillet until just starting to brown. Add onion and cook, stirring occasionally, until bacon is crisp and onion is tender, about 5 minutes.

Combine cooked broccoli, onion mixture, pine nuts, parsley and hot pepper flakes in large bowl; set aside.

Combine Hellmann's® Real Mayonnaise, vinegar and paprika in small measuring cup or bowl. Pour over broccoli mixture and toss well.
Tip:
See Nutrition information for saturated fat content.