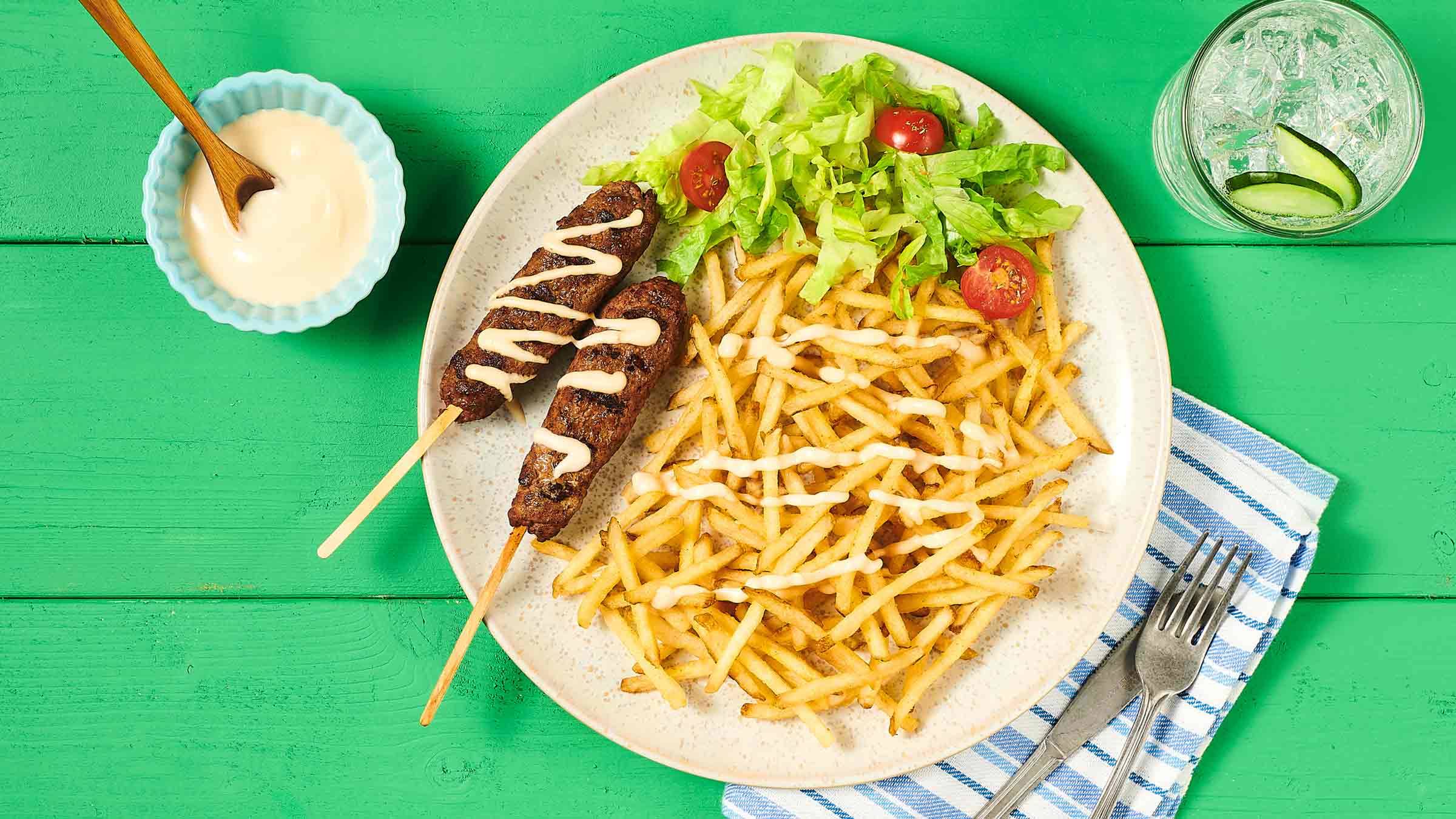 INGREDIENTS
8 ounces (226 g) lean ground beef
1/4 cup (60 mL) PLUS 1 Tbsp. (15 mL) Hellmann's® Garlic Aioli
1 tsp. (5 mL) paprika
1 tsp. (5 mL) ground coriander
1/2 tsp. (2 mL) onion powder
1/2 tsp. (2 mL) dried oregano leaves
1/4 tsp. (1 mL) ground black pepper
1/4 tsp. (1 mL) ground cayenne pepper, (optional)
170 g (6 oz.) Cavendish Farms Restaurant StyleTM Drive Thru Fries
1/2 cup (125 mL) finely chopped Romaine lettuce leaves
1/2 cup (125 mL) halved cherry tomatoes
METHOD
Combine ground beef, 1 Tbsp. (15 mL) Hellmann's® Garlic Aioli, paprika, ground coriander, onion powder, dried oregano, black pepper and cayenne pepper (if using), in mixing bowl until well blended. Divide meat into 4 equal portions. Using a 8-in. (20 cm) bamboo skewer, wrap each portion of meat around skewer creating a 4-in. (10 cm) long kabob.

Preheat grill pan or grill. Grill kabobs on medium high heat, 6 minutes on each side.

Cook Cavendish Farms Restaurant StyleTM Drive Thru Fries in oven or air fryer according to package directions.

Divide cooked fries and kebobs between two serving plates. Top fries with lettuce and tomato. Drizzle remaining Hellmann's® Garlic Aioli over kabobs and dressed fries.