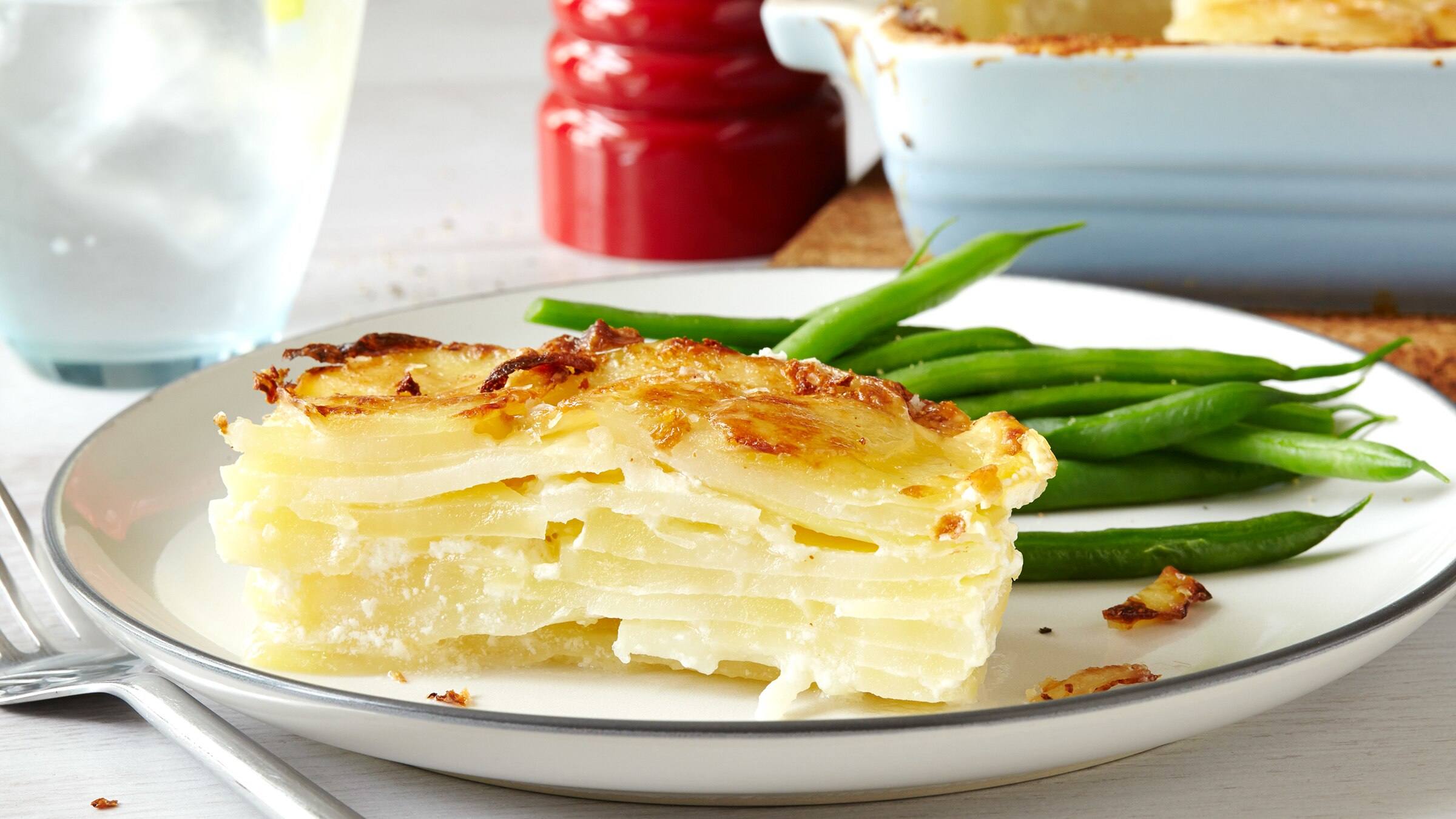 Potatoes covered in a cheesy, creamy Hellmann's® Real Mayonnaise sauce. This melt-in-your-mouth potato recipe is perfect for entertaining.
INGREDIENTS
3 lbs. (1.3 kgs) red bliss potatoes or all-purpose potatoes, peeled and cut into 1/2-inch (1.5- cm) -thick slices
1/2 cup (125 mL) light cream
3/4 cup (175 mL) 2% milk
1/4 cup (60 mL) Hellmann's® Real Mayonnaise
1/4 cup (60 mL) dry white wine
3 cloves garlic, finely chopped
1/2 tsp. (2 mL) ground black pepper
2 Tbsp. (30 mL) grated Parmesan cheese
3 Tbsp. (45 mL) grated Gruyere cheese
METHOD
Preheat oven to 375°F (190°C). Spray 2-qt. (2 L) shallow baking dish with no-stick cooking spray; set aside.

Cover potatoes with water in medium saucepot; bring to a boil over high heat. Reduce heat to low and simmer until potatoes are almost fork-tender, about 5 minutes. Drain and set aside.

Bring light cream, milk, Hellmann's® Real Mayonnaise, wine, garlic and black pepper just to the boiling point over medium heat, stirring occasionally. Reduce heat to low and simmer 5 minutes, stirring occasionally.

Alternately layer cooked potatoes with cream sauce in prepared baking dish. Sprinkle with cheeses.

Bake 20 minutes or until potatoes are tender and top is golden and bubbling. Let stand 10 minutes before serving to thicken.
Tip:
Please see nutrition information for saturated fat content.