Crispy Baked Zucchini Fries with Garlic Herb Dipping Sauce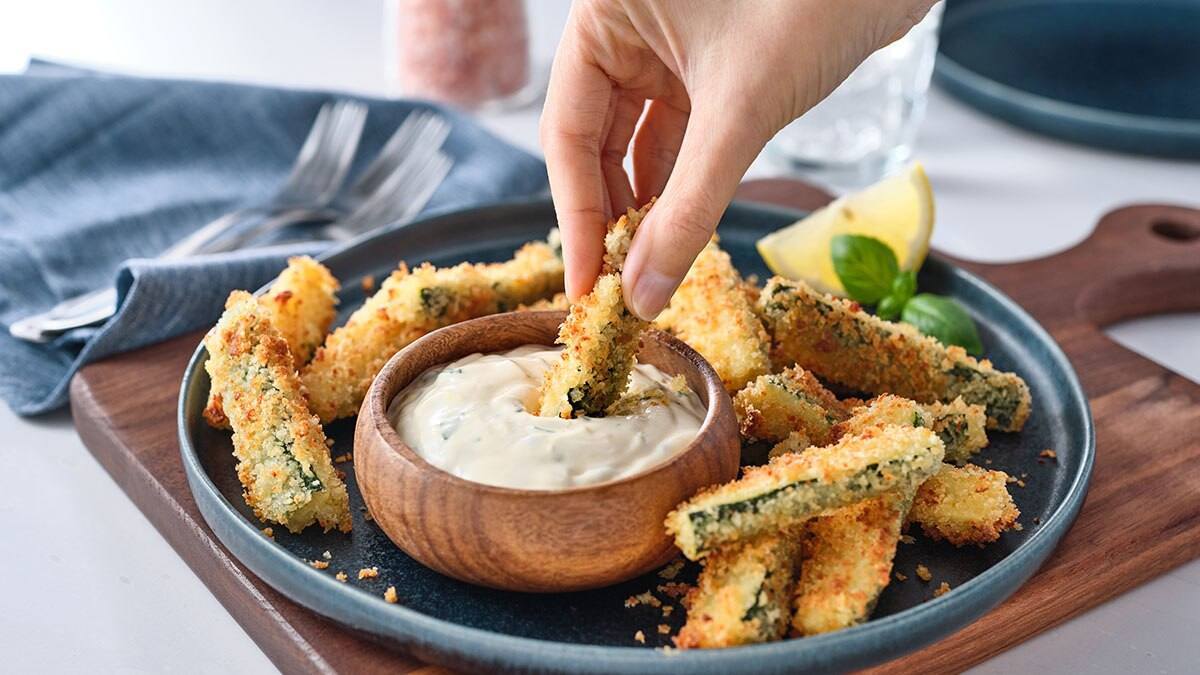 Get creative with your veggies by trying this Baked Zucchini Fries recipe with garlic aioli dip!
INGREDIENTS
ZUCCHINI FRIES:
1/2 cup (125 mL) all-purpose flour
1/2 cup (125 mL) Hellmann's® Garlic Aioli
2 Tbsp. (30 mL) water
1 1/2 cups (350 mL) panko bread crumbs
1/4 cup (60 mL) Parmesan cheese
2 Tbsp. (30 mL) butter, melted
1 lb. (450 g) zucchini, cut into 1/2-in/1.5 cm thick spears
GARLIC HERB DIPPING SAUCE:
1/2 cup (125 mL) Hellmann's® Garlic Aioli
1/2 tsp. (2 mL) grated lemon peel
2 tsp. (10 mL) fresh lemon juice
2 Tbsp. (30 mL) chopped fresh basil leaves
METHOD
For Zucchini Fries, preheat oven to 400°F (200°C). Line baking sheet with parchment paper.

Place flour in a shallow bowl. In a second shallow bowl, whisk together Hellmann's® Garlic Aioli with water until well blended. In a third shallow bowl combine breadcrumbs, cheese and melted butter until well blended.


Dredge each zucchini spear in flour shaking off excess. Then thoroughly coat each spear in the aioli sauce mixture. Next, coat well with breadcrumb mixture pressing gently to adhere crumbs.

Place breaded spears on prepared baking sheet. Bake 20 minutes or until crumbs are golden brown and zucchini is softened. Remove from oven and sprinkle with salt, if desired.

For Dipping Sauce, stir together all ingredients in small bowl until well blended. Serve with Zucchini Fries.
Tip:
Tip: Also delicious made with 1 lb./450 g cauliflower florets.