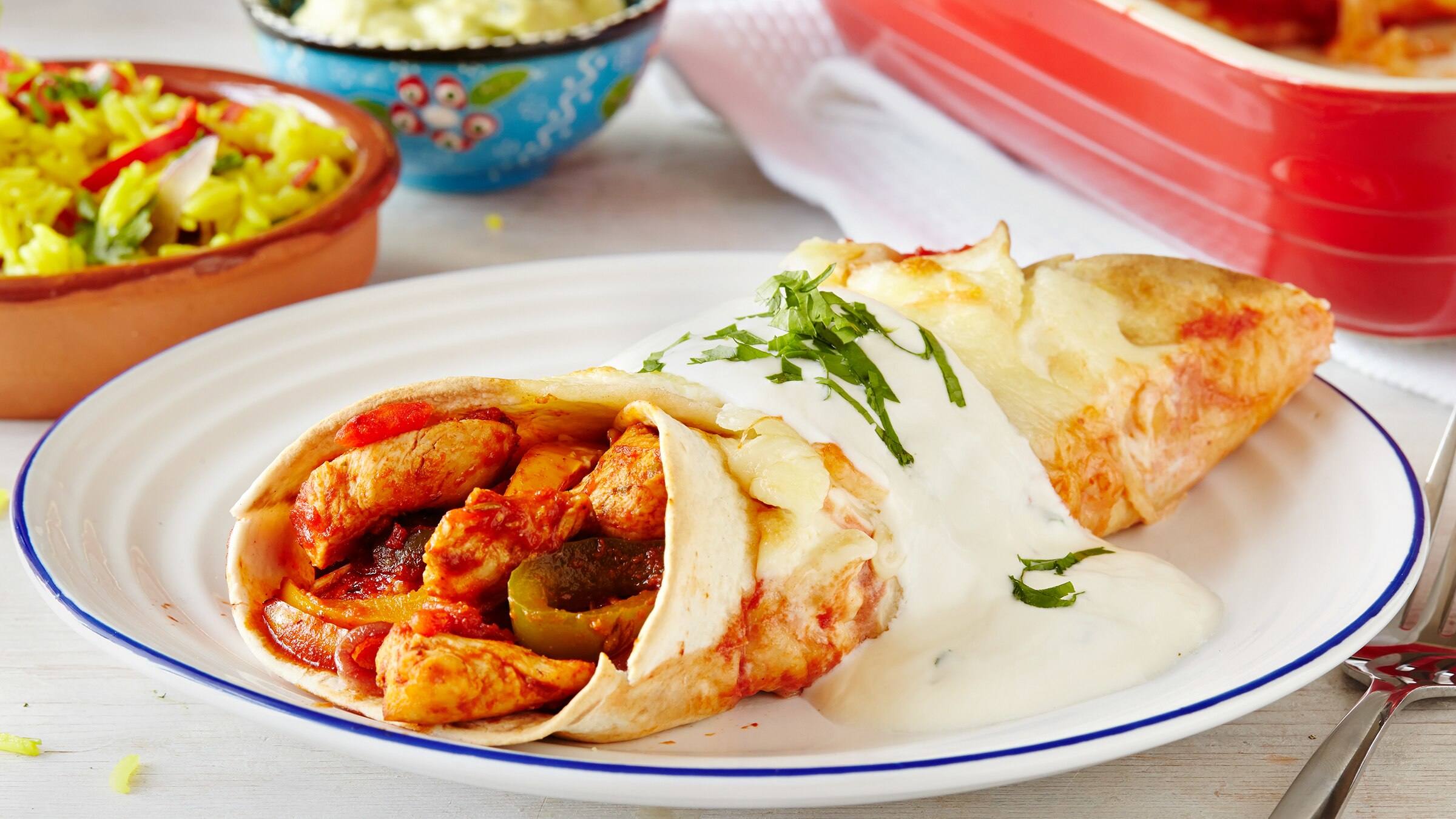 Tender chicken with Mexican spices, wrapped in soft tortillas and topped with cheese and Hellmann's® Real Mayonnaise. A delicious, creamy chicken enchiladas recipe.
INGREDIENTS
1 Tbsp. (15 mL) olive oil
4 boneless, skinless chicken breast halves (125 g ea.), sliced
2 medium red and/or yellow bell peppers, thinly sliced
1 medium red onion, chopped
2 cloves garlic, finely chopped
1 Tbsp. (15 mL) Mexican Spice Mix *
1 can (411 g.) diced tomatoes, undrained (divided)
3 Tbsp. (45 mL) Mexican crema or sour cream
2 Tbsp. (30 mL) Hellmann's® Real Mayonnaise
1 Tbsp. (15 mL) shredded cheddar cheese or shredded Mexican cheese (about 30 g)
4 small whole wheat flour tortillas
METHOD
Preheat oven to 350°F (180°C). Spray 1-qt. (1 L) shallow casserole with no-stick cooking spray; set aside.

Heat olive oil in large skillet over medium-high heat and brown chicken, stirring occasionally. Stir in red peppers, onion and garlic, then Mexican Spice Mix. Cook, stirring occasionally, until vegetables are tender, about 3 minutes. Stir in 1/2 of the diced tomatoes and cook, stirring occasionally, until chicken is completely cooked, about 5 minutes. Let cool slightly.

Spoon chicken mixture onto tortillas. Roll up tortillas and arrange seam side down in prepared casserole. Top with remaining diced tomatoes.

Combine Mexican crema with Hellmann's® or Best Foods® Real Mayonnaise. Spoon 1/2 of the crema mixture on enchiladas, then sprinkle with cheese.

Bake 20 minutes or until cheese is melted and sauce is bubbling. Let stand 3 minutes, then top with remaining crema mixture. Serve, if desired, with hot cooked rice and guacamole.
Tip:
*For Mexican Spice Mix, combine 1 tsp. (5 mL) EACH ground cumin seeds, dried cilantro and hot paprika, 1/2 tsp. (2 mL) dried oregano, 1/4 tsp. (1 mL) EACH chili powder and garlic powder.\n*Substitution: Use 1 Tbsp. (15 mL) taco seasoning mix instead of Mexican Spice Mix.

See Nutrition Information for sodium content.