Cauliflower Tacos with Spicy Chile Drizzle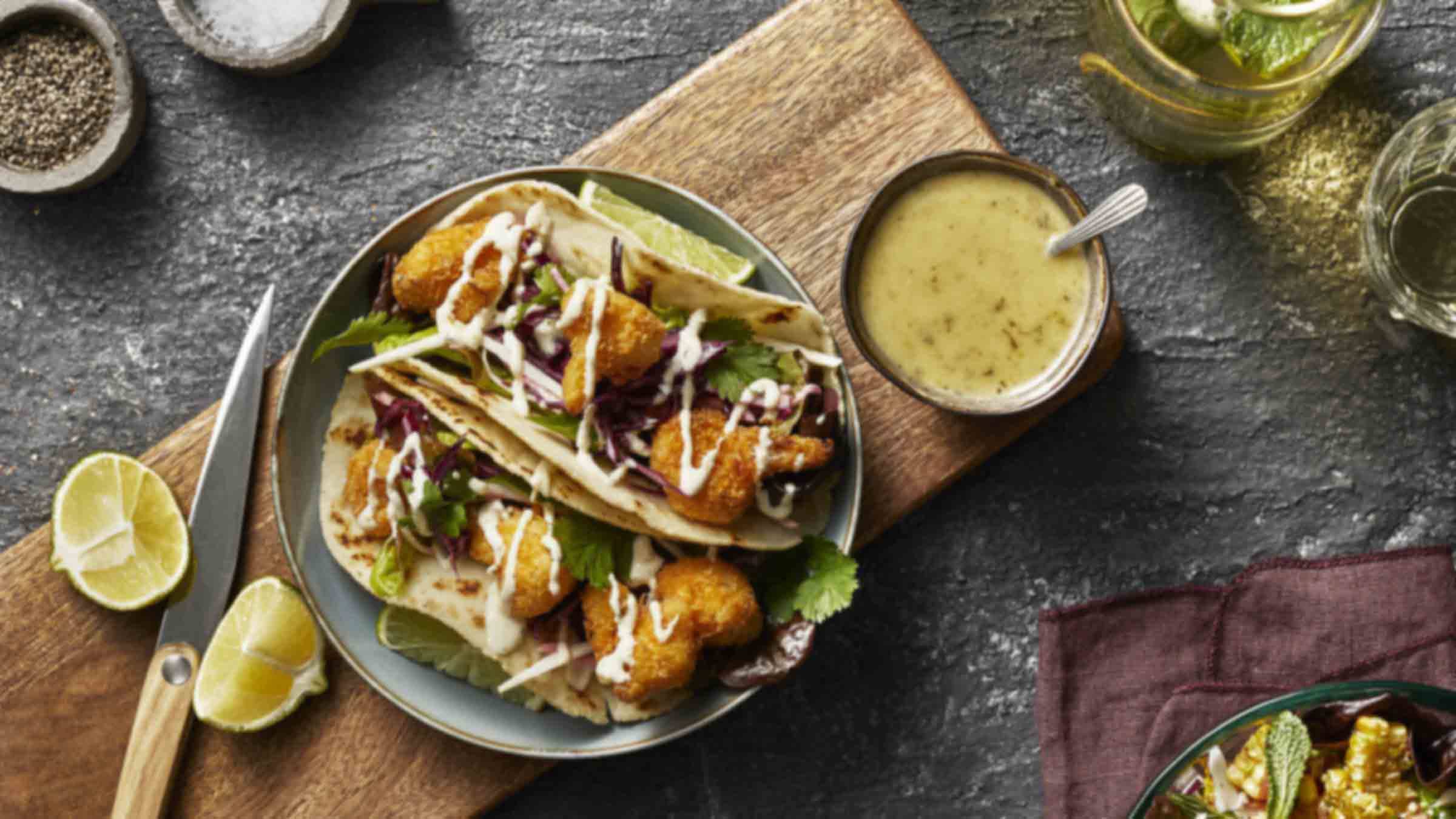 Vegan tacos filled with crispy cauliflower florets and mango and red cabbage slaw, drizzled with Spicy Hatch Chile Mayonnaise and topped with cilantro.
INGREDIENTS
2 cups (500 mL) shredded red cabbage
1 mango or green mango, cut into strips
1/2 cup (125 mL) chopped fresh cilantro leaves
1/2 cup (125 mL) Hellmann's® Hatch Chili Dressing, divided
1/4 cup (60 mL) Hellmann's® Vegan
3/4 cup (96 g) all-purpose flour
3/4 cup (175 mL) unsweetened almond milk
12 ounces (350 g) cauliflower florets, blanched
1 cup (60 g) panko bread crumbs
Oil to fry
8 taco size flour tortillas, warmed
METHOD
Combine cabbage, mango, cilantro and 1/4 cup Hellmann's® Hatch Chili Dressing in bowl. Set aside. Combine remaining Dressing with Hellmann's® Vegan in another bowl and set aside.

Whisk flour and almond milk in large bowl until smooth. (Batter should be slightly thinner than pancake batter.)

Heat 1-in./2.5 cm oil in large deep skillet over medium-high heat.Dip cauliflower in batter, letting excess drip off. Coat in bread crumbs.
Add to hot oil and fry, turning occasionally until golden and crisp. Remove to paper towels.

Fill tortillas evenly with slaw and fried cauliflower. Drizzle with Dressing mixture and garnish, if desired with cilantro leaves.