Cauliflower Shawarma and Baba Ganoush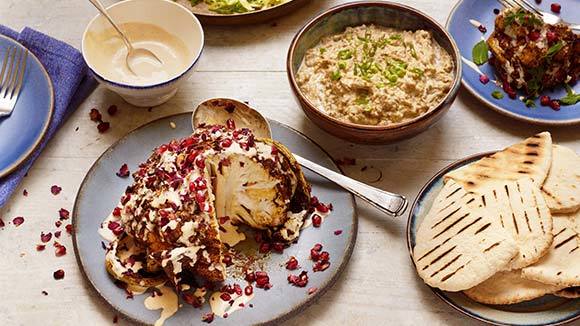 After some inspiration for your next meal? Check out this cauliflower shawarma and baba ganoush recipe, it will be sure to impress!
INGREDIENTS
1/4 cup (60 mL) Knorr ® Za'atar Seasoning Blend
1/4 cup rapeseed oil
1 large head cauliflower
1/4 cup (60 mL) Hellmann's® Real Mayonnaise, divided
1 eggplant
6 pita breads
1/3 cup (75 mL) pomegranate seeds
1/4 cup (60 mL) fresh mint leaves
1/4 cup (60 mL) fresh parsley leaves
METHOD
Preheat oven to 400° F (200° C). Combine Knorr® Za'atar Seasoning Blend, oil and salt if desired in small bowl. Leave on any fresh leaves attached to the cauliflower. They will help contain the spiced oil. Rub cauliflower all over with spiced oil. Wrap in aluminum foil and place on rimmed baking sheet. Add eggplant to baking sheet.

Roast 30 minutes; unwrap cauliflower. Return to oven and roast 15 to 20 minutes or until cauliflower and eggplant are tender. Set eggplant on cutting board to cool slightly. Reserve spiced oil left in pan and combine it with 2 Tbsp. (30 mL) Hellmann's® Real Mayonnaise and a bit of hot water if needed to create a loose sauce. Set aside.

When eggplant is cool enough to handle, cut in half, scoop out flesh onto cutting board and chop fine. Place in serving bowl and stir in remaining Hellmann's® Real Mayonnaise, and if desired, salt and pepper to taste.

To serve, drizzle the spiced mayonnaise mixture over cauliflower and then sprinkle with pomegranate seeds and herbs. Slice cauliflower and stuff into pitas along with baba ganoush and extra herbs if desired.
Tip:
Tip: Stir some minced garlic and ground cumin into the baba ganoush for extra flavour!