Carrot Cake with Cream Cheese Frosting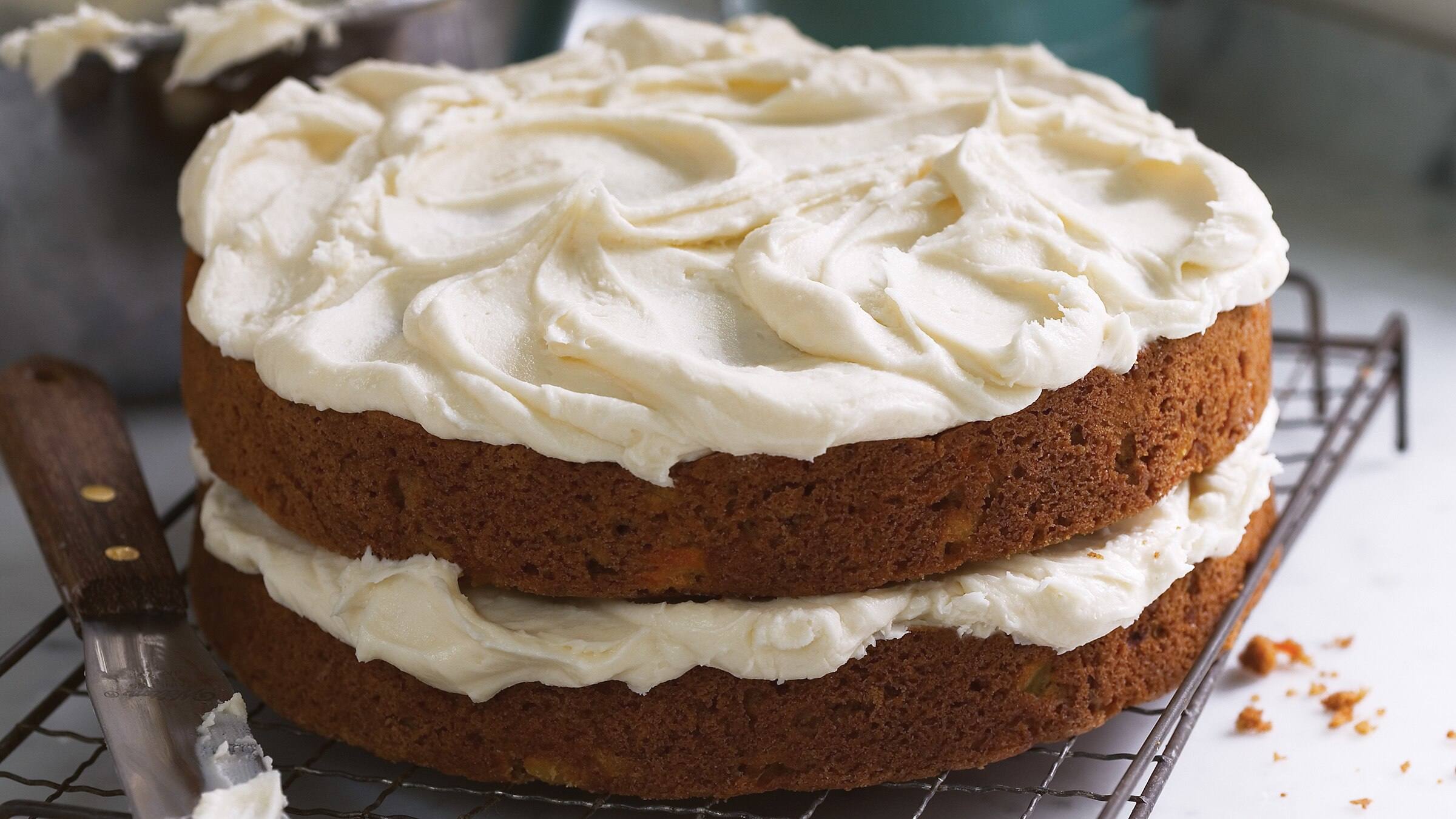 Why not try your culinary skills by making our scrumptious carrot cake with cream cheese frosting recipe today, a proven winner and packed full of flavour!
INGREDIENTS
3 cups (750 mL) all-purpose flour
2 cups (500 mL) granulated sugar
2 tsp. (10 mL) baking soda
1 1/2 tsp. (7 mL) ground cinnamon
1/2 tsp. (2 mL) ground nutmeg
1/2 tsp. (2 mL) salt
1/4 tsp. (1 mL) ground cloves
1 cup (250 mL) Hellmann's® Real Mayonnaise
1/3 cup (75 mL) milk
2 eggs
3 cups (750 mL) peeled grated carrots
1 cup (250 mL) well- drained pineapple chunks in juice
1 cup (250 mL) chopped walnuts or pecans
6 ounces (180 g) cream cheese, softened
4 cups (1 L) confectioners' sugar
4 Tbsp. (60 mL) margarine
4 tsp. (20 mL) lemon juice
2 tsp. (10 mL) vanilla extract
METHOD
Preheat oven to 350° F (180° C). Grease 2 x 9-inch (23 cm) cake pans and line with parchment paper. Set aside.

In a large bowl, combine flour, sugar, baking soda, cinnamon, nutmeg, salt and cloves. Add Hellmann's® Real Mayonnaise, milk and eggs. With an electric mixer, beat at low speed for 2 minutes, scraping the bowl frequently. (Batter will be thick.) With a large spoon, stir in grated carrots, drained pineapple and walnuts. Evenly spoon into prepared pans.

Bake 40 minutes or until toothpick inserted in the centre comes out clean. Cool on wire rack for 10 minutes. Remove from pans and let cool completely.

In a medium bowl, with electric mixer, beat cream cheese, confectioners' sugar, margarine, lemon juice and vanilla until light and creamy, about 5 minutes. Evenly spread frosting over cooled cake.
Tip:
Tip: To decorate, sprinkle chopped walnuts or pecans over freshly iced cake.