California Ranch Chicken Sandwich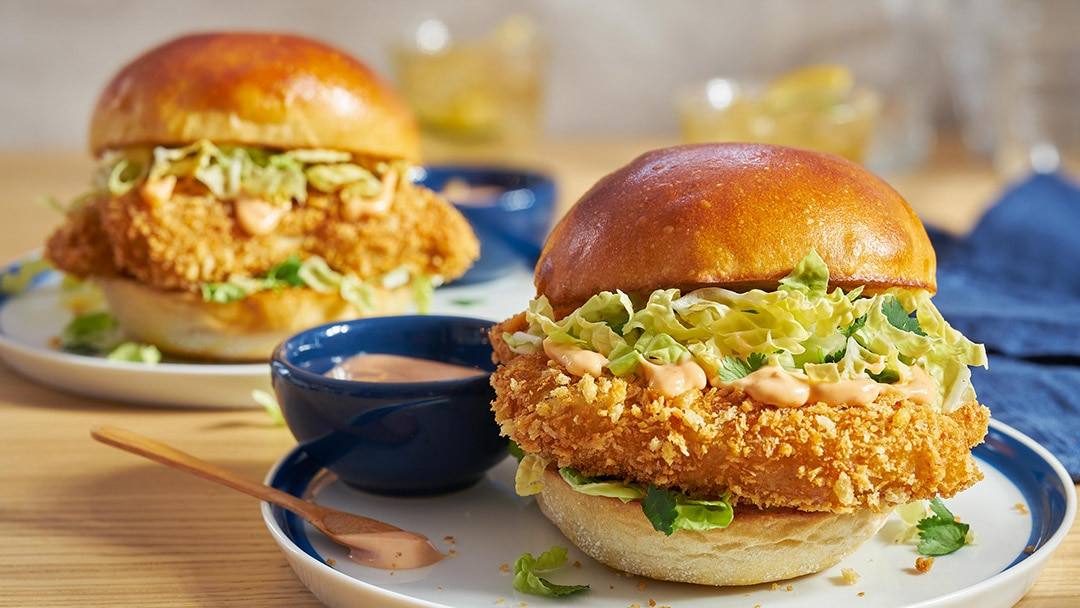 Chicken tenders are soaked in Hellmann's® Classic Ranch Dressing before breading and frying, then served on a brioche roll with a crisp slaw.
INGREDIENTS
1 cup (250 mL) Hellmann's® Classic Ranch Dressing, divided
1/2 tsp. (2 mL) cayenne pepper sauce
1 lb. (450 g) chicken tenders
1 1/2 cups (375 mL) shredded napa cabbage or green cabbage
1/4 cup (60 mL) chopped fresh cilantro leaves
1 Tbsp. (15 mL) rice wine vinegar
1 tsp. (5 mL) sugar
1 cup (250 mL) panko bread crumbs
Oil for frying
4 brioche buns, toasted
METHOD
Combine Hellmann's® Classic Ranch Dressing with pepper sauce. Remove 1/2 cup/125 mL to small bowl and reserve for serving.
Put remaining Dressing mixture in large plastic food storage bag. Add chicken; seal bag and turn to coat. Refrigerate at least 1 hour or up to 1 day.

When ready to serve, toss cabbage, cilantro, vinegar and sugar in bowl and set aside. Spread bread crumbs on sheet of waxed paper. Lift chicken out of bag, letting excess Dressing drip off (discard bag). Coat chicken in bread crumbs. Heat 1/2-in.1.5 cm oil in large deep skillet over medium-high heat until hot.

Add chicken to hot oil (in batches if necessary) and fry, turning once, until golden and thoroughly cooked, about 8 minutes. Drain on paper towels.

Evenly arrange chicken on bun bottoms. Evenly drizzle with reserved Dressing mixture, then evenly top with slaw and bun tops.
Tip:
Tip: Shredded red cabbage would also be delicious in the slaw. Substitute it for the napa cabbage or use some of each.