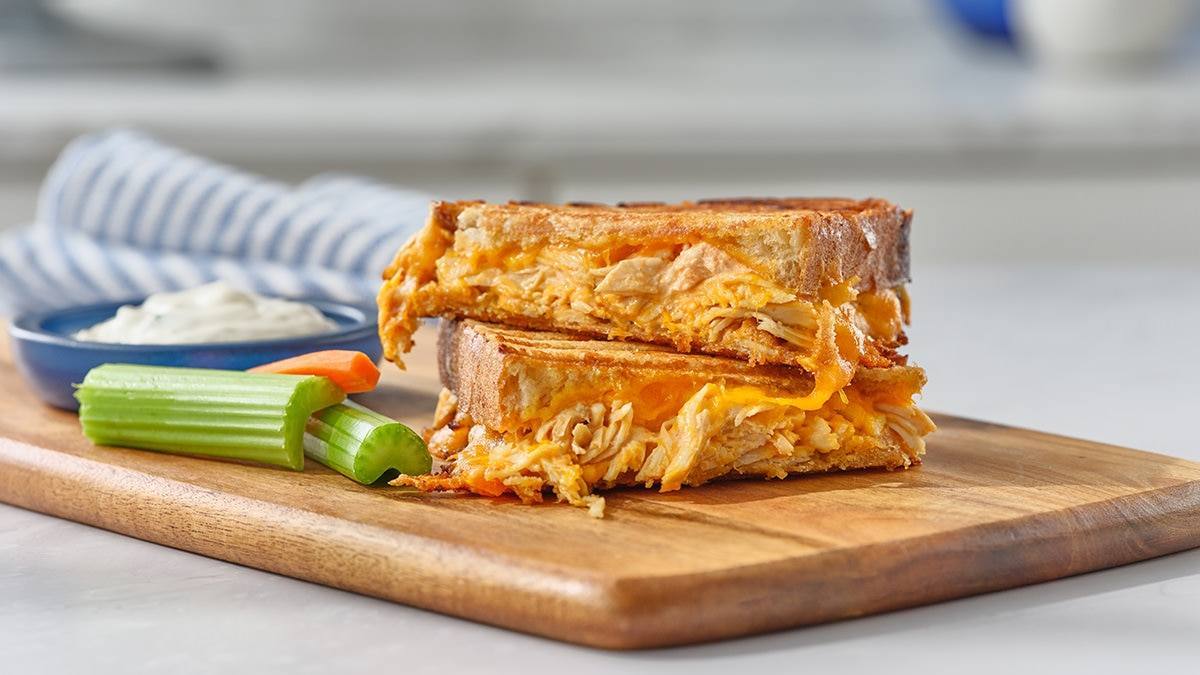 This Buffalo Chicken Panini recipe is a delicious way to use up leftover chicken!
INGREDIENTS
2 cups cooked chicken, cut into 1-inch chunks or large
1/4 cup cayenne pepper sauce
1/4 cup small diced celery
2 tbsp Hellmann's® Real Mayonnaise
Plus 8 tsp Hellmann's® Real Mayonnaise, divided
2 tbsp chopped green onions
1/2 cup shredded sharp vegetarian cheddar cheese block
8 Tuscan bread slices, 1/4 inches thick
Carrots and celery sticks for serving
METHOD
Toss chicken with pepper sauce in medium bowl. Stir in celery, 2 Tbsp. of Hellmann's® Real Mayonnaise and green onions until well blended.

Place four bread slices on a cutting board. Evenly top each bread slice with the buffalo chicken mixture. Then evenly sprinkle the shredded cheddar cheese; top with remaining four bread slices.

Spread 1 tsp. Mayonnaise on the outside of each of the top bread slices, repeat with the outside of the bottom bread slices.

Working in batches, place in a large nonstick skillet over medium heat or in a panini press and cook the sandwiches until the bread is golden browned on both sides and the cheddar cheese is melted.

Serve immediately, if desired, with Blue Cheese Dipping Sauce (see Tip) and additional celery and carrot sticks.
Tip:
Tip 1: For a delicious Blue Cheese Dipping Sauce, stir 1/2 cup Hellmann's® Real Mayonnaise, 1/4 cup reduced fat sour cream in small bowl until blended. Stir in 1/4 cup crumbled blue cheese, 2 Tbsp. sliced green onion and 1/4 tsp. coarsely ground black pepper. Cover and refrigerate until serving. Tip 2: For an extra spicy kick, substitute Hellmann's® Real Mayonnaise with Hellmann's® Spicy Mayonnaise Dressing. Or, for plant-based but same great taste, this recipe can also be made with Hellmann's® Vegan Dressing and Spread.