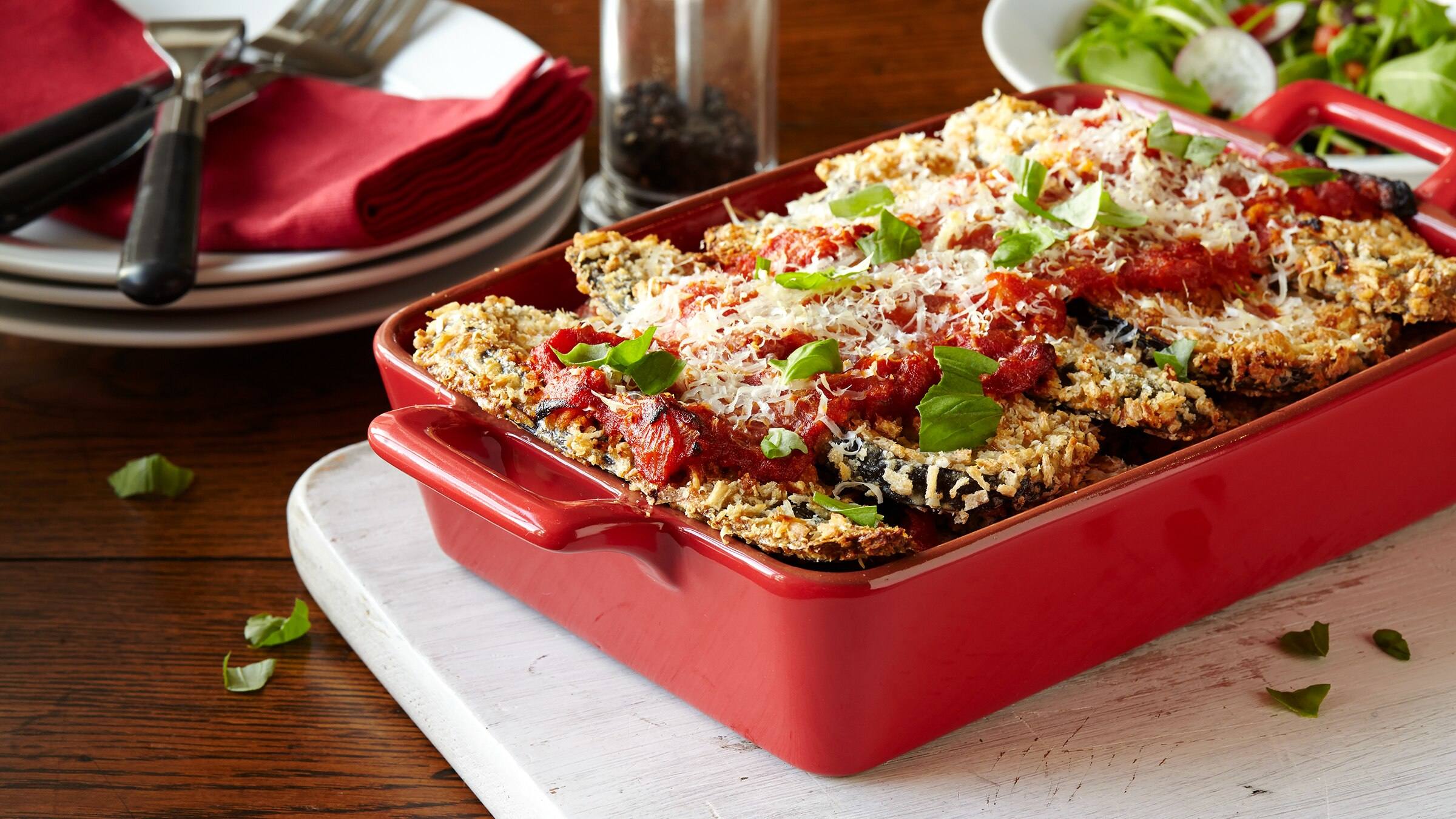 Super tasty baked eggplant with rich Hellmann's® Real Mayonnaise, sweet tomatoes, garlic and Parmesan cheese. A big, hearty and warming dish full of flavour.
INGREDIENTS
2 Tbsp. (30 mL) olive oil, divided
1 small onion, finely chopped
2 cloves garlic, finely chopped
2 Tbsp. (30 mL) tomato paste, (optional)
1 can (440 mL) diced tomatoes, undrained
2 cups (500 mL) loosely packed fresh basil leaves, coarsely torn
3 Tbsp. (45 mL) Hellmann's® Real Mayonnaise, divided
1 egg
2 medium eggplants (about 2 lbs./1 kg), peeled if desired and cut into 1/4-inch (6-mm) slices
1/2 cup (125 mL) panko bread crumbs or Italian seasoned dry bread crumbs
1/2 cup (125 mL) grated Parmesan cheese
METHOD
Preheat oven to 350°F (180°C).

Heat 1 Tbsp. (15 mL) olive oil in medium saucepan over medium heat and cook onion, stirring occasionally, until tender, about 3 minutes. Stir in garlic and tomato paste and cook, stirring occasionally, 2 minutes. Stir in diced tomatoes and 1/2 cup (125 mL) basil. Bring just to the boiling point over high heat. Reduce heat to low and simmer, stirring occasionally, 10 minutes. Let stand to cool. Stir in 2 Tbsp. (30 mL) Hellmann's® Real Mayonnaise.

Beat eggs with remaining 2 Tbsp. (30 mL) Hellmann's® Real Mayonnaise in shallow bowl. Dip eggplant slices in egg mixture, then bread crumbs. Arrange eggplant slices in single layer on lightly oiled baking sheets. Bake 25 minutes or until eggplant is golden.

Evenly spread 1/3 of the tomato sauce in 13- x 9-inch (33- x 23-cm) baking dish. Layer with basil, Parmesan cheese and baked eggplant slices, overlapping slightly. Repeat layers, reserving 2 Tbsp. (30 mL) basil for garnish and ending with tomato sauce.

Bake 30 minutes or until bubbling and golden. Garnish with reserved basil.
Tip:
Please see nutrition information for sodium content.