Veggie & Jack Quesadillas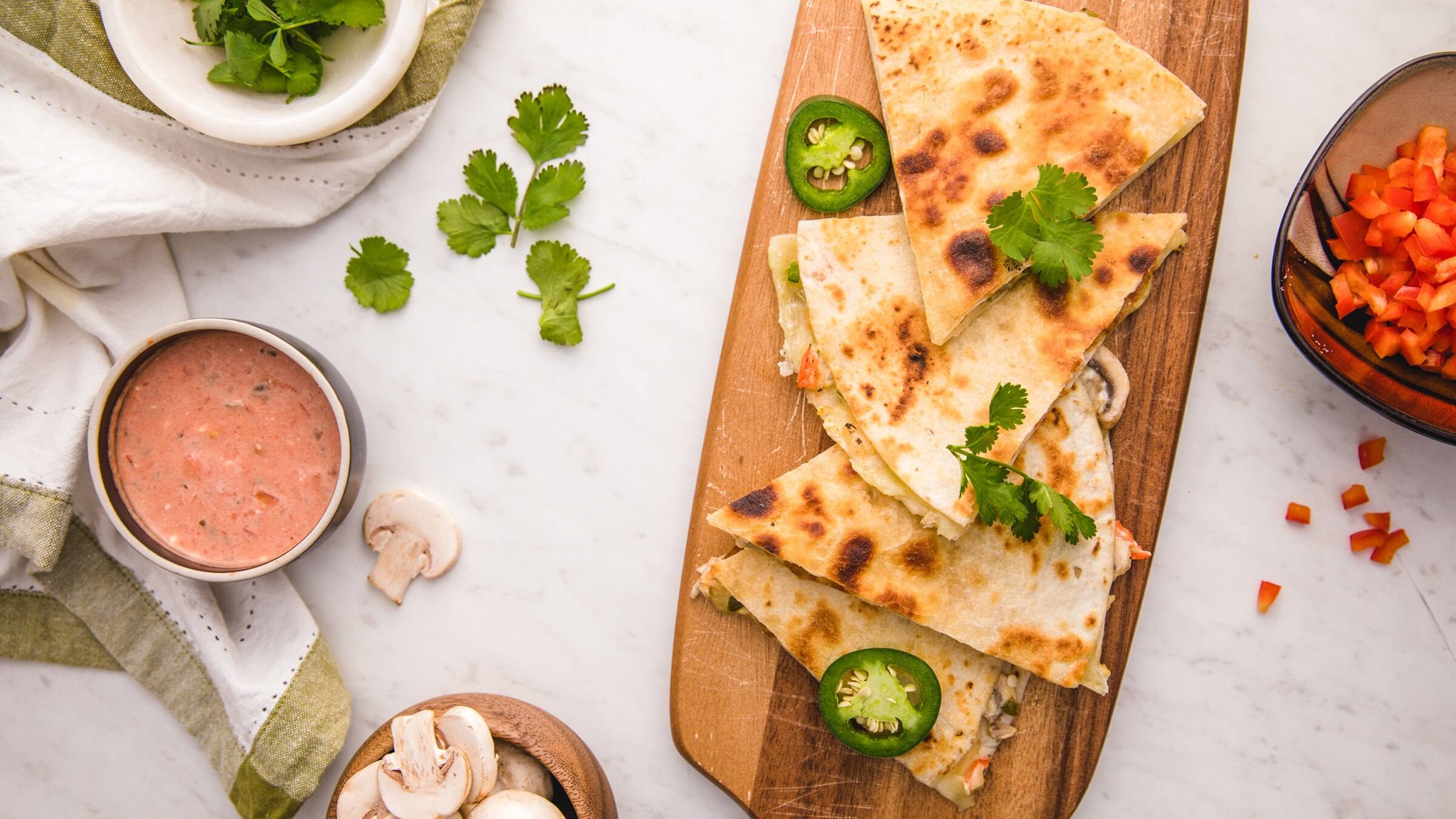 After some inspiration for your next meal? Check out these veggie & jack quesadillas recipe, that'll be sure to impress!
INGREDIENTS
1 Tbsp. (15 mL) vegetable oil
1 medium onion, chopped
1 clove garlic, finely chopped
1 package (227 g) sliced mushrooms
1 medium red bell pepper, chopped
2 jalapeño peppers, seeded and finely chopped
2 Tbsp. (30 mL) Hellmann's® Real Mayonnaise
1 1/2 cups (375 mL) grated Monterey Jack cheese
1/4 cup (50 mL) chopped fresh cilantro
4 large whole wheat flour tortillas
METHOD
In a large non-stick skillet, heat oil over medium-high heat. Add onions, garlic, mushrooms, red pepper and jalapeño peppers and cook, stirring occasionally until vegetables are tender, about 10 minutes. Season with salt and pepper.

Let cool slightly, then stir in Hellmann's® Real Mayonnaise. Spoon half of the filling on one tortilla, spreading it almost to the edges.

Sprinkle with half of the cheese and cilantro, then cover with a second tortilla. Repeat with remaining tortillas and filling.

In same skillet, over medium-high heat, cook one of the filled tortillas for 2 minutes on each side or until lightly golden and cheese has melted. Repeat with remaining filled tortillas.

To serve, cut tortillas into wedges and serve with your favourite salsa for dipping.
Tip:
TIP: To make a creamier salsa, mix 1 Tbsp. (15 mL) Hellmann's® Real Mayonnaise into ½ cup (125 mL) prepared salsa.