Spicy Mayonnaise Crispy Chicken Sandwich Recipe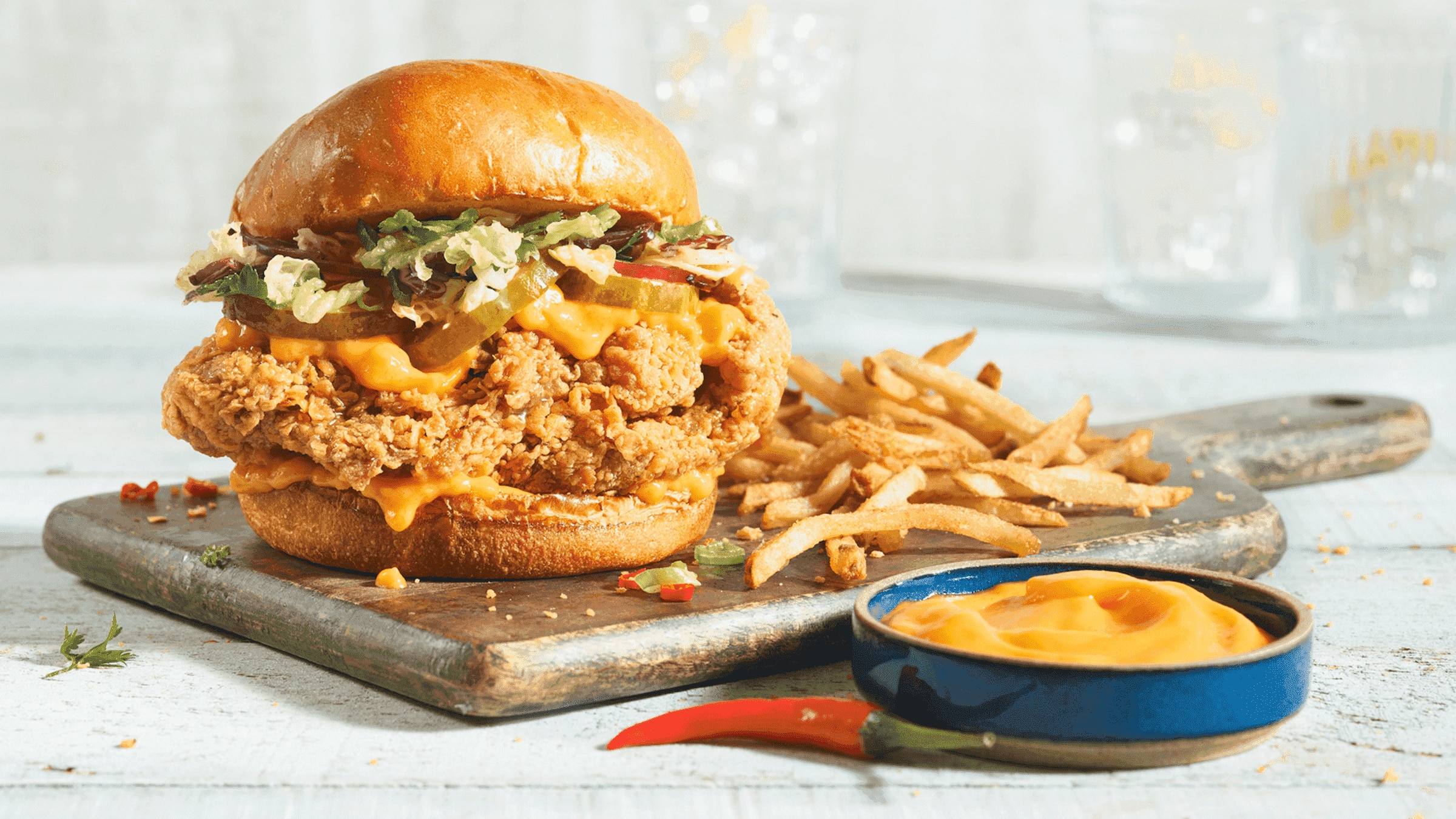 After some inspiration for a truly delicious sandwich? Check out this Spicy Mayonnaise Crispy Chicken Sandwich Recipe. It's sure to become a favorite!
INGREDIENTS
2 boneless, skinless chicken breasts (about 1 lb/450g)
1 cup (250 mL) low-fat buttermilk
1 cup (250 mL) all-purpose flour
1/2 cup (125 mL) cornstarch
1 Tbsp. paprika
1 Tbsp. onion powder
1 Tbsp. garlic powder
1 cup Hellmann's® Spicy Mayonnaise Type Dressing
1 tsp. (5 mL) salt
Vegetable oil for frying
4 brioche rolls
12 slices dill pickle chips
1 cup (250 mL) shredded lettuce
METHOD
Place chicken breasts between layers of plastic wrap and evenly pound to 1/4-in. (6mm) thickness. Cut each piece in half.

Whisk together buttermilk and 4 Tbsp. (60 mL) of Hellmann's® Spicy Mayonnaise Type Dressing in large bowl well blended. Fully submerge chicken pieces in mixture. Set aside.

In separate shallow bowl, whisk together flour, cornstarch, spices and salt until blended. Drizzle 2 Tbsp. (30 mL) of buttermilk mixture into flour mixture and gently mix with a fork to create a few shaggy clumps.

Pour vegetable oil in large high-sided heavy-duty skillet or pot until about ½-in. (1.5 cm) deep. Heat over medium-high heat until temperature reaches 350°F (180°C). Dredge one piece of chicken at a time into flour mixture gently pressing, including any clumps, to form a thick crust.

Add chicken to hot oil and fry 3 minutes per side or until chicken is thoroughly cooked.

To build the sandwiches, evenly divide remaining Mayonnaise on top and bottom buns; then top with fried chicken, pickles and lettuce. Enjoy!
Tip:
Chef's Tips: Try using smoked paprika to add a delicious smoky spicy flavor to the fried chicken.
Make Ahead Tip: If not frying immediately, chicken can marinate covered in refrigerator for up to 24 hours.