Creamy Tomato, Broccoli & Zucchini Pasta Recipe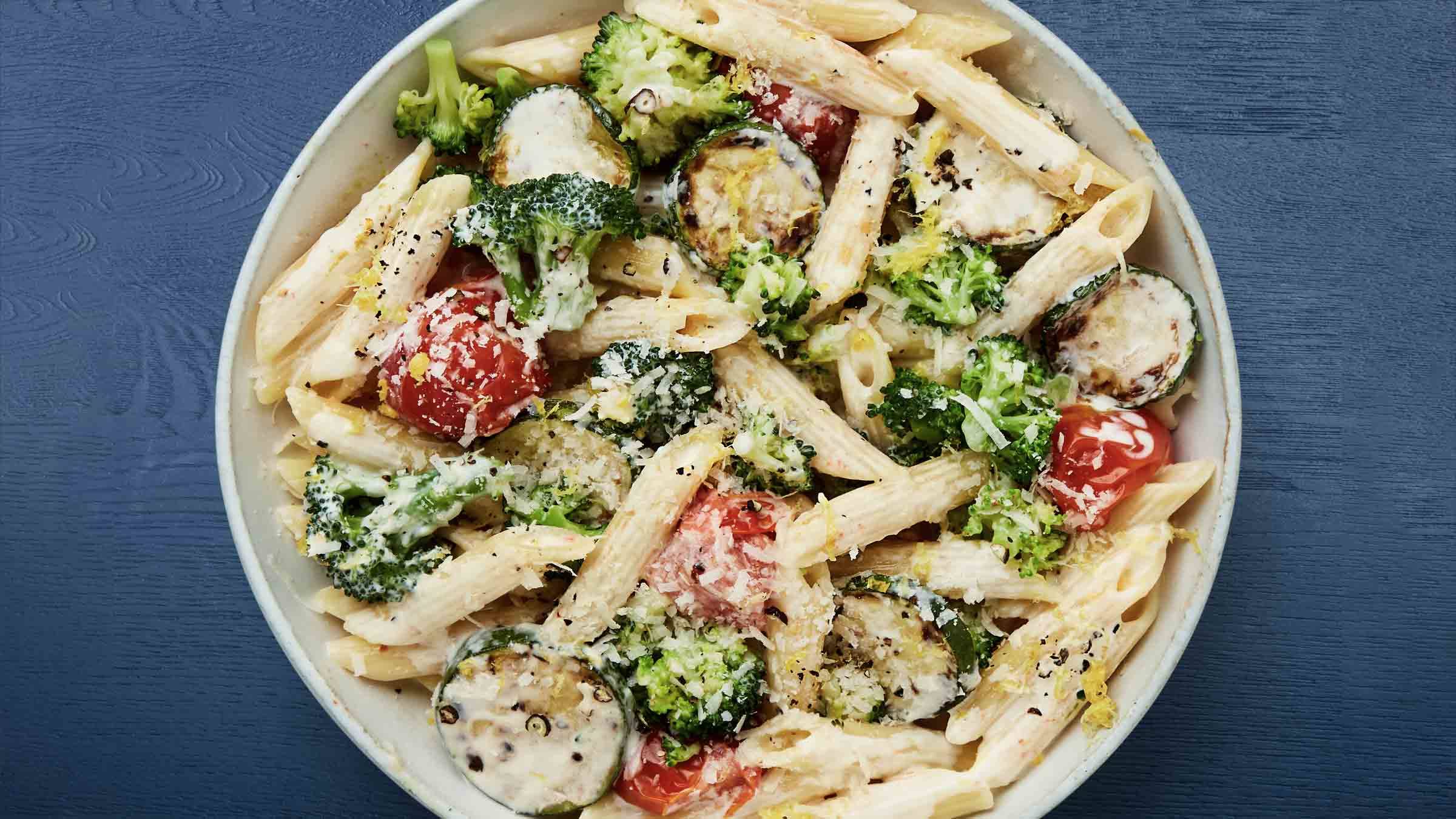 Lots of fresh veggies tossed with leftover pasta and a rich, delicious sauce made with Real Mayonnaise, lemon peel and Parmesan. So good!
INGREDIENTS
8 ounces (225 g) cherry tomatoes
2 zucchini, sliced
2 Tbsp. (30 mL) olive oil, divided
8 ounces (225 g) broccoli florets, blanched
1 lb. (450 g) leftover penne pasta
3 Tbsp. (45 mL) Hellmann's® Real Mayonnaise
3 Tbsp. (45 mL) creme fraiche
1/4 cup (60 mL) grated Parmesan cheese
Grated peel of 1 lemon
Basil leaves (optional)
METHOD
PREHEAT oven to 400°F (200°C). Arrange cherry tomatoes and zucchini on rimmed baking sheet and drizzle with 1 Tbsp. (15 mL) oil. Roast 10 to 15 minutes or until tomatoes are blistered.

HEAT remaining oil in large nonstick skillet over medium-high heat. Add blanched broccoli, roasted zucchini and tomatoes, pasta and a little hot water and cook, tossing, until the pasta is piping hot.

STIR in Hellmann's® Real Mayonnaise and crème fraiche, then Parmesan, lemon peel and basil if using. Season, if desired with salt and black pepper and serve immediately.
Tip:
Tip: You can use Hellmann's® Real Mayonnaise instead of the olive oil for roasting and sautéing!

Tip: Have leftover cooked veggies? Toss some of them into the pasta mixture when heating through.