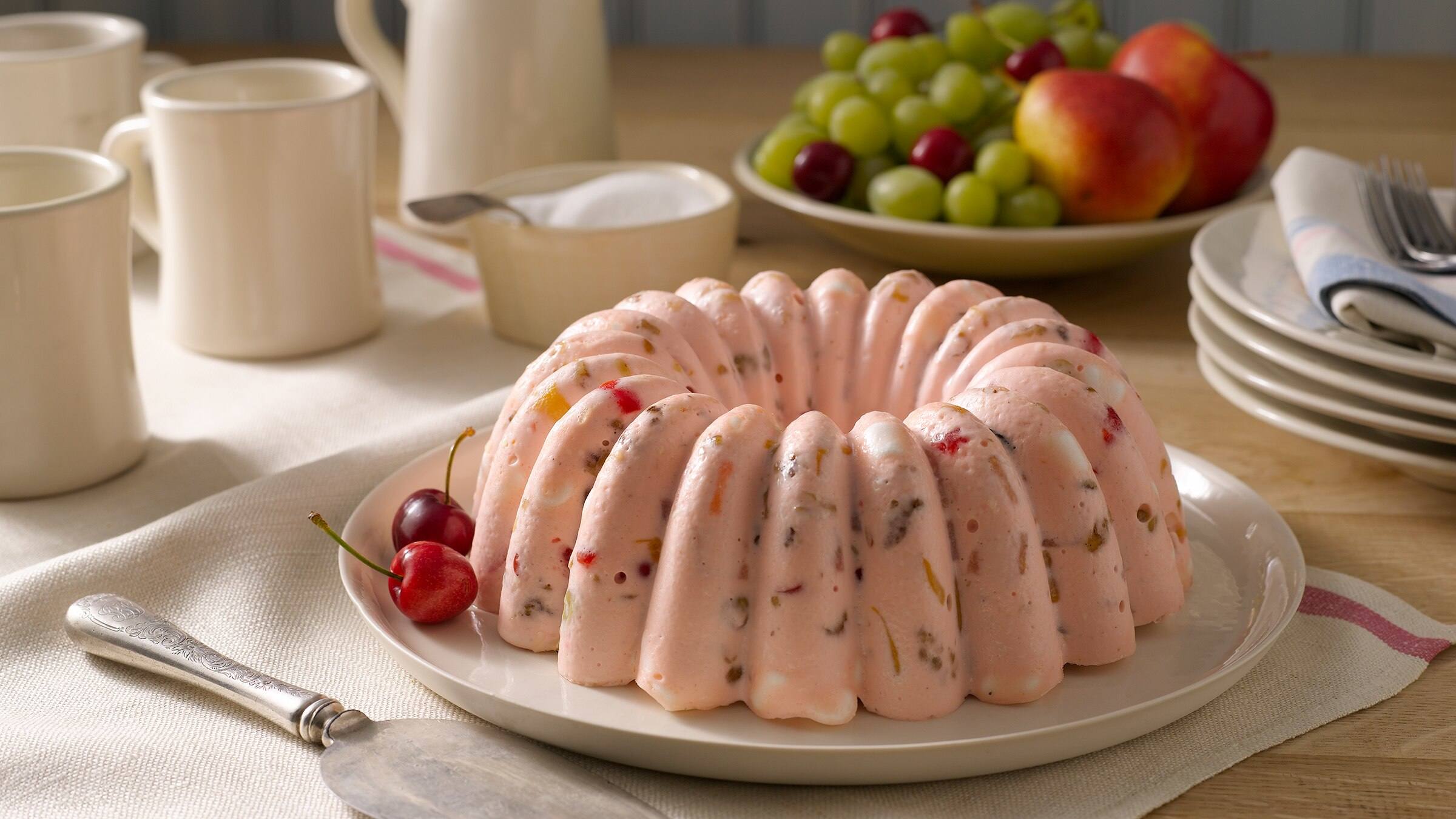 A Dale Earnhardt Jr. Family Favorite
NUTRITIONAL FACTS
Servings12
Value
| Amount Per Serving | Value |
| --- | --- |
| Energy (kcal) | 290.0 |
| Protein (g) | 3.0 g |
| Total Carbohydrates (g) | 22.0 g |
| Sugar (g) | 18.0 g |
| Calcium (mg) | 2.0 % |
| Fibre (g) | 1.0 g |
| Sodium (mg) | 150.0 mg |
| Fat (g) | 23.0 g |
| Saturated Fat (g) | 4.5 g |
| Trans Fat (g) | 0.0 g |
| Cholesterol (mg) | 20.0 mg |
| Iron (mg) | 2.0 % |
| Vitamin A | 6.0 % |
| Vitamin B12 | |
| Vitamin C | 4.0 % |
12 People

Servings

15 Mins

Prep Time

0 Mins

Cooking Time

15 Mins

Ready In
1 cup Hellmann's® or Best Foods® Real Mayonnaise
1 package (3 oz.) cream cheese, softened
2 Tbsp. red food coloring or cherry juice (optional)
2 1/2 cups miniature marshmallows
1 can (30 oz.) fruit cocktail, drained
1 cup chopped walnuts
1/2 cup maraschino cherries, drained and quartered
1 cup whipped cream
Blend Hellmann's® or Best Foods® Real Mayonnaise, cream cheese and red food coloring in large bowl with wire whisk until smooth. Stir in marshmallows, fruit cocktail, walnuts and cherries. Fold in whipped cream.

Spoon mixture into 10-cup decorative ring mold or Bundt pan. Freeze 30 minutes or until firm. Unmold onto serving platter.
More Recipes You'll Love
Explore our range of delicious, quick and easy recipes!