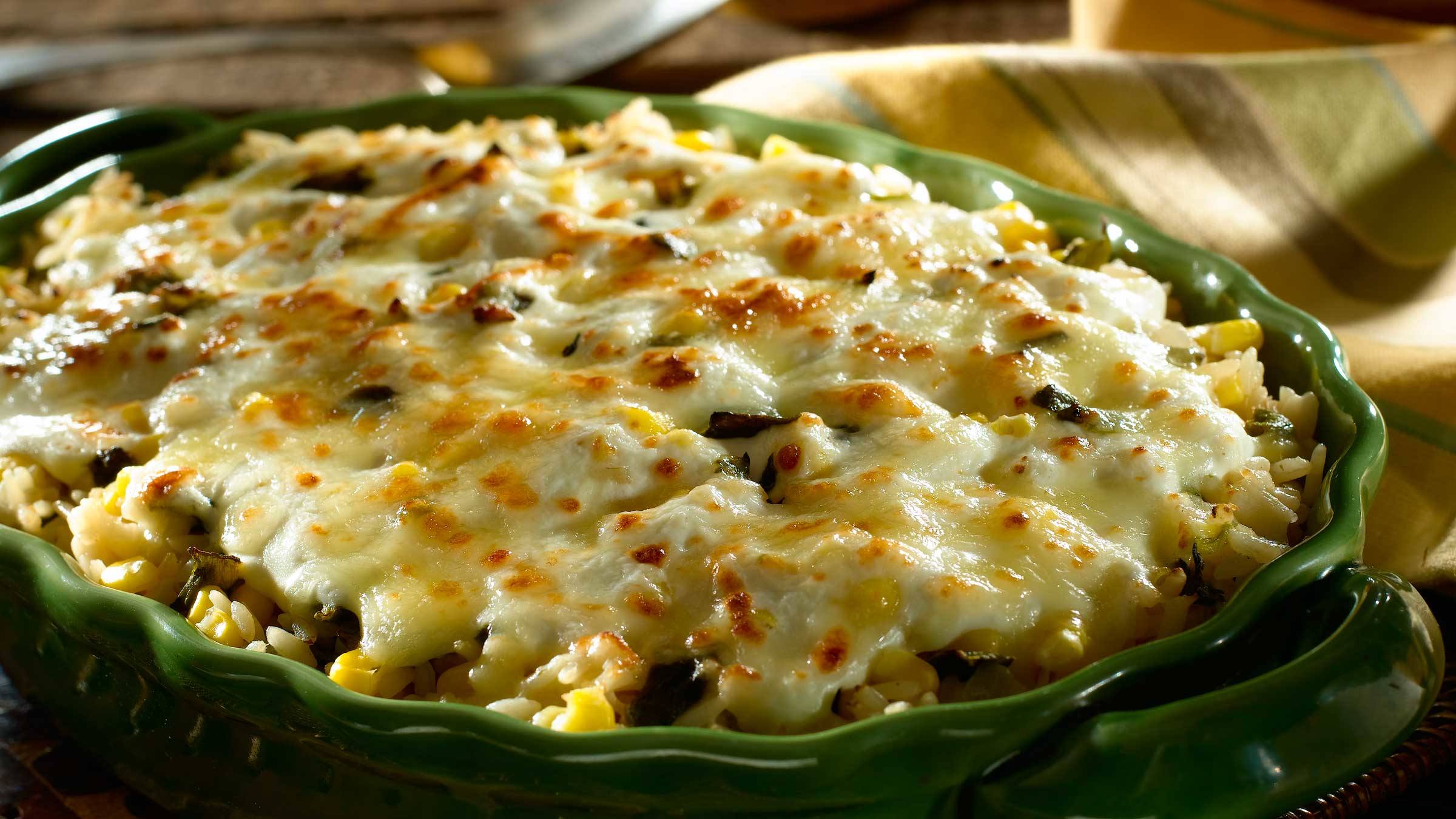 Bite into our delicious Poblano Rice Gratin made with Hellmann's® Light Mayonnaise, poblano peppers and Knorr® Chicken flavor Bouillon
NUTRITIONAL FACTS
Servings4
Value
| Amount Per Serving | Value |
| --- | --- |
| Energy (kcal) | 470.0 |
| Protein (g) | 15.0 g |
| Total Carbohydrates (g) | 59.0 g |
| Sugar (g) | 4.0 g |
| Calcium (mg) | 25.0 % |
| Fibre (g) | 4.0 g |
| Sodium (mg) | 960.0 mg |
| Fat (g) | 21.0 g |
| Saturated Fat (g) | 11.0 g |
| Trans Fat (g) | 0.0 g |
| Cholesterol (mg) | 50.0 mg |
| Iron (mg) | 15.0 % |
| Vitamin A | 15.0 % |
| Vitamin B12 | |
| Vitamin C | 40.0 % |
4 People

Servings

25 Mins

Prep Time

30 Mins

Cooking Time

55 Mins

Ready In
2 Tbsp. margarine
1/4 cup white onion, chopped
1 cup uncooked long grain rice
2 1/4 cups water
3 tsp. Knorr® Chicken flavor Bouillon, divided
2 ears corn-on-the-cob, kernels removed
2 poblano peppers, roasted, stemmed, seeded and finely chopped
3 Tbsp. Hellmann's® or Best Foods® Light Mayonnaise, divided
1/2 cup Mexican crema or sour cream
1 cup shredded Monterey Jack cheese
Melt margarine in 12-inch skillet over medium-high heat and cook onion, stirring occasionally, 5 minutes or until tender. Stir in rice and cook 1 minute. Stir in water and 2 teaspoons Knorr® Chicken Bouillon and cook covered 10 minutes. Stir in corn and cook covered an additional 10 minutes or until rice is tender.

Fluff rice with fork, then stir in poblano peppers, remaining Knorr® Chicken flavor Bouillon and 1 tablespoon Hellmann's® or Best Foods® Light Mayonnaise. Combine remaining Mayonnaise with crema in small bowl.

Turn rice mixture into 7 x 10-inch glass baking dish, then top with mayonnaise mixture and sprinkle with cheese. Broil 4 minutes or until golden and cheese is melted.
Cost per recipe*: $6.44.

Cost per serving*: $1.61.

*Based on average retail prices at national supermarkets. 
More Recipes You'll Love
Explore our range of delicious, quick and easy recipes!