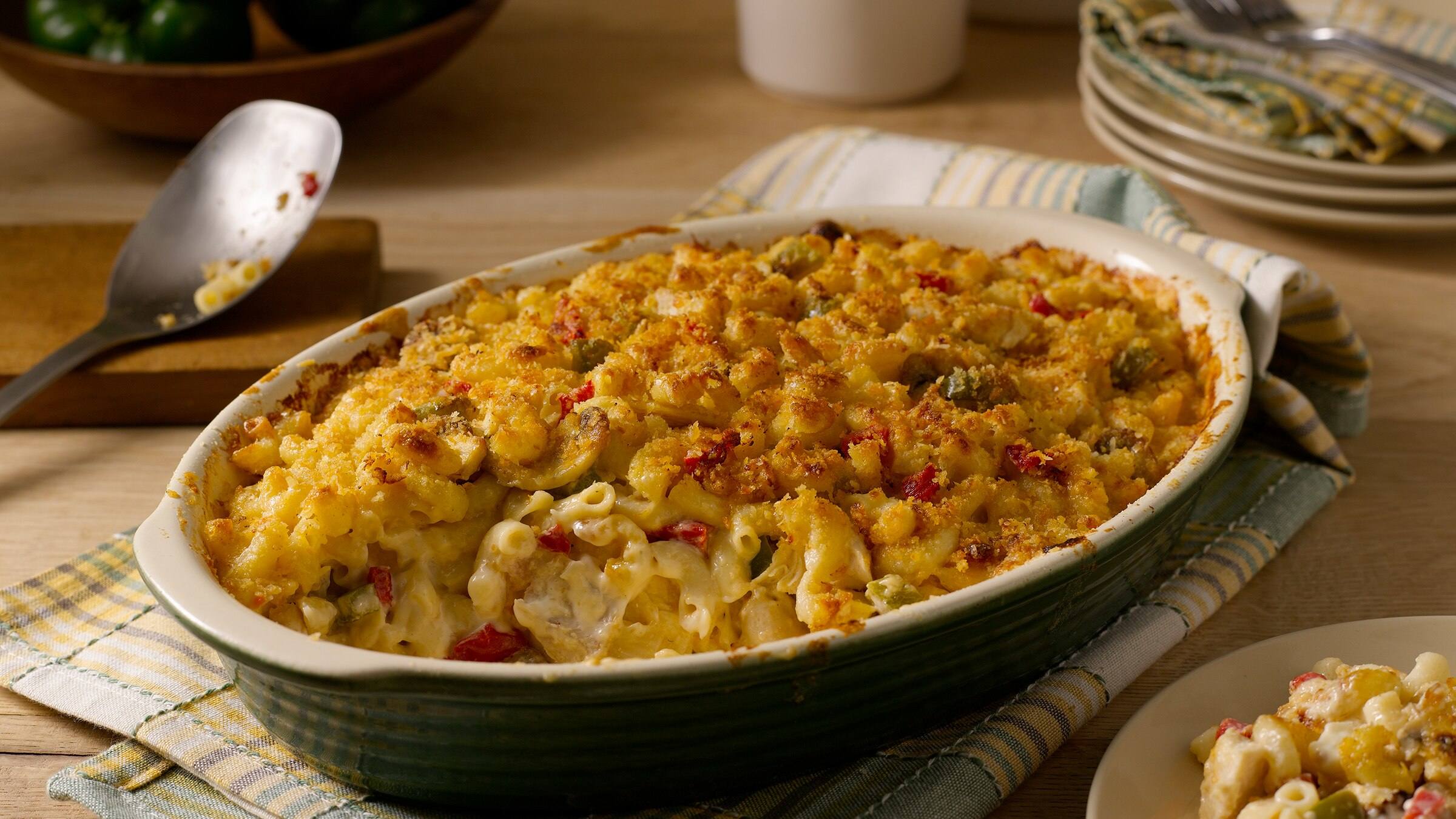 Chicken Macaroni Casserole
A Dale Earnhardt Jr. Family Favorite
NUTRITIONAL FACTS
Servings10
Value
| Amount Per Serving | Value |
| --- | --- |
| Energy (kcal) | 340.0 |
| Protein (g) | 16.0 g |
| Sugar (g) | 1.0 g |
| Calcium (mg) | 20.0 % |
| Fibre (g) | 1.0 g |
| Sodium (mg) | 660.0 mg |
| Fat (g) | 23.0 g |
| Saturated Fat (g) | 6.0 g |
| Trans Fat (g) | 0.0 g |
| Cholesterol (mg) | 45.0 mg |
| Iron (mg) | 8.0 % |
| Vitamin A | 4.0 % |
| Vitamin B12 | |
| Vitamin C | 8.0 % |
10 People

Servings

20 Mins

Prep Time

30 Mins

Cooking Time

50 Mins

Ready In
1 cup Hellmann's® or Best Foods® Real Mayonnaise
1 can (10.75 oz.) condensed cream of chicken soup
1 can (3 oz.) mushrooms, drained and chopped
1 1/2 cups finely chopped cooked chicken
2 cups grated Parmesan cheese
1/4 cup chopped green bell pepper
1/4 cup chopped pimientos
1/4 cup chopped onion
4 ounces elbow macaroni, cooked and drained
1/2 cup cracker crumbs
Preheat oven to 375°.

Combine Hellmann's® or Best Foods® Real Mayonnaise, soup, mushrooms and chicken in large bowl. Stir in remaining ingredients except macaroni and cracker crumbs. Stir in macaroni. Turn into 13 x 9-inch baking dish, then evenly top with cracker crumbs. Bake 30 minutes or until bubbling.
Cost per recipe*: $14.18.

Cost per serving*: $1.42.

*Based on average retail prices at national supermarkets. 
More Recipes You'll Love
Explore our range of delicious, quick and easy recipes!