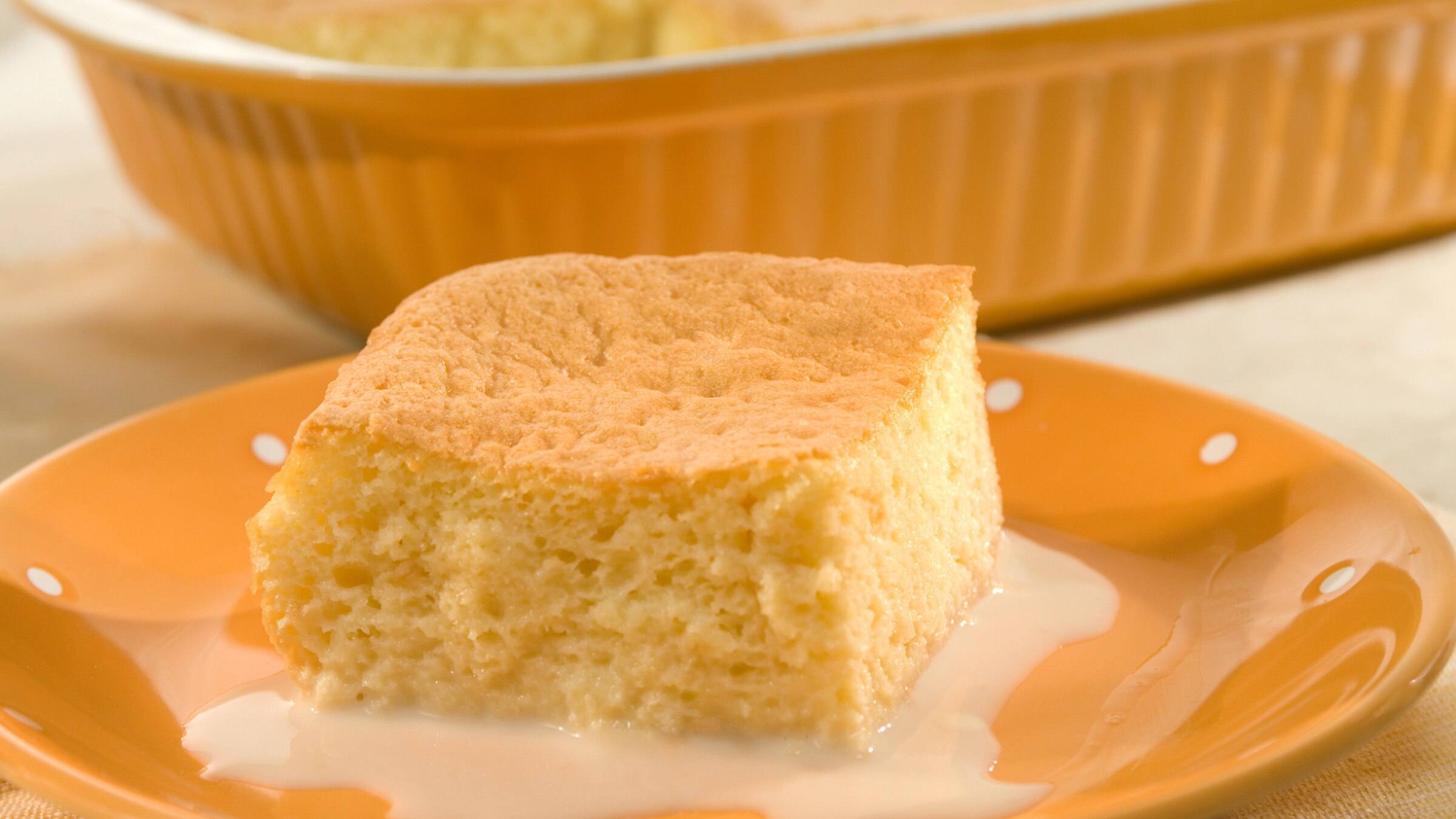 NUTRITIONAL FACTS
Servings12
Value
| Amount Per Serving | Value |
| --- | --- |
| Energy (kcal) | 370.0 |
| Protein (g) | 10.0 g |
| Total Carbohydrates (g) | 48.0 g |
| Sugar (g) | 40.0 g |
| Calcium (mg) | 25.0 % |
| Fibre (g) | 0.0 g |
| Sodium (mg) | 260.0 mg |
| Fat (g) | 16.0 g |
| Saturated Fat (g) | 6.0 g |
| Trans Fat (g) | 0.0 g |
| Cholesterol (mg) | 135.0 mg |
| Iron (mg) | 6.0 % |
| Vitamin A | 8.0 % |
| Vitamin B12 | |
| Vitamin C | 2.0 % |
12 People

Servings

15 Mins

Prep Time

20 Mins

Cooking Time

35 Mins

Ready In
2 cups milk
1 can (14 oz.) sweetened condensed milk
1 can (12 oz.) evaporated milk
6 eggs, separated
1/4 tsp. baking soda
1/4 tsp. salt
1 cup sugar
1/2 cup Hellmann's® or Best Foods® Real Mayonnaise
1 cup all-purpose flour
Preheat oven to 350°. Grease 13 x 9-inch glass baking dish; set aside.

In large bowl, combine milks; set aside.

In another large bowl, with electric mixer on high speed, beat egg whites, baking soda and salt until soft peaks form. Gradually beat in sugar, egg yolks and Hellmann's® or Best Foods® Real Mayonnaise until blended. With rubber spatula, fold in flour, 1/4 cup at a time, until blended. Pour into prepared dish.

Bake 20 minutes or until toothpick inserted in center comes out clean. On wire rack, cool 10 minutes. Slowly pour milk mixture evenly over hot cake. Cover and refrigerate at least 4 hours or overnight.
More Recipes You'll Love
Explore our range of delicious, quick and easy recipes!