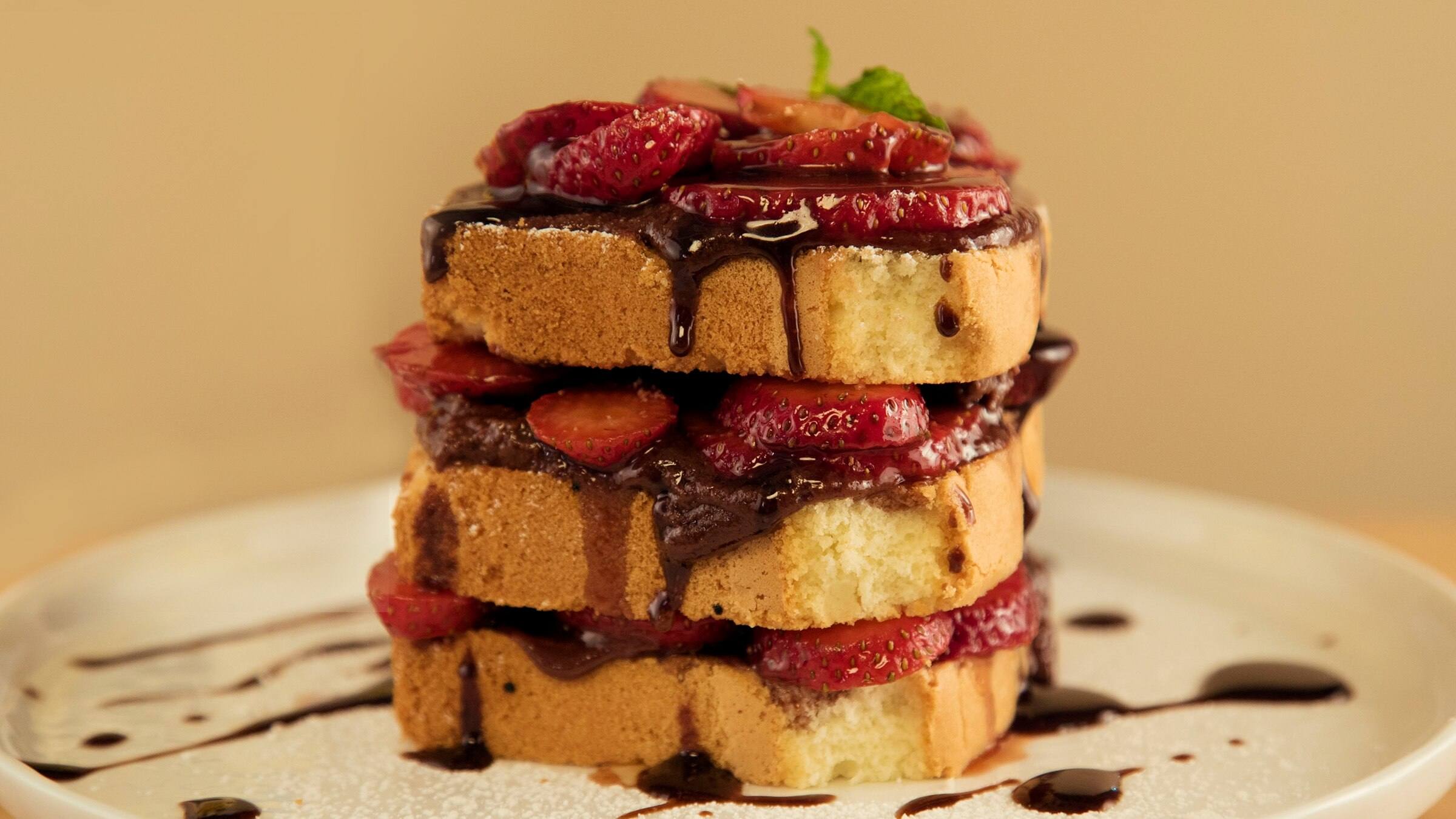 Let Them Eat Cake Strangewiches
NUTRITIONAL FACTS
Servings4
Value
| Amount Per Serving | Value |
| --- | --- |
| Energy (kcal) | 0.0 |
| Protein (g) | 0.0 g |
| Total Carbohydrates (g) | 0.0 g |
| Sugar (g) | 0.0 g |
| Calcium (mg) | 0.0 mg |
| Fibre (g) | 0.0 g |
| Sodium (mg) | 0.0 mg |
| Fat (g) | 0.0 g |
| Saturated Fat (g) | 0.0 g |
| Trans Fat (g) | 0.0 g |
| Cholesterol (mg) | 0.0 mg |
| Iron (mg) | 0.0 mg |
| Potassium (mg) | 0.0 mg |
| Vitamin A | 0.0 IU |
| Vitamin B12 | |
| Vitamin C | 0.0 mg |
4 People

Servings

15 Mins

Prep Time

5 Mins

Cooking Time

20 Mins

Ready In
STRANGEWICHES:
1 lb. strawberries, sliced
1 Tbsp. balsamic glaze
2 tsp. sugar
1/4 cup Hellmann's® or Best Foods® Real Mayonnaise
1/4 cup chocolate spread or chocolate hazelnut spread
1/4 cup butter
12 (1/2-inch thick) slices pound cake
GARNISH:
1/4 cup balsamic glaze
2 Tbsp. chocolate spread or chocolate hazelnut spread
Fresh mint
For Strangewiches, in a bowl, mix sliced strawberries, balsamic glaze and sugar. Let stand 15 minutes.

In another bowl, mix Hellmann's® or Best Foods® Real Mayonnaise with chocolate spread.

Preheat cast iron griddle or skillet. Melt butter in griddle and carefully cook each slice of pound cake until golden brown on both sides. Set aside.

Stackin' time: Spread each slice toasted pound cake with chocolate Mayonnaise. To create the tower, top 1 slice with strawberries, followed by 2 more slices each topped with strawberries. Repeat for remaining sandwiches.

For Garnish, mix balsamic glaze and chocolate spread. Drizzle on top of warm sandwiches. Garnish with mint and enjoy!
More Recipes You'll Love
Explore our range of delicious, quick and easy recipes!