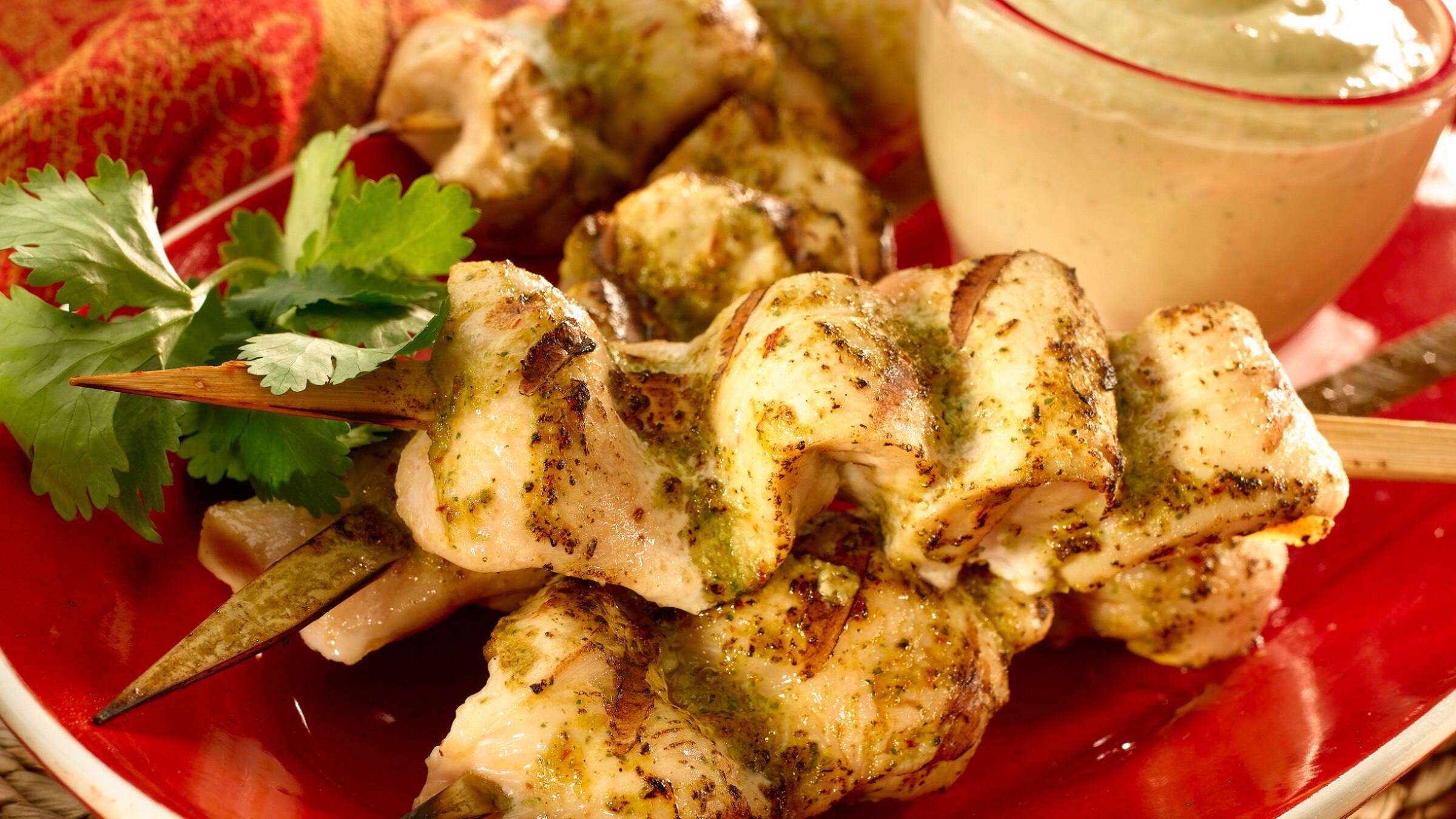 NUTRITIONAL FACTS
Servings4
Value
| Amount Per Serving | Value |
| --- | --- |
| Energy (kcal) | 460.0 |
| Protein (g) | 27.0 g |
| Total Carbohydrates (g) | 7.0 g |
| Sugar (g) | 5.0 g |
| Calcium (mg) | 2.0 % |
| Fibre (g) | 0.0 g |
| Sodium (mg) | 910.0 mg |
| Fat (g) | 36.0 g |
| Saturated Fat (g) | 5.0 g |
| Trans Fat (g) | 0.0 g |
| Cholesterol (mg) | 75.0 mg |
| Iron (mg) | 6.0 % |
| Vitamin A | 4.0 % |
| Vitamin B12 | |
| Vitamin C | 6.0 % |
4 People

Servings

10 Mins

Prep Time

6 Mins

Cooking Time

16 Mins

Ready In
1/4 cup olive oil
1 small onion, chopped
1/4 cup tighly packed fresh cilantro leaves
1 Tbsp. chopped canned chipotle peppers in adobo sauce
1 Tbsp. Knorr® Chicken flavor Bouillon
1 Tbsp. sugar
2 cloves garlic, finely chopped
1/2 cup Hellmann's® or Best Foods® Real Mayonnaise
1 lb. boneless, skinless chicken breast halves, cut into strips
Process olive oil, onion, cilantro, chipotle, Bouillon, sugar and garlic in blender or food processor until smooth. Remove 1 tablespoon and combine with Hellmann's® or Best Foods® Real Mayonnaise. Refrigerate until ready to use.

Thread chicken on 8 skewers, then arrange in large nonaluminum baking dish; rub with remaining olive oil mixture. Cover and marinate in refrigerator about 30 minutes.

Grill or broil chicken, turning once, until chicken is thoroughly cooked, about 6 minutes. Serve with refrigerated dipping sauce.
More Recipes You'll Love
Explore our range of delicious, quick and easy recipes!