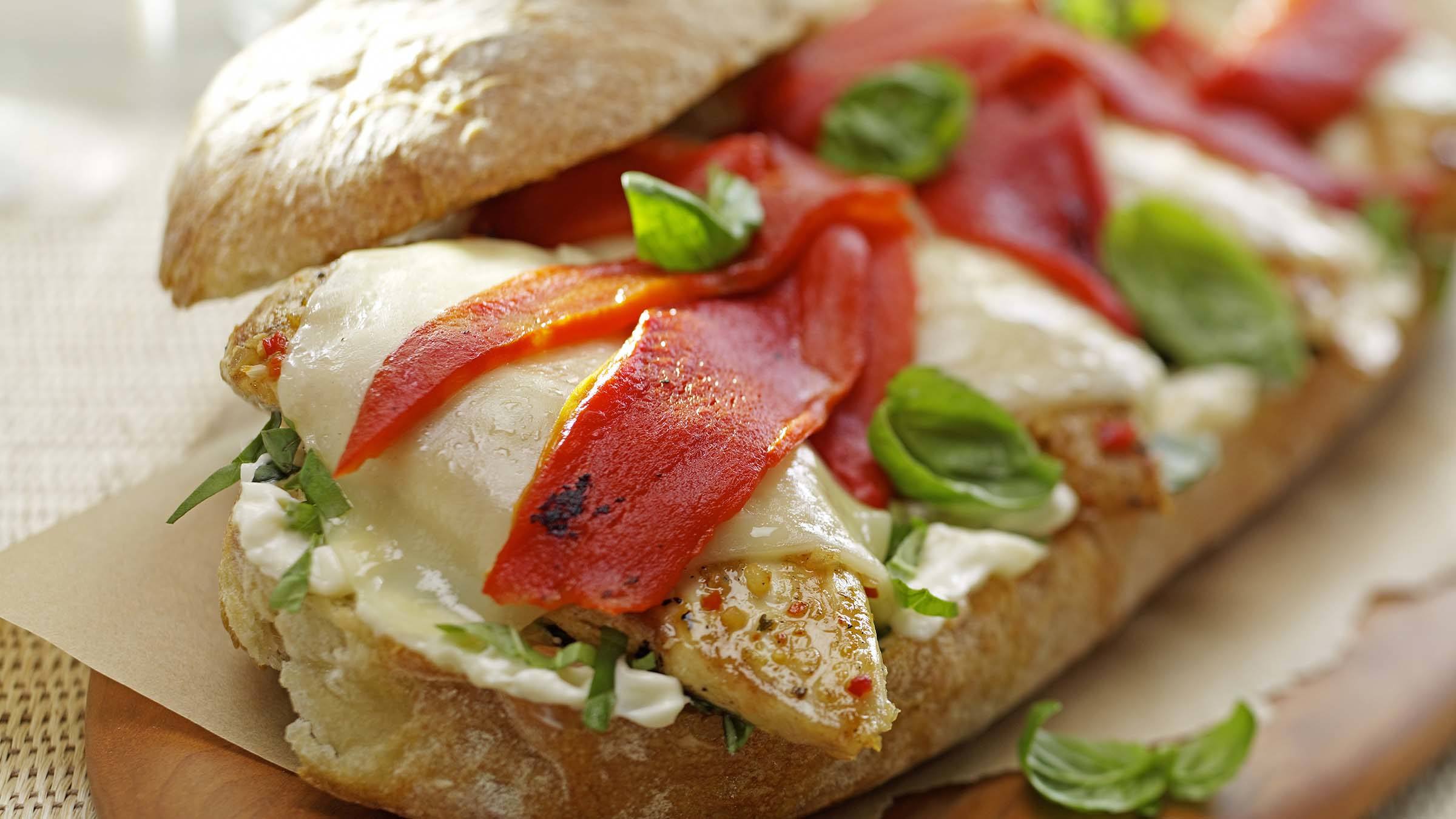 Grilled Chicken & Roasted Peppers on Ciabatta
Bite into our delicious Grilled Chicken & Roasted Peppers on Ciabatta made with Hellmann's® Light Mayonnaise, mozzarella cheese and Italian dressing
NUTRITIONAL FACTS
Servings4
Value
| Amount Per Serving | Value |
| --- | --- |
| Energy (kcal) | 480.0 |
| Protein (g) | 36.0 g |
| Total Carbohydrates (g) | 46.0 g |
| Sugar (g) | 5.0 g |
| Calcium (mg) | 4.0 % |
| Fibre (g) | 2.0 g |
| Sodium (mg) | 1120.0 mg |
| Fat (g) | 16.0 g |
| Saturated Fat (g) | 6.0 g |
| Trans Fat (g) | 0.0 g |
| Cholesterol (mg) | 105.0 mg |
| Iron (mg) | 20.0 % |
| Vitamin A | 20.0 % |
| Vitamin B12 | |
| Vitamin C | 70.0 % |
4 People

Servings

15 Mins

Prep Time

15 Mins

Cooking Time

30 Mins

Ready In
4 thin chicken cutlets (about 1 lb.)
1/4 cup Italian dressing
1 jar (210 mL) roasted red peppers, drained
4 slices fresh mozzarella cheese or packaged mozzarella cheese (about 4 oz.)
1/3 cup Hellmann's® or Best Foods® Light or Real Mayonnaise
1 loaf ciabatta bread (about 16 in.), halved lengthwise
1/4 cup chopped loosely packed fresh basil leaves (optional)
Grill or broil chicken, brushing frequently with Dressing, 15 minutes or until chicken is thoroughly cooked. Top chicken with roasted peppers, then cheese. Grill or broil until cheese is melted.

Meanwhile, spread Hellmann's® or Best Foods® Light or Real Mayonnaise on both sides of bread; sprinkle with basil. Arrange chicken on bread. Wrap in aluminum foil and keep warm. To serve, cut into 4 pieces.
TIP: Substitute grilled portobello mushrooms or your favorite vegetable for chicken.

Cost per recipe*: $14.46

Cost per serving*: $3.62

*Based on average retail prices at national supermarkets. 
More Recipes You'll Love
Explore our range of delicious, quick and easy recipes!