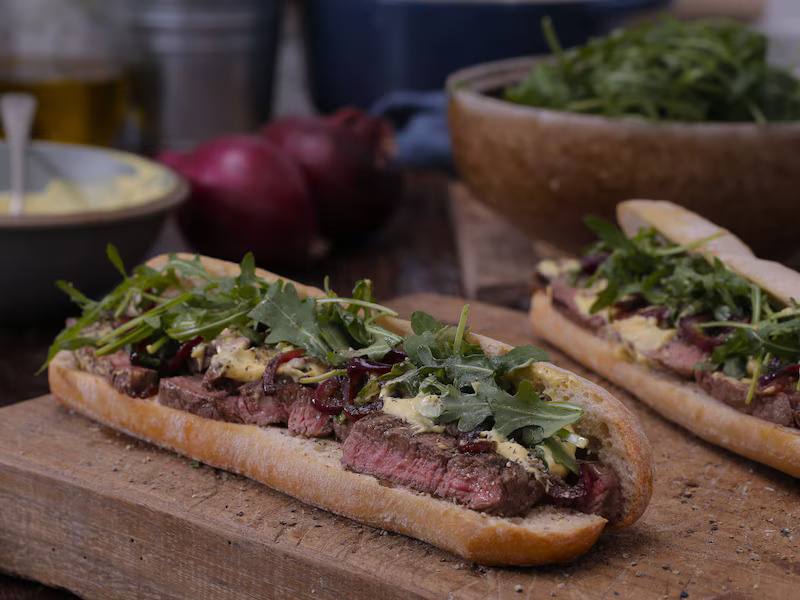 There are many ways to enjoy steak, but we think the most satisfying is in a French stick, with Hellmann's and mustard for a sharp & creamy sauce.
INGREDIENTS
1 large beef rump steak (600 g)
4 tbsp Hellmann's Light Mayonnaise
1 French stick
1 small bag, rocket
2 red onions
1 tablespoon Colman's English Mustard
2 tablespoons olive oil
2 tablespoons balsamic vinegar
pepper
METHOD
Take the steaks, season with salt and pepper, rub them will olive oil, then set aside.

Bring a non-stick frying pan to a low heat, and sweat the onions for five to eight minutes until soft, then add the balsamic vinegar and cook for another minute.

In a small bowl, mix together the mayonnaise and English mustard.

Preheat a griddle or frying pan to a high heat (almost to the point of smoking). Sear the steaks for 1 to 2 minutes on each side, then remove from the pan from the heat and allow the steaks to cook using the residual heat of the pan until done to your liking.

Cut each steak into strips and divide between the baguettes. Top with the dressing, red onions and rocket. Sprinkle with a little more black pepper and serve.